Makybe Diva is a name that will never be erased from the record books of Australian Thoroughbred racing, even though there does not seem to be one drop of Australian blood in her lines.
She will forever be famous as the only horse to win three Melbourne Cups.
Records were made to be broken, it is said, but as staying races seem to be moving in the same direction as did the fate of the dinosaurs, staying races and staying horses are endangered by the current era that favours milers and sprinters.
That said, it is hard to imagine a future where another Thoroughbred will surpass Makybe Diva for the number of Melbourne Cup wins. Experts have often said that the northern hemisphere breeds better stayers, but race distances in the northern hemisphere seem to be trending toward shorter trips.
This has resulted in a trend toward fewer staying races and a trend toward breeders focusing on middle distance and sprinting horses.
While Makybe Diva might not be surpassed for Melbourne Cup wins, her prize money record of $14,526,685 demonstrates the problematic nature of comparing horses by prize money. Her record stood for many years, but prize money did not stand still. Redzel, a fine horse and relatively equivalent to Makybe Diva in terms of jumps and wins, nearly passed Makybe Diva's $14 million haul with wins in the first two runnings of The Everest.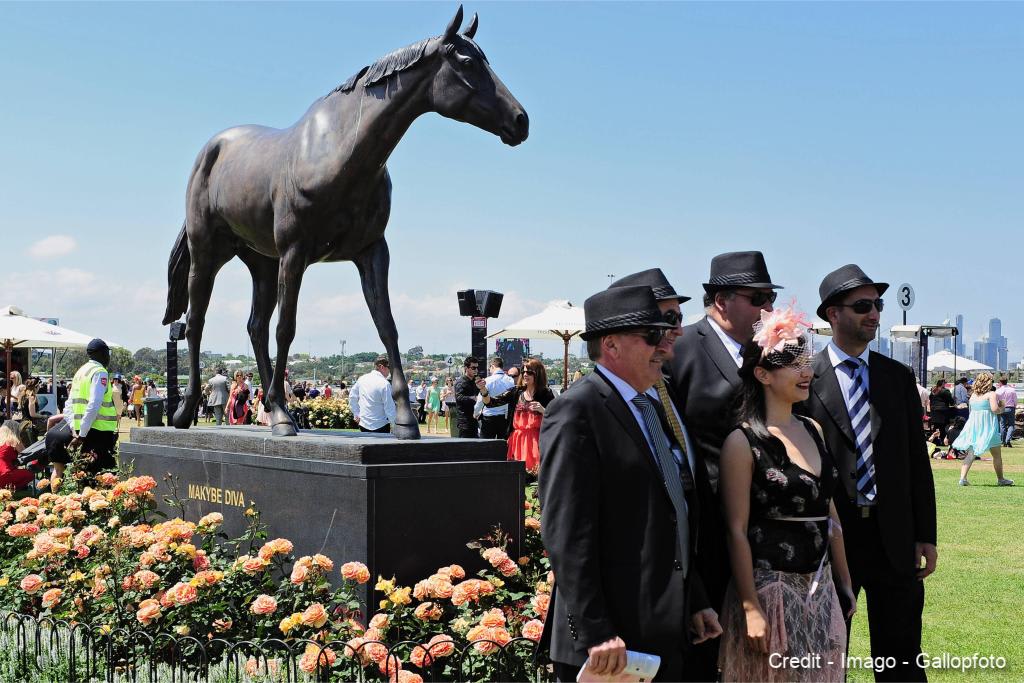 Makybe Diva Pedigree
Makybe Diva was foaled on 21 March 1999.
Her sire was Desert King of Ireland. Desert King, like many male Thoroughbreds who escaped a worse fate, was retired early from racing by owner Michael Tabor after making 12 jumps in Ireland and England. Desert King was under five years of age when he sired Makybe Diva from an American mare named Tugela. Tugela was foaled in Kentucky, but she raced in England, making two starts before joining the other mares in the breeding shed.
Danehill was her grandsire. His career, like that of Desert King, was brief, just nine starts, with four wins all coming in England. He achieved much greater heights as a stud and was the leading sire of Australia, Great Britain and Ireland and France. He was Australia's leading sire nine times over a span of years from 1995 to 2005. Such a good sire was he that he was proclaimed leading sire in Australia two years after his euthanization for a broken hip in 2003.
Both sides of Makybe Diva's back beyond Danehill included DNA from Norther Dancer and Nearctic of Canada, as well as Native Dancer from the U.S., and Great Britain's Hyperion.
Today's top betting sites
CHANCES ARE YOU'RE ABOUT TO LOSE. Set a deposit limit
Makybe Diva Racing
Both Makybe Diva and her dam Tugela boarded briefly in England before being shipped to Australia. As a filly in England, Makybe Diva was offered for sale at the 1999 Tatts Newmarket foal sale, but there were no bidders willing to meet the reserve, so she went unsold.
Owner Tony Santic sent the two to Australia in August of 2000.
After one trial in July of 2002, Makybe Diva started her racing career with a fourth-place finish at a country track in Victoria called the Benalla Racing Club. It was a three-year-old maiden race run at set weights over 1200 metres.
Even the greatest stayers, many of them, at least, make juvenile runs over shorter trips, but it must have appeared obvious that Makybe Diva was no sprinter.
At her next start two weeks later, she was considered a four year old because of the way horses are aged in the northern hemisphere versus the southern, while she was still months shy of four by date of birth.
Her second race supplied her first win, coming over 1600 metres on a heavy track at the Wangaratta Turf Club, another country track in Victoria. David Hall was her trainer and Vincent Hall her rider when she jumped $4.20 favourite and outclassed the field for a three-length win worth $6,000.
She reeled off five more in a row, gradually moving up in trip until she won the Group 2 Queen Elizabeth over 2500 metres. It was her second run and second win at Flemington.
When she returned from a spell to resume racing in autumn of 2003, it appeared as though she might be a flash in the pan.
Six races at Caulfield, Flemington and Moonee Valley returned nothing better than a fourth, along with a sixth and an eighth.
Makybe Diva First Melbourne Cup 2003
Her most recent results notwithstanding, Makybe Diva jumped second favourite for $8 from the 14th barrier.
Of note is that favourite Mamool ($6.50) finished stone motherless last while carrying Frankie Dettori around.
Tooheys New was the sponsor of the race that went off on that Tuesday, and you could have had a Tooheys or two in the time it took Dettori to bring Mamool around.
Bart Cummings was still fielding at the time and he would continue on to win his last Melbourne Cup in 2008, but his 2003 horse, Frightening, jumped for a dollar above Makybe Diva's price and finished 10 lengths back of her, frightening no one.
Makybe Diva Returns 2004
Makybe Diva spelled following her win in the 2003 Melbourne Cup. It appeared that she was developing a pattern of rusting while idle.
She made five starts at Flemington, Rosehill and Caulfield, posting three thirds. She was sixth in the Australian Cup at Flemington, jumping second favourite to winner Lonhro's $2. At the time, horses finishing below fifth got nothing for showing up.
She made a big splash at Randwick in April of 2004 by winning the Group 1 Sydney Cup. She jumped the $3.50 second favourite and carried Glen Boss with 55.5 kg, second in weight only to Lee Freedman's $3.30 Mummify.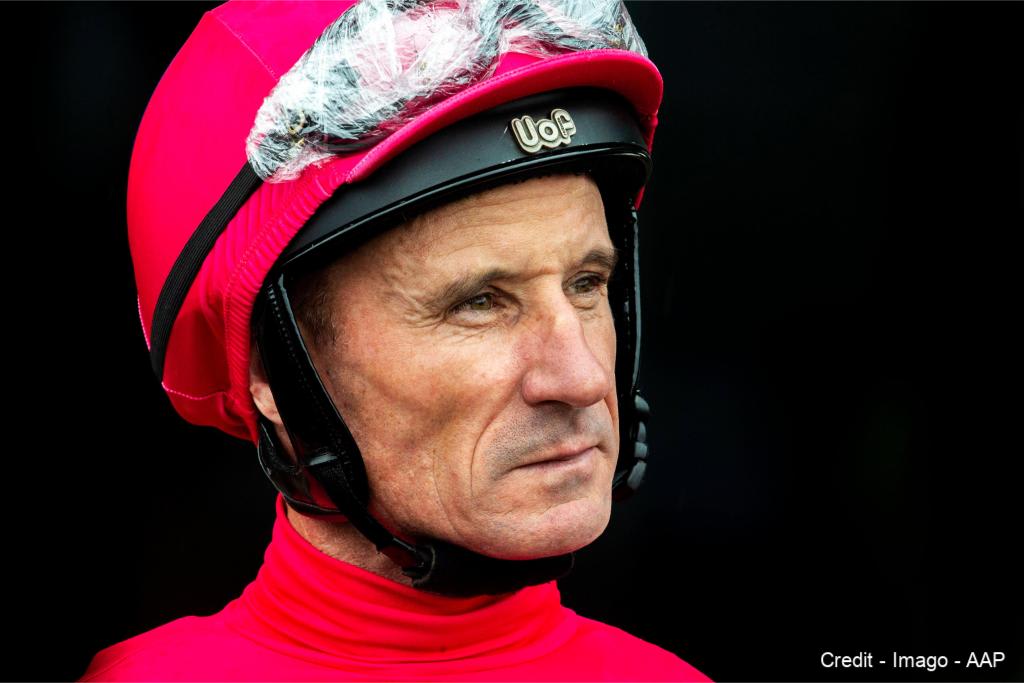 With an autumn campaign that did not provide a lot in return, either in money or prestige, save the Group 1 Sydney Cup, Makybe Diva spelled from April 2004 until it was time to resume in the spring.
That little break featured a shift in trainers from David Hall to Lee Freedman. At the time, it must have stung David Hall, as it would have been easy to think that a trainer who had prepared the winner of a Melbourne and a Sydney Cup would be secure, but owner Tony Šantić' must have held the belief that Makybe Diva's full potential was not fully capitalised under David Hall.
Freedman seemed like a logical choice, no doubt, as the year before, he had been inducted into the Australian Racing Hall of Fame. His credentials included the 1989 Melbourne Cup, where even though he was only in his early 30s, he prepared the winner Tawrrific and the second placed Super Impose.
Freedman was not without baggage, as his previous exploits had found him guilty of a ring-in and a positive for a banned substance, but anyone around that time would have accepted the opportunity of Freeman heading the preparation.
Makybe Diva, however, was not suitably impressed. Just as she had under David Hall, she began her spring 2004 campaign with less than stellar results. She had a fourth in the Group 2 Memsie Stakes at Caufield at the end of August, but anyone with the ability to discern one end of the horse from the other knew by this time that she was no miler.
Next up, she took second in the Group 2 John F. Feehan Stakes. She was bested by Delzao, despite lining up in the weight-for-age race as the equal lightest in the field. She lost by a nose and even though the short trip did not suit her, she was at her best on heavy tracks and on the day, it was as heavy as they come, Heavy 10.
Next came the Group 2 Turnbull Stakes. She failed to run stronger than seventh in her lead up to the Group 1 Caulfield Cup.
Her form that prep had given no one any inkling, so Makybe Diva jumped for $11. A poor barrier might have cost her the race, as she jumped from 17 and finished second by a nose to Elvstroem.
It was just her nostrils that prevented a Cups Double in 2004.
The first Tuesday in November found the nation properly halted for the 2004 Melbourne Cup.
Ideally drawn in the seventh slot and on a soft Flemington, she jumped the runaway favourite for $3.60 and won easily, beating second liner Vinnie Roe by 1.3 lengths. It took the Diva 3:28.55 to cover the trip, which was the slowest time to win a Melbourne Cup since Lord Nolan in 1908.
Makybe Diva became the first horse to win consecutive Melbourne Cups since Think Big in 1974 – 75.
When she returned for autumn of 2004, her pattern was well established and seemed to be playing out again, although not quite so profoundly. She ran second in the Group 2 St. George Stakes, losing yet again to her nemesis Elvstroem for the fourth time in five races.
Makybe Diva Encore 2005
Makybe Diva had arguably her best autumn, with wins in the Group 1 Australian Cup at Flemington and the Group 1 BMW at Rosehill, where she won easily and silenced those who said she could not run clockwise.
She won the BMW just a week after taking the Australian Cup, but horses were expected to work in those days.
After a spell, which followed a two-race visit to Japan than might have left supporters wondering if she had run her race, Makybe Diva returned to Caulfield in late August of 2005 to win the Group 2 Memsie Stakes and narrowly missed a second win at Moonee Valley.
Next came a solid win in the Group 2 Turnbull Stakes, where she ran down the field in the last 800 metres, going from 13th to cross first.
She won next time, three weeks later, when she won the Group 1 Cox Plate, which Freeman had elected over the Caulfield Cup. Once again, horses for courses proved the operative order of the day, as Makybe Diva used the Soft 7 track to move from 11th to first in the last 800 metres. She outclassed the entire field and most of the other horses in the southern hemisphere by coming home from eight wide entering the final straight.
The 2005 Melbourne Cup was to be her last race.
There was a bit of controversy, something that is not rare in racing, but she was given 58 kg for the race, far beyond the weight typically allotted to a mare in w.f.a. racing.
Some saw that as unjust, but the real controversy was that her connections hinted that Makybe Diva would not run the 2005 Melbourne Cup if the track was too firm.
The VRC bowed to the pressure, watered the track, and Makybe Diva was declared.
In her signature pattern, she settled at the back and steadily gained ground, hitting the lead with 300 metres remaining and winning comfortably by 1- ¼ lengths over the $71 shocker On A Jeune.
Owner Tony Santic announced that Makybe Diva would be retired as he was being handed the Cup.
Lee Freedman delivered the famous quote, "Go find the smallest child on this course, and there will be the only example of a person who will live long enough to see that again."
If that child were three years of age at that time, it suggests that there is a stayer to come that must win three Melbourne Cups by the end of the 21st century, which seems unlikely, given the direction racing is taking.
Makybe Diva was of course decorated. She was given the first Spirit of Sport Award in 2006. She was inducted into the Australian Racing Hall of Fame that same year. A life-sized bronze statue of her greets visitors to Flemington. Follow our horse racing tips for the next Melbourne Cup.
She was highly sought after as a breeder, but as often is the case, nothing came out of her anywhere near her equal as a racer.
Her line was 36 starts for 15 wins and 7 placings. Ten of those wins were Group 1 races, although at the time she won the Memsie and the Turnbull both races were rated as Group 2.
We will not be around to see if Lee Freedman's words were prophetic or not, but even if by some stretch a horse would win three Melbourne Cups to move level, or four to establish a new mark, Makybe Diva's memory will not be tarnished, just as her bronze statue at Flemington will always gleam.