Many stayers have failed to produce one victory, let alone three in the Race That Stops a Nation.
Others have run more, won more, but none has ever equaled or surpassed the seemingly unassailable accomplishment of Makybe Diva in winning three consecutive Melbourne Cups.
While it is problematical to compare earnings records amongst horses from different eras, the fact remains that her over 14 1/2 million dollars in earnings has never been surpassed in Australasian horseracing history.
Makybe Diva's story begins in England, where she was born 21 March 1999. Failing to attract buyers at the 1999 Tatts Newmarket sale, Makybe Diva remained in England until August 2000 when she and her dam Tugela were shipped to Australia.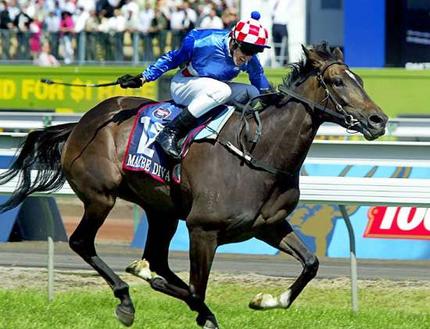 Her sire was Desert King, who hailed from Ireland and quite interestingly, she carries blood from Canadians Northern Dancer and Nearctic on both sides.
She is classified as one of only nine foreign born horses to win the Melbourne Cup.
Being foaled in the northern hemisphere, but competing in the southern, meant that Makybe Diva surrendered approximately 6 months in maturity to the horses with which she competed, but this disadvantage seemed to have helped, rather than hinder her.
Racing Career
Makybe Diva made the first of her 36 starts on 12 July 2002 in a 1000 metre trial. That was her only opportunity as a two-year-old.
Just two weeks later, now considered a three-year-old, Makybe Diva placed fourth in a 1200 metre maiden event at Benalla.
Makybe Diva's first victory came a month to the day later, at another maiden event, where she covered 1600 metres on a heavy track to the winning post with Vincent Hall aboard.
Hall took the ride and the pair ran off two consecutive, culminating in a class 3 win over 2000 metres on a slow track.
Next came her first victory at Flemington in the F & M Handicap with Brett Prebble aboard.
Already considered a four-year-old, Makybe Diva won a Listed Race, the Werribee Cup at 2000 metres and the Queen Elizabeth Stakes over 2500 metres, both steered by Luke Currie. This second win qualified for the following year's Melbourne Cup and she was adequately demonstrating the ability to handle the distance.
The next season, 2003-2004, began somewhat slowly with two fourth place finishes.
Soon thereafter, it might be said that Makybe Diva received a hoop upgrade, when Glenn Boss was chosen to ride her.
Makybe Diva finished just out of the money in a Handicap race at Caulfield Racecourse. One more Listed Race at Flemington also failed to result in a placing. She then went on a 17 week spell.
Her next significant race came on 4th October, where she came from near the back of the field with 400 metres remaining to finish fourth in the Caulfield Cup.
Even though our record to this point might be considered undistinguished, Makybe Diva's form was sufficient to have punters send her off as the second favourite on the first Tuesday of November, where she won her first Melbourne Cup, where she came from the back at the finishing straight to win from She's Archie and Jardines Lookout.
A Spell Of 13 Weeks Followed
Early 2004 produced nothing of note until 17 April, where Makybe Diva took the 3200 metres Group 1 Sydney Cup, becoming the first mare and only the fourth thoroughbred ever to win a Melbourne Cup / Sydney Cup double.
After another brief spell, the Spring of 2004 saw Makybe Diva lightly raced and producing somewhat desultory results.
Makybe Diva did manage a second-place finish in the Caulfield Cup despite racing wide on the home turn before the final straight.
Then followed her second consecutive Melbourne Cup where Boss again steered her from the back to a 1.3 length victory. Following this season, it was her good fortune to receive Lee Freedman as her trainer. She was also named Australian Champion Racehorse of the Year.
Along the way, she broke the Australian and world record for 2000 metres on turf.
The 2005 - 2006 season featured a win in the Group 2 Memsie Stakes. Then came a remarkable win in the 2005 Cox Plate, where Makybe Diva came from far outside to post a comfortable win.
Drought conditions caused her connections to imply that she would not attempt the Melbourne Cup trifecta in 2005. The specter of losing their marquee competitor convinced VRC stewards to water the track to accommodate the Diva.
She proceeded to make her indelible mark on history, when she again came from the rear of the field, took the lead with about 300 metres remaining and held on for a comfortable 1 1/4 length margin.
That Was To Be Her Last Race
She was again named Australian Champion Racehorse of the Year, along with recognition as Australian Champion Stayer and Australian Champion Middle Distance Racehorse.
She entered the Australian Racing Hall of Fame the following year. She, along with Phar Lap, Bart Cummings and Scobie Breasley, has been officially recognizsed by the Hall as worthy of legendary status.
Makybe Diva, upon retiring from racing, has produced several foals.
Her over-all record of 15 wins, 4 seconds, three thirds and 14 unplaced out of 36 starts will never be her claim to fame.
Indeed, it will be her dominance on the second Tuesday of November, three years running that will be a source of awe for current and future generations.