Light Fingers, Melbourne Cup winner trained by Bart Cummings.
Oftentimes, greatness is conferred to a thoroughbred as the result of one phenomenal, improbable feat that seems to defy all logic and precedent, and leaves more than one bookmaker questioning his sanity.
There is no larger stage for the attempt of this scoop than "The Race That Stops a Nation," the Emirates Melbourne Cup.
A win in this prestigious event is more than adequate to secure a place in the annals of history whether the competitor being considered is horse, jockey or trainer.
One need look no further for an example of this truth than a chestnut filly from New Zealand, Light Fingers.
For a certainty, other factors contributed to Light Fingers claim to fame. 1965 was the beginning of Bart Cummings unmatched record for Melbourne Cup trainers and the highly esteemed Roy Higgins was filling the stirrups on this occasion, so there was no lack of human racing pedigree to contribute to the proceedings.
It might be said that Cummings was a lock for the '65 Melbourne Cup', as Light Fingers stablemate Ziema was at double figure odds.
All the journos, bookmakers, punters and anyone else capable of distinguishing the business end of a horse from the tail end approached the first Tuesday in November 1965 with the assurance that Ziema would take the race in a canter.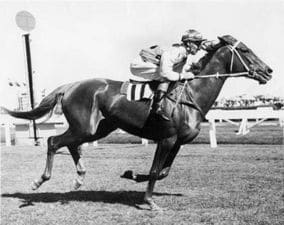 We'll look at the race in more detail further on, but first let's examine Light Fingers's biography for a bit.
If there was to be any hint that Light Fingers had the pedigree to loom large, it would have to be that she shared sires with Big Philou. French import Le Filou had 36 career starts, winning 20 and placing in the other 16.
Here was one instance where a prolific runner also produced significant progeny.
Dam Cuddlesome also had a respectable record, producing four wins.
Light Fingers, foaled in 1961 in New Zealand, perhaps could be accused of failing to live up to breeder L. F. Dawson and owner W. G. Broderick's expectations, but all accounts were properly squared when Light Fingers produced one of the most dramatic wins in Cup history.
To begin, Light Fingers went into the race with health concerns. The vet had told Cummings that Light Fingers was less than sound. Add to this a virus, a pulled muscle and the 52.5 kg weight allotment and Ziema's prospects improved considerably. Cummings, risking the filly he had attempted to buy but settled for leasing, had the vet administer a cortisone injection in Light Fingers's back. She made it to the starting post at 15/1 odds.
Higgins's and Cummings's strategy was to minimize the continuous bumping and jostling that the Melbourne Cup features by keeping her in the front half of the field where they could keep an eye on Ziema and jockey John Miller and watch for an opportunity.
This strategy proved prescient when Matloch clipped the heels of another horse and went to the turf taking down Bore Head and River Seine in the bargain.
Going into the home turn, Higgins had Light Fingers comfortably fifth.
With 300 metres to go, Ziema looked as though he was going to finish unchallenged, but Higgins asked Light Fingers to go and she obliged, gaining with every stride. Light Fingers still trailed by 3/4 of a length with a scant 100 metres of turf left her. She managed to close the lead to half a length, then a neck, but it didn't seem as though she had the speed or the real estate to catch Ziema.
Then, with only a few strides remaining to her, she stretched to her limit. Grandstanders who had watched the cup for many years saw the photo, but proclaimed with certainty that Ziema had hung on for the win.
When the judge proved them wrong, Higgins and Cummings each had their first Melbourne Cup win and Light Fingers had a permanent place in Australian horse racing lore.
She almost repeated the following year with Higgins again on board Light Fingers, but Galilee, also trained by Cummings took out the honours winning Cummings yet another Cup.
Light Fingers held the title of having carried the highest weight to victory of all mares to that time.
She had other notable victories to her credit as well, including a St. George Stakes, Makybe Diva Stakes, AJC Oaks, VRC Oaks and several others.
The race that defined Light Fingers, however, was the two miler that has eluded some of the greatest of all time and made others legends in their own right.