The Australian Racing Hall of Fame clearly spells out the criteria necessary for a thoroughbred racehorse to earn the opportunity to be included amongst the all-time greatest of the Australian turf.
Even so, it is necessary to occasionally apply some latitude for the case of a horse that did not necessarily dominate in the way of some past inductees, but nonetheless produced singular accomplishments that provide a distinction far beyond what can be defined by cold, subjective criteria.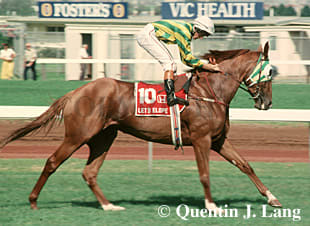 To base eligibility of prize money certainly presents pitfalls, for the obvious reason that the growth of racing has led to an exponential explosion of purses, to the extent that it is currently possible for a horse to win a relatively anonymous Group 3 race and earn more from that one race than many undisputed champions of the past produced in an entire racing career.
It is also a factor that many top echelon horses of the modern era run only about 30 times before the lure of stud fees, both for stallions and mares, induces horse owners to take the lower risk route and take top producers off the track. Seldom do you see a horse of either gender these days retiring with 50, 60, 70 or more jumps as was commonplace in earlier times.
In the case of today's subject, it would appear that one singular accomplishment, something rarely done by any horse, winning the Cups Double, would have to be the primary reason for this horse's inclusion in the Hall of Fame, made even more significant for having been done by a mare for the first time in more than 50 years, for it is Let's Elope that is our target for examination.
Let's Elope had only 26 races. Only seven of her 11 wins were top quality races. Other Hall of Fame horses equaled or surpassed that sort of production in one season, but winning the two most prestigious races on the Australian racing calendar in one season, which she did when she won the Caulfield Cup and Melbourne Cup in 1991, obviously exerted a lot of influence on those who determine Hall of Fame eligibility and induction, and we are the last ones to deem this inappropriate in any fashion.
She was rightly a part of the Class of 2012, a New Zealand stayer in the finest tradition of New Zealand stayers, entering the hall alongside other top flight New Zealand horses that year, including High Caste, Octagonal and Redcraze, with Takeover Target supplying the lone Australian entry that year.
Let's Elope Pedigree
By the time Let's Elope was foaled in 1987, the practice of shuttling stallions from the northern to the southern hemisphere in order to take advantage of mare fertility was becoming quite common. Let's Elope's pedigree is truly international.
Her sire was the USA horse Nassipour, a competent racer at least; a seven-time winner in the U.S. and Canada foaled in 1980. He placed 25 times out of 45 starts, spent time in Ireland, returned to the U.S., and was retired to New Zealand's Ra Ora Stud in 1986. Like Let's Elope, Nassipour was also an international product. It is on his dam's side that names such as Hyperion and Gainsborough of Great Britain show up.
Let's Elope's dam was Sharon Jane of New Zealand. Sharon Jane can trace connections through her sire Battle-Waggon to U.S. 1937 Triple Crown winner War Admiral and the one and only Man O' War. Sharon Jane would be proclaimed 1992 New Zealand Broodmare of the Year.
Let's Elope was purchased for $16,000 NZD in 1989 at the New Zealand Magic Millions sale. She was initially trained by Dave O'Sullivan, but did not run as a two-year old. She was subsequently sold at a nice profit, going to Dennis Marks and Kevin White for $150,000 NZD, and then being turned over for training to Bart Cummings.
Let's Elope Racing Results
As a three-year-old, Let's Elope won her first start in 1990. Her connections made the decision to sell her despite her combination of size and ability. She initially did okay for Cummings, but did not seem to do well on wet tracks such as those she encountered at Caulfield.
Running as a four-year-old and under better track conditions, she ran off a seven-race winning streak in 1991 that commenced with the Turnbull Stakes early in October. She then won the L.K.S. Mackinnon Stakes, the Caulfield Cup and the Melbourne Cup. When 1992 kicked off, it was the C.F. Orr Stakes, the St. George Stakes, and the Australian Cup. A leg injury brought the season to an end, but the 1992 Australian Champion Racehorse of the Year was securely in her possession.
She returned as a five-year-old to once again encounter the wet spring track conditions that are often problematic for a large horse such as was she. She did beat Better Loosen Up at Caulfield and gave Super Impose all he could handle in the Cox Plate, although she was later penalized for impeding Better Loosen Up. She was scratched from the 1992 Melbourne Cup. She tried her fortune in Japan, but experienced a bleeding attack in the Japan Cup before being shipped to the U.S.
Competing on American tracks as a six-year-old, she was able to claim $169,000 USD in prize money by finishing first in one minor race, and then third in three USA Group 1 events, including first past the post in the Beverly D. Stakes until being judged as having interfered with another horse gave the victory to Flawlessly. Further bleeding issues and a fractured leg bone compelled her retirement at the end of 1993.
Let's Elope at Stud
Let's Elope was judged something of a disappointment as a breeder. With the 1999 and 2000 leading North American sire Storm Cat, that despite an uninspired racing record, commanded a high stud fee due to having Northern Dancer for his Grandsire and Secretariat for his Damsire.
Her most significant progeny were Ustinov in 1998 that placed in some Group 1 races, and Outback Joe in 2007, winner of the 2014 Adelaide Cup.
Four Group 1 wins, three Group 2 and one Group 3 victory would probably not get a miler into the Racing Hall of Fame, yet Let's Elope could be said to have picked her spots such that she had an outsized influence on Australian racing and is thus a legitimate Hall of Fame horse.