Hyperno, one of the racehorses foaled in New Zealand who was a wayward but a brilliant galloper.
Hyperno was sired by Rangong out of Mikarla by Persian Garden II (GB). The Thoroughbred racehorse was foaled in New Zealand in 1973 and went on to become one of the finest stayers in Australian horse racing history.
He was trained by Geoff Murphy at Caulfield in his early years and later moved to Bart Cummings stable in 1978. Throughout his career the gelding won numerous Listed and Group Races which include his famous victory in the 1979 Melbourne Cup with Harry White in the saddle.
Hyperno was bred by Fairdale Stud Ltd. and owned by Mr & Mrs T.L. North et al.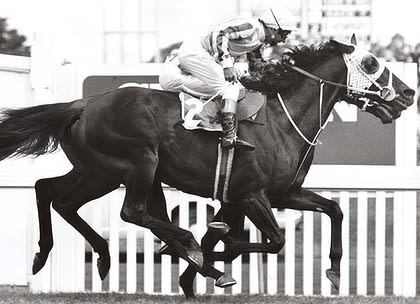 Hyperno's career got off to a slow start with only 2 runs as a two year old. However, the gelding began to peak in his third year, bringing home six titles from fifteen starts. He was described as a 'psycho' in his early days.
Hyperno's 1979 Melbourne Cup victory with Harry White on board was one of the closest, winning by a nose form Salamander, after a mid-race collision with champion Dulcify. Dulcify had to be put down following this incident.
Image: Hyperno on the outside of Salamader winning the '79 Melbourne Cup.
''On the home turn, Hyperno cruised up from fifth place to take the lead from Red Nose,'' Bart Cummings recalled. ''On Salamander, Roy Higgins was riding a brilliant and lucky race. He never left the rail, and every run he needed opened up for him.''Salamander scooted through on Hyperno's inside … Hyperno and Salamander crossed the line together, and nobody in the grandstand could call the result.''The judge found Hyperno had scored by an inch, officially a short half-head.
The photo also showed Salamander had one ear pricked like something had caught his attention as he and Hyperno went over the line.
The following years Hyperno continued to win a number of Group races which include the Queen Elizabeth Stakes (1979-80), Blamey Stakes (1980-81), Australian Cup (1981), St George Stakes (1981) and Rawsons Stakes (1981).
In 1981, he was named Australian Horse Of The Year.
Achievements
Hyperno's major achievements included :
• Newcastle Gold Cup (1977)
• The BMW Stakes (1978)
• C F Orr Stakes (1978)
• Melbourne Cup (1979)
• VRC Queen Elizabeth Stakes (1979, 1980)
• Blamey Stakes (1980, 1981)
• Australian Cup (1981)
• Rawson Stakes (1981)
Hyperno started 76 times for 20 wins, 14 seconds and 13 thirds and finished with career earnings worth AU$722,145.
Sadly Hyperno died in 2002.