At times, we have been critical of the selections, or perhaps more accurately, the omissions of the selectors of the Australian Racing Hall of Fame (HOF). We wondered at the inclusion of Grand Flaneur, that might possibly be deserving, but if so, we wondered at the rejection, as of 2015 at least, of Chester, a horse that won many more races, including many important events, and also can legitimately claim an equivalent or better stud record.
In the case of today's subject, however, it appears that the HOF made a controversy-free choice in 2003 when Heroic was inducted alongside Malua, Peter Pan, Tobin Bronze and Vain.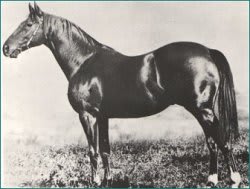 The only possible stain on his record has nothing to do with his racing results, or his work as a sire, but was the result of some unscrupulous behaviour on the part of the humans who were in charge of him. That bit of bad acting caused the racing authorities to reject his nominations for the 1924 VRC Derby, which was won by Spearfelt, a horse that did beat Heroic later on, and the Melbourne Cup, won that year by six-year-old Backwood, an import trained in Australia that took the lead late in the race and relegated Spearfelt to third place. Given Backwood's notoriety of possessing a voracious appetite, much credit goes to the trainer for having the horse fit into the barrier. Given the horse's previous results, which included just two wins over three years, the fact that he went off in the Cup at 8-1 was a clear case of bookies being tight-fisted.
Heroic Bloodlines
Heroic's ancestors from the five previous generations were all British. His sire was Valais. This horse raced just seven times, all in England, winning once and finishing second once. He was shipped to NSW in 1919. Along with Heroic, he also sired Manfred and nine-time winner Valicare.
Heroic's dam was the British mare Cheronese. Skimpy records from those days do not shed much light on her, either as a racer or as a broodmare.
Heroic Racing Career
Heroic's racing results clearly qualified him as a HOF-calibre thoroughbred. He made a total of 51 starts, producing 21 victories and 15 placings, running unplaced just 15 times over the course of four seasons.
His obvious potential as a two-year-old found him racing in major races right from the start. In the 1923-24 season, he won significant races at five and six furlongs, including the AJC Breeders Plate, the VRC Maribyrnong Plate, the AJC Champagne Stakes and the VRC Ascot Vale Stakes, giving notice to punters and racing connections in Sydney and Melbourne that he was a force with which to be reckoned.
During the 1924-25 season, competing as a three-year-old, he was given the opportunity to try longer distances, an effort which proved productive when Heroic won the AJC Australian Derby. Shortening a bit, he beat another HOF horse, Gloaming, decisively in the nine furlong 1924 Chelmsford Stakes. He then won the VATC Caulfield Guineas at eight furlongs.
Here is where his connections, one of whom was his first owner, J.B. Corten, ran afoul of the stewards. Heroic's nominations for the VRC Derby and the Melbourne Cup were rejected as a penalty to his connections involving one of Heroic's stable-mates.
Whether or not Heroic could have won either or both of the races is sheer speculation. On the one hand, he was able to beat Gloaming, by one-and-a-half lengths in the Chelmsford Stakes, but he was beaten by Spearfelt in his final season of racing.
In one of those "that's racing" moments, Heroic was sold for a record price of 16,000 guineas to C. B. Kellow following his being prevented from running in the VRC Derby and the Cup.
Heroic produced a win for Kellow as a three-year-old, winning a staying race, the 1925 weight-for-age AJC Autumn Stakes over 12 furlongs.
Heroic had 18 starts as a four-year-old, just seven fewer than Black Caviar had for her entire career, but those were different times, of course. In the season covering 1925-26, many people still used horses for transportation and as draft animals.
He ran unplaced only five times in those 18 starts. He was displaying impressive versatility, winning the 1925 VATC Memsie Stakes and the weight-for-age Caulfield Stakes at nine furlongs. In the 1926 portion of the season, he won the six furlong Newmarket Handicap, and then won the w.f.a. AJC Cumberland Stakes, where he beat 1925 Melbourne Cup winner Windbag. Windbag was seeking to repeat the Cumberland Stakes win from 1925 and strong argument could be made that his racing credentials 18 wins and 10 placing from 36 starts, deserve HOF consideration at least.
Heroic started his five-year-old campaign strongly in the 1926-27 season. Perhaps he was showing a bit of age, because he won nothing beyond 10 furlongs in his first six races and wins of that season, but that 10 furlong win was none other than the W.S. Cox Plate, the toughest and most prestigious w.f.a. race on the Australian racing calendar. Earlier, he had won the 1926 Memsie Stakes for the second time, in which he beat Manfred, a horse with the same sire as Heroic, that being Valais. Heroic won other major races. In 1926, he won the Underwood Stakes and in 1927, he won the William Reid, C.F. Orr and St. George Stakes.
He failed to defend his win from the previous year in the Newmarket Handicap. He then ran second to Spearfelt in the Governor's Plate, before winning for the final time in the VRC King's Plate. Back in Sydney, he ran unplaced four times and the decision was made to retire him.
Heroic Stud Record
Many good racers have had desultory results as sires, but this was definitely not the case with Heroic. He produced 29 stakes-winners that won 110 stakes races. The most noteworthy was Ajax, THE Ajax, but Hall Mark, the1933 Melbourne Cup winner, along with Hua, Heroic Prince, Heros, Nuffield and Valiant Chief are a few of his progeny that won many times and major races.
Heroic was only 17 years of age when he died in December of 1939. He was a rare horse that not only did well on the turf, but also passed along his talents to successive generations. Small wonder then, that he was in the class that was inducted in the third season of the HOF's existence.