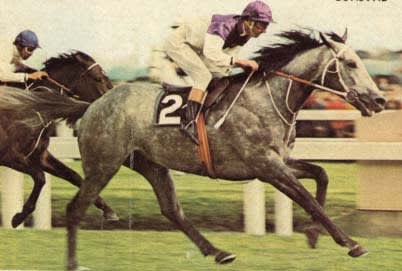 Gunsynd is one of the most prolific winners to ever grace the turf.
Comparing horses from different eras on the basis of prize money is nigh well impossible given inflation and the general escalation of purses.
One more valid criterion, however, that transcends the era is simply the racing record.
Gunsynd was foaled in Australia in 1967, sired by native son Sunset Hue had damned by Woodie Wonder. He was a good grey, a not all that common color, from The Dips Stud at Breeza, NSW.
Today's top betting sites
CHANCES ARE YOU'RE ABOUT TO LOSE. Set a deposit limit
Gunsynd Purchased For $1600.00
Purchased for $1600 at the1969 Brisbane sales by a consortium consisting of G. McMicking, A. Bishop, J. Coorey and A. Pippos, his four-year career topped that of many runners who raced considerably longer.
Gunsynd overall record of 29 wins, 7 seconds and 8 thirds is all the more impressive given that his two-year-old season featured only one major win, the 1969 Hopeful Stakes, and only the Chelmsford Stakes in 1970.
The next season saw Gunsynd switching stables from Bill Wehlow to Tommy Smith for the 1970/71 season, and the rest, as they say, is history.
Gunsynd hit his true form thereafter. 1971 brought the Rawson Stakes, Epsom Handicap, Toorak Handicap, Sandown Cup and George Adams Handicap.
In 1972, as a three-year-old, he notched a Cox Plate, managed a third under heavy weight-60.5 kg-in the Melbourne Cup and added no less than eight majors to his tally. These included the Futurity Stakes, Frederick Clissold Handicap, Hill Stakes, VRC Queens Plate, Doncaster Handicap, Colin Stephen Quality Handicap , Caulfield Stakes and VRC Queen Elizabeth Stakes.
This prodigious season resulted in Gunsynd's being declared Australia's champion racehorse for the 1972/73 season.
VRC Queen Elizabeth Stakes
In '73 he resumed where he left off in '72, adding a consecutive VRC Queen Elizabeth Stakes, a second Rawson Stakes, a Blamey Stakes and an Autumn Stakes.
Gunsynd was a favorite of Australian punters as the result of being one of the finest greys to ever take the turf and a tenacity when running that served to take the victory when other horses pulled up as beaten.
Versatility is an apt adjective to describe Gunsynd's running style. He won at distances as short as 1200 metres and as long as 2500 metres. Neither a true sprinter or stayer, he was well nigh unbeatable in the mile. In fact, his only loss at this distance out of seven starts, by less than a head, was the Epsom Handicap of 1972.
Gunsynd stood stud commencing in 1973. Like many overachievers before and since, his progeny was not particularly productive, but he did sire a filly, Ammo Girl, who was the dam of Australian champion racehorse 1983/84, Emancipation.
Gunsynd Dies At 16
He was euthanised at the age of 16, suffering from cancer.
He is the only animal gracing the Queensland Icon list, the Group 3 Gunsynd Classic, it is run to honour him at Doomben Racecourse.
There is also a statue of Gunsynd at Goondiwindi and he entered the Australian Racing Hall of Fame in 2005.
His at-the-time record of over $280,000 in winnings was the highest ever by an Australian thoroughbred and the fact that he was unplaced only 10 times from 54 starts places him squarely, and rightly so, alongside the all-time great thoroughbreds.