Halls of Fame, in any sport and any country, are notoriously subjective in choosing who gets in and who gets excluded. Sometimes, the process seems quite ludicrous.
In the U.S., the Major League Baseball all-time leader in hits, Pete Rose, has been denied entrance to the MLB Hall of Fame for the infraction of betting on his team to win when he was managing of the Cincinnati Reds. Imagine being paid to manage a team, ostensibly for the purpose of winning as many games as possible, and then being banned for life from the game because of wagering on your team to win.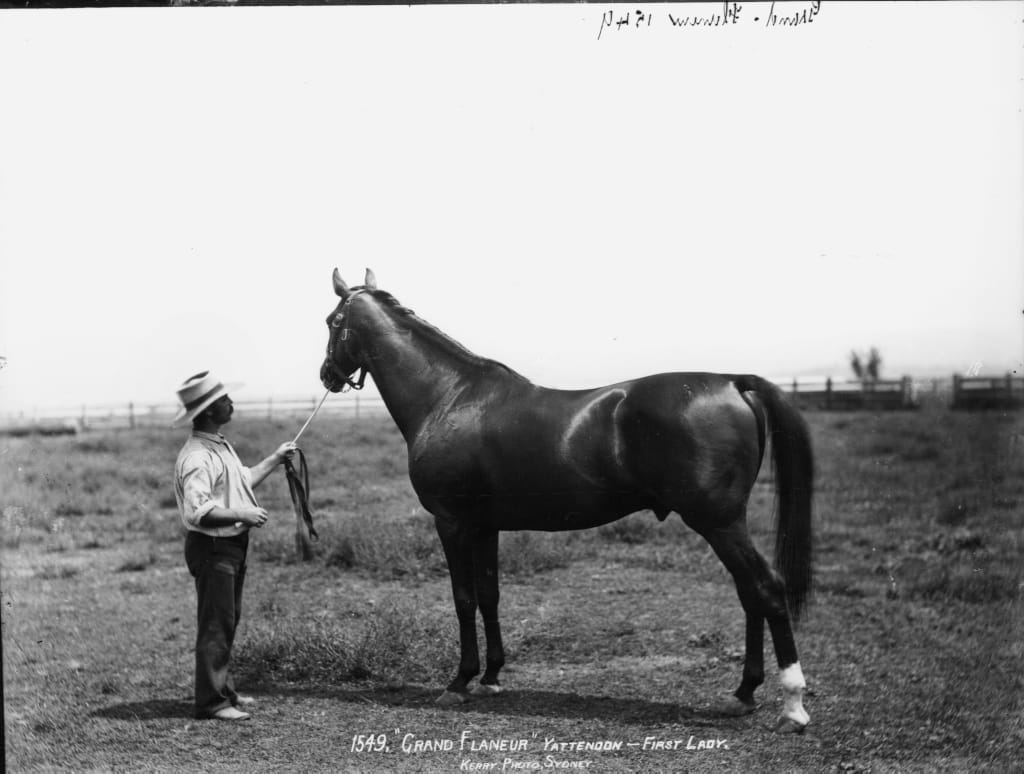 On the other side of the equation, some halls of fames have included inductees whose accomplishments are seemingly quite slim and require a bit of a stretch of the criteria to provide justification.
In 2007, the Australian Racing Hall of Fame inducted a horse that ran in only nine races, Grand Flaneur.
Admittedly, he won all nine of those races and many of the races are amongst the most significant of the Australian racing calendar, including the Melbourne Cup, the AJC Derby, the Victoria Derby and the VRC St. Leger.
The Racing Hall of Fame website lists as its first criterion: Any horse (flat or jumping) which has raced on Australian racetracks – Australian or foreign bred – which has excelled at the highest level.
Ignoring the grammatical conflicts of that statement, does nine races, regardless of the significance of those races, constitute excelling at the highest level? If it does, how is it possible to justify excluding two-time Melbourne Cup winner and 38-time placer Rain Lover until 2014?
The racing Hall's second criterion states: Any horse which has had an exceptional influence on Australian Racing.
Grand Flaneur does offer up stronger credentials from this regard, due to the number of stakes winners that resulted from his stud career, but many other horses have achieved leading sire or leading broodmare status, along with winning more races, only to be ignored by the Hall of Fame selection committee.
It almost seems to indicate prescience of the part of the owner who selected the horse's name, because the word flaneur means "loafer," "idler," or to stroll, loaf or saunter. Loafer might be apropos in terms of the horse's number of jumps, and the horse certainly cannot be held responsible for having serious injury issues. Stroller, on the other hand, does not apply; obviously when the horse ran, he galloped and did not stroll.
Ranting accomplished, we now propose to have a look at this thoroughbred's breeding and racing career, along with a mention of some of his progeny's accomplishments on the track.
Grand Flaneur Bloodlines
A product of Fernhill Stud, E.K. Cox's operation located near Mulgoa, NSW, Grand Flaneur was foaled in 1877. Like many Australian thoroughbreds in the latter half of the 19th century, many of his ancestors were from England. Not so much, though, as many of his contemporaries. His sire was Yattendon, a very competent racer that won the AJC Derby, St. Leger and the 1866 Sydney Cup, had an Australian sire and dam. Yattendon also contributed, out of Lady Chester, a colt named Chester that won 19 times from 30 starts, including the 1877 Melbourne Cup (Chester, despite winning many of the same major races as Grand Flaneur, and producing over twice as many victories, along with an impressive stud record, has not been deemed adequate for the Racing Hall of Fame). Grand Flaneur grandsire Sir Hercules was unraced, but enjoys a great claim to fame as the sire of The Barb, a horse with substantial racing credentials.
Grand Flaneur's dam was the British import First Lady, that arrived in Sydney in 1875.
Grand Flaneur Racing Career
Grand Flaneur, with nine career starts, only appeared once as a two-year-old. He won the 1880 VRC Normanby Stakes, a five furlong sprint.
In the 1880-81 season, racing as a three-year-old, he won every race in which he took part, moving up from the sprint distance at which he had first been tried, to races of 10 furlongs and above.
His first major win was the 1880 AJC Derby for three-year-olds, a 12 furlong affair run at set weights at Randwick racecourse. Many of Australia's greatest horses of all-time, Phar Lap amongst them, first came to attention for winning this race. Grand Flaneur's jockey, Tom Hales, as of 2015 owns the record, six, for most victories in this race.
He next won the 1880 Melbourne Cup, beating the favourite Progress by a length. Grand Flaneur was not a popular horse with the public, since his owner had a poor reputation for scratching his horses in order to win bets. Racing historians will recall that the year prior, the Totalisator made its first appearance at Flemington.
Victories in two less significant races followed, the AJC and the VRC versions of the Mares Produce Stakes.
He then won the Victoria Derby before taking on the 24 furlong VRC Champion Stakes in 1881, which he won by one length. The VRC St. Leger Stakes was his last major win and the Town Plate was both his last win and last race.
Grand Flaneur Stud Record
After an injury brought Grand Flaneur's racing career to a premature end, he retired to Richmond, NSW, to stand at Andrew Town's Hobartbville Stud. His first efforts produced Bravo, winner of the 1889 Melbourne Cup, one year prior to Carbine's victory. He was also involved in Patron, that won the Melbourne Cup in 1894.
He was named leading sire of Australia in 1895 and he was near the top of the list of leading sires for 10 years. By this time, he had been transferred to Chipping Norton Stud because he was stressed by the climate at Hobartville. Other notables he produced include Hopscotch, Merman, that ran in England, and Parthian. In all, he sired 23 stakes winners that produced 45 stakes wins, including many of Australia's major races.
Resuming our rant with regard to the Racing Hall of Fame's second criterion, that of having had exceptional influence on racing, Grand Flaneur's brother Chester was not merely near the top of the sires list, he was clearly at the top four times, in 1888, 1890, 1892 and 1893. It would seem from casual observation that Chester was superior to Grand Flaneur in every regard, save for that of inclusion in the Racing Hall of Fame.
None of this, certainly, is Grand Flaneur's fault, but it would seem that if you were going to have a hall of fame, and go to the bother of establishing rules for entrance, those rules would be applied with more objectivity. Without that objectivity, the Racing Hall of Fame selectors more closely resemble figure skating judges than evaluators of thoroughbreds.