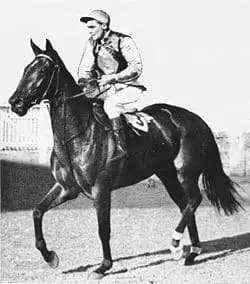 Two-time W.S. Cox Plate winner Flight was ample proof that in horse racing, unlike many human sporting endeavours that depend on size, speed and strength, gender makes very little difference.
Even though she was small in height, her impressive girth, equivalent to that of much taller horses, gave her the heart, lungs and musculature to compete on equal footing with some of the most proficient stallions of her time, including Bernborough.
During her career, in and around World War II, she was a crowd pleaser of the first level. She was inducted into the Australian Racing Hall of Fame in 2007, alongside nine-time undefeated and 1880 Melbourne Cup winner Grand Flaneur and the New Zealander Super Impose, winner of the W.S. Cox Plate in his next to last race as an eight-year-old in 1992.
Three horses, spanning over a century, with Flight in the middle. Here is a look at this impressive mare who can be legitimately mentioned in the same sentence with Makybe Diva and Black Caviar, especially when it is considered that she was the highest earning stakes winner amongst all mares up to that time.
Today's top betting sites
CHANCES ARE YOU'RE ABOUT TO LOSE. Set a deposit limit
Flight Breeding
Flight was foaled in 1940 and purchased at the 1942 Sydney yearling sales by future AJC chairman Brian Crowley for the incredible bargain price of 60 guineas, less than what was paid for Phar Lap. Quite the opposite of Eurythmic, whose bloodlines were predominantly British on the sire's side and Australian on the dam's, Flight's, sire and grandsires were native Australians, but her dam and damsires were of New Zealand and British extraction, with a bit of Irish and French blood further back as well.
Her sire was 1933's Royal Step out of Australia. Information regarding his racing results is not readily available, but he must have had something valuable to be worthy of using as a breeder. Quite possibly, that something was her sire, Heroic, winner of 21 stakes races, including the W.S. Cox Plate, and sire of 29 stakes winners, including no less a legendary figure than Ajax. Back beyond that, the rest of the line was exclusively British.
Flight's dam was an unraced broodmare named Lambent, out of New Zealand. One interesting ancestor was Ireland's The Tetrarch, who was undefeated as a two-year-old in seven starts, but was retired due to leg issues. He would, however, become Great Britain and Ireland's Leading Sire in 1919.
Flight Racing Career
She was first past the post on her very first attempt as a two-year-old, winning the AJC December Nursery. She won again in the AJC Havilah Handicap and the Rosehill Nursery Handicap.
Her big win for the season would have been the Champagne Stakes, six furlongs at that time, which was later lengthened and made the last leg of the Juvenile Triple Crown that consists of the Golden Slipper Stakes and the ATC Sires Produce Stakes.
She did not run in the Golden Slipper, since that race did not debut until 1957, but she did come close in the Sires Produce Stakes, losing by a head only to Mayfowl. She won another race, the Victoria Park Juvenile Handicap, carrying above 63 kg, such was the perception of her abilities.
When Flight started to compete as a three-year-old, significant races fell to her. She closed out 1943 with the Hobartville Stakes and the first of her two Craven Plates. In the New Year, she won the Adrian Know Stakes and several others before posting a second in the AJC Derby. A close second, less than a head to Goose Boy in the Doncaster Handicap, and a similar margin to Katanga in the AJC All-Aged Stakes. Two third place finishes at Rosehill followed to conclude her efforts at the age of three. As a four-year-old, Flight had a bit of a drop off, making 12 jumps and winning just twice, beating her nemesis Katanga in the Warwick Stakes and the Colin Stephen Stakes. Katanga came back to make her second in the Chipping Norton Stakes and the Autumn Stakes.
She posted another three third place finishes, so seven placings from 12 starts, decent by most standards, was the line for that season. When she went to the track as a five-year-old, she placed 15 times from 18 starts, winning eight times, including her first Cox Plate win in 1945. She won the Craven Plate for a second time, and won on four other occasions in Melbourne.
Against Bernborough in the Chipping Norton Stakes, she lost by a head. She was tried twice in Brisbane, running unplaced in the Doomben Ten Thousand and second in the QTC El Alamein Stakes. Flight acquitted herself quite nicely as a six-year-old. She won a second Cox Plate in 1946, although interestingly, the race was run in two divisions that year, with a horse named Leonard winning the race in the lesser division. Another prestigious win was the L.K.S. Mackinnon Stakes.
She also took first place in the C. F. Orr Stakes and the AJC Plate. When her racing career came to a halt after 1947, when she again won the Essendon Stakes, Flight had made 65 starts, winning 24 times and placing second or third another 27 times.
Flight Stud Record
Flight's time at stud was relatively brief, as she died in September of 1953. The cause was an internal hemorrhage. She had time to produce just five foals.
Her only daughter was, aptly enough, Flight's Daughter, who would produce Skyline, that won the 1958 STC Golden Slipper Stakes and the AJC Derby and won or placed 17 times out of 28 starts. Another productive foal of Flight's Daughter was Sky High, also a Golden Slipper winner. Flight was inducted into the Australian Racing Hall of Fame in 2007.
The Group 1 set weights Flight Stakes, a 1600-metre race that shares the race card with the Epson Handicap has been staged in her honour since 1947, usually at Royal Randwick, except for two years when it was moved to Warwick Farm. Flight earned over £30,000 during her career, a quite nice return on investment for a horse that only fetched 60 guineas as a yearling.