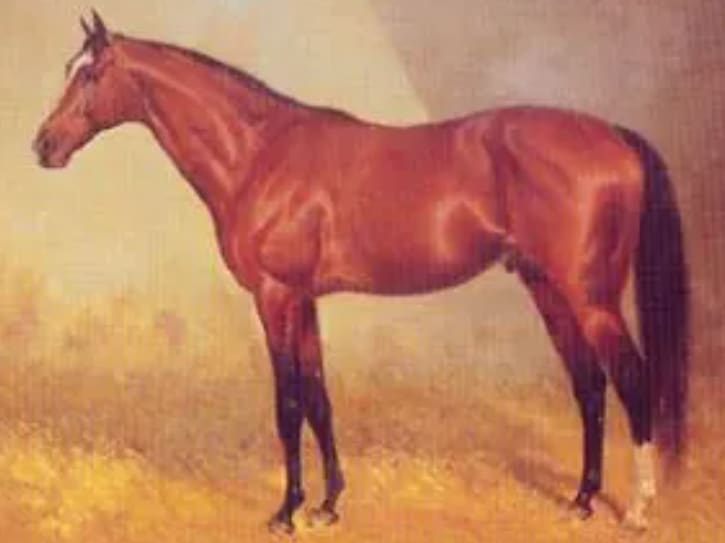 This article tells the story of a very reputed racehorse named Carbine.
His success as racehorse and as an international sire has become history. He was much revered in his life time. He was so successful on and off the track that his skeleton has been displayed at the museum in Australia and New Zealand.
Carbine was bred at the Sylvia Park Stud near Auckland in New Zealand in 1885. He was a bay stallion well known for versatile talents such as speed and weight carrying ability. He contested earlier in New Zealand and later in Australia. He was an offspring of an English Ascot winner Musket and an imported mare Mersey. Carnage, the stakes winning stallion was his half-brother who became the winner of the Victoria Derby and some other stakes.
Today's top betting sites
CHANCES ARE YOU'RE ABOUT TO LOSE. Set a deposit limit
Carbine 16 Hands And 1 Inch
In his youth, Carbine was 16 hands and 1 inch in height. He possessed a good temperament. However, he had some inherent faults.
Carbine had a remarkable racing career scoring 33 wins out of 43 starts including six seconds and three thirds. He failed only once in his career and that was due to his split hoof. He was popular among punters and commentators eulogize him for his stamina, speed, weight carrying ability and remarkable gameness. He was fondly nicknamed Old Jack by his fans.
At the age of two, Carbine was invincible in five starts in top class races in New Zealand. He went to Australia where he was the winner of 13 starts at the age of three. At that time he won the AJC Sydney Cup of two miles carrying about 5 kg over weight for his age. Carbine won by a head in 3 min 31 seconds in spite of the fact that he suffered interference and pushed back to last place. That era was different in terms of horse racing.
Race times were slower, tracks used were very rough and jockeys rode their mount in an upright posture. Carbine's owner cum trainer Dan O'Brien sold him for 3,000 guineas at the end of age 3. He was taken to Australia to face racing in Melbourne and Sydney.
Carbine's Trainer Walter Hickenbotham
Carbine's new trainer Walter Hickenbotham trained him to break the records when he was four. As a four year old he won two races on a single day. Carbine's most prominent victory was the Melbourne Cup in 1890. He broke the weight record with 66 kg. Carbine defeated Highborn having 24 kg weight advantage.
He was kept out of the 1891 Melbourne Cup due to a heel injury.
Carbine Retired To Wallace's Stud
Carbine sired a colt called Wallace which subsequently became an outstanding racehorse of the decade. He kept on producing winners in Australia as a stud. Some of them include Ameberite and La Carbine who were both stakes winners.
Finally, Duke of Portland bought Carbine for 13,000 guineas and was taken to England to the Duke's English stud at Welbeck Abbey.
Spearmint, the 1906 Epsom Derby winner was sired by him. Post World War II horses such as Rising Fast, Think Big, Cosmic Court and Rain Lover belonged to the Carbine pedigree. They all were Melbourne Cup winners. Makybe Diva also belongs to Carbine's pedigree.
Unfortunately, Carbine had a heel injury which kept him out of racing. Otherwise, he would of set many more records. But, his progenies advanced his legacy.
Carbine Dies June 2014
Carbine suffered a stroke and was put down on the 10th of June 1914.
The Duke of Portland sent his skeleton to the Melbourne Horse Racing Museum. It is now displayed in the Melbourne Museum and the Australian Hall of Fame.
Carbine's record as a racehorse and as an international sire is unmatched and unequalled. No other horse has achieved so much success in his life time. Equine artist Martin Stainforth paid tribute to the all time great with a portrait painting