Five thoroughbreds, spanning over 120 years of time in terms of the years they were foaled, were inducted into the Australian Racing Hall of Fame in 2004. They were The Barb (1863), Poseidon (1903), Gloaming (1915), Ajax (1934), and Better Loosen Up (1985).
The three oldest in terms of date foaled were almost exclusively of British and Australian lines. Ajax was a bit more diverse, and quite interestingly, shares a trait with Better Loosen Up by having horses from the United States in their bloodlines. In the case of Ajax, that connection was to a mare named High Feather that was foaled in 1898, five generations back. For Better Loosen Up (BLU), on the other hand, it was his sire, Loosen Up that came from the U.S.
By far, Better Loosen Up had the most diverse, at least in terms of country of origin, bloodlines, with New Zealand, Italy, and France getting into the mix. His case was one where the practice of shuttling stallions to different hemispheres in order to take advantage of the different fertility cycles of mares from the northern hemisphere compared to those of the southern was more common, facilitated by faster and less risky transportation methods.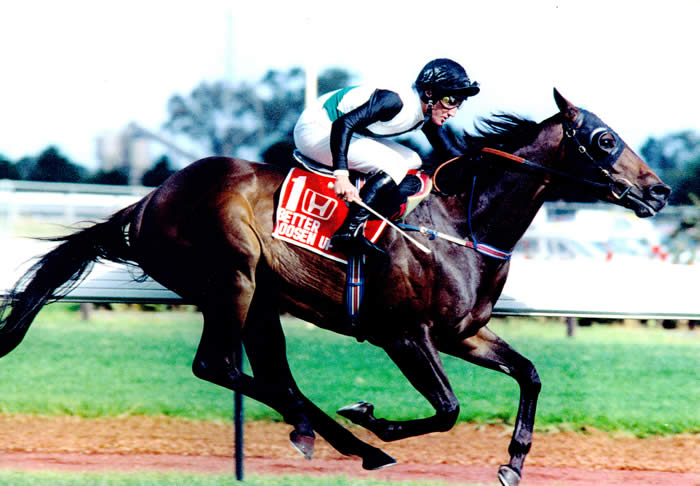 Here is a closer look at the lines and the racing career of Better Loosen Up.
Foaled in 1985 in Berrigan, NSW, at the breeding operation of Howard Martin, his sire was the aforementioned Loosen Up and his dam was Better Fantasy. Loosen Up had next to nothing in his racing record to indicate his potential as a stud. He made 15 starts in France, won just once and placed only three times. He did have impressive lines. If you look back far enough, you find some impressive ancestors, including Nearco, Hyperion, Scapa Flow and Gainsborough. BLU's grandsire, Sword Dancer, was a very productive racer.
Better Loosen Up's dam, Better Fantasy, is credited with five wins, although what quality, distance, and so forth is not readily evident. Plenty of French blood in her lines, though. BLU was by far her best output and only stakes winner, for that matter.
As a racer, Better Loosen Up showed nothing in his early days. He was small by most standards, which may have accounted for some of his early issues. Even as a three- and four-year-old he won just a few races against horses that were not exactly the cream of the crop. He was to go on eventually to prove one of the better WFA champions, but his start was less than auspicious.
At two, trained by Les Theodore, Better Loosen Up won once in four tries. He was sent to Sydney to the operation of Bart Cummings, during which time he managed to win four races and a second place finish in the 1900-metre Group 1 Canterbury Guineas, the race that evolved to become the Randwick Guineas in 2006, when it was also shortened to 1600 metres. At the conclusion of his three-year-old season, he had won five times in 16 attempts, even though his original trainer had pronounced BLU a potential champion.
Another trainer was given the task. Colin Hayes took over. How much was Hayes's influence and how much was simply the horse coming into its own is not easy to ascertain, but the results were impressive.
Better Loosen Up ran a close second in the 1989 Caulfield Cup, and then reeled off three consecutive Group 1 wins, those being the Honda, Winfield and Railway Stakes. At the beginning of 1990, he was beating classy competitors, including Super Impose and Vo Rogue in two races, with a runner-up finish to Vo Rogue in the Australian Cup. Heavy tracks proved his undoing somewhat, by it too a thoroughbred of Sydeston's stature to defeat him in the Mercedes Classic and the Queen Elizabeth Stakes.
As a five-year-old, he was handed over to David Hayes following the retirement of Colin Hayes. He lost the Liston Stakes first up in the 1990 – 91 season, but did not lose the rest of the season. His third win, following victories in the Feehan and Turnbull Stakes, was no less significant a race than the Cox Plate, where he set a new record. He made up for the previous season's loss by taking the Australian Cup. These exploits earned him an invitation to run in the 1990 Japan Cup. When he came from the back of the field with a stretch run that was barely comprehensible, he became the first and only Australian horse to win the Japan Cup. The race took place in front of 164,000 spectators and attracted wagering of close to $2 billion AUD. Better Loosen Up and his hoop, Michael Clark, beat perhaps one of the most famous American jockeys of all time, Steve Cauthen, who was aboard the British horse Belmez.
Quite deservedly, Better Loosen Up was named Australian Horse of the Year at the conclusion on the 1990 – 91 season.
An unfortunate leg injury curtailed him as a six- and seven-year old. He was able to make only 12 more starts, but he did not return to his previous form. He came quite close to winning the Cox Plate for a second time, finishing third, just a length behind Super Impose and Let's Elope. His connections lodged a protest against Let's Elope that was upheld, moving him to second place.
Better Loosen Up was retired early in 1993. As a gelding, he and his owners missed out on what would have in all probability have been considerable stud fees on top of his nearly $5 million in winnings. Then again, hindsight is unfailing, and it is quite possible to wonder if the horse left whole would have been manageable to the point of winning at the level he did. He raced 45 times, winning 17 and placing 12 times.
Given the competitive nature of racing, it was a most fortuitous set of circumstances that resulted in Better Loosen Up being the recipient of the necessary patience that paid off handsomely in the end. His last trainer, David Hayes, described BLU as being, "… a terribly lazy horse…" one that did not seem to care much for training, so the fact that his connections persevered with the care, feeding and training of a small horse with an unexceptional start to its racing career is one of the facets that makes the tale of Better Loosen Up so compelling.
Better Loosen Up was inducted into the Australian Racing Hall of Fame in 2004, and he recently turned 30 years of age at Living Legends near Tullamarine Airport in Melbourne.