A literal as well as figurative giant, Bernborough was a hero when a hero was exactly what was needed.
His dramatic come from behind victory in the 1945 Doomben 10,000 was described as "Bernborough from the clouds."
It was not all that long previous that many an anxious punter was scanning the clouds, not for a giant bay stallion, but for Japanese warplanes.
Bernborough captured the racing public's imagination at a time when all sought relief from the pressures, privations and turmoil that was World War II.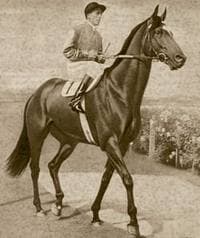 The bay colt Bernborough was foaled 1939 in Dalby, Queensland. His sire, Emborough, hailed from Great Britain, while his dam was the home grown Bern Maid.
The balance of his bloodline was predominantly British with a smattering of United States and French blood tracing back to the turn-of-the-century.
Bernborough was frequently compared to Phar Lap. The two were both around 17 1/4 hands and had huge strides of 26 feet when running full out. Comparison to Phar Lap could justifiably be considered high praise indeed, but Bernborough's racing record seemingly has the credentials to back the claim.
Bernborough career began somewhat inauspiciously. Originally bred by Harry Winten and owned by Frank and John Bach, he was limited to racing at Toowoomba because of suspicions held against his connections by racing authorities in Queensland and New South Wales.
The Bachs attempted to circumvent the ban by ostensibly selling the colt to A. E. Hawden, but this effort did not meet with success. Not until Azzalin Romano gained ownership was Bernborough sanctioned to run the major metropolitan turf.
His ability as a runner was never the issue. As a two-year-old, he produced four wins and one second place finish from five starts. By this time he was already carrying 9st 9lbs.
Bernborough proceeded to win all four starts as a three-year-old.
Hampered by an injury, Bernborough lost in his two starts as a four-year-old.
His five-year-old campaign produced three wins and one second out of eight starts. At this time, Azzalin Romano entered the scene, the bans were lifted and Bernborough had his first significant start at Canterbury Racecourse in December of 1945. He finished a respectable fourth in that event with Noel McGrowdie steering.
Then, legendary hoop George Athol Mulley was retained to ride Bernborough. What followed is the stuff of legend. Bernborough immediately produced a victory in the AJC Villiers Stakes. This was followed by 14 consecutive wins at distances of six (1200 m) to eleven (2200 m) furlongs, often under substantial weight.
Among these wins were the VATC Futurity Stakes, the Newmarket Handicap, the Rawson Stakes, Chipping Norton Stakes and All Aged Stakes.
Next up was the remarkable victory in the Doomben 10,000. Against a quality field of 26, carrying 10st 5lbs., Bernborough came from 23rd place at the final turn to win by two lengths in record time.
Then came the Doomben Cup, where he carried a phenomenal 10st 11lbs. To cap this amazing string of victories, Bernborough coasted to easy wins in the AJC Warwick Stakes, the Chelmsford Stakes, the Hill Stakes and the Yallumba Stakes.
A respectable but far below expectations fifth-place finish in the Caulfield Cup resulted in the dismissal of rider Mulley. This proved monumentally unfortunate, as Bernborough, steered by Billy Briscoe, was seriously injured in the LKS McKinnon Stakes. Prompt and effective veterinary attention saved the stallion, but he never again competed.
Bernborough was retired and sold to American movie mogul Louis B. Mayer.He stood stud at Spendthrift Farm in Kentucky until his passing in 1960.
His notable progeny included Berseem, Bernwood and Hook Money, the three of whom produced 40 victories.
Bernborough took his well-deserved place in the Australian Horse Racing Hall of Fame as part of the inaugural class of 2001, alongside Phar Lap, Carbine, Tulloch and Kingston Town.
What he may have accomplished with better health and legitimate bona fides is purely a matter of speculation, but his documented accomplishments clearly place Bernborough in the top most echelon of Australian horse racing history.