Archer was foaled at the Exeter Farm in 1856.
The distinction of winning the first two Melbourne Cups held in 1861 and 1862 is none other than Archer, an Australian Thoroughbred racehorse.
Archer was sired in 1856 by William Tell, out of Maid of the Oaks, both owned by the Thomas Royds from Jembaicumbene, New South Wales. This years Melbourne Cup try Bookmakers Bonus Bets.
Archer Leased
In 1860, Archer was leased by Etienne de Mestre, son of a prominent Sydney businessman, from Hassall and Roberts, and trained by de Mestre at Nowra in New South Wales.
During the lease, de Mestre was deemed to have owned Archer and was fully responsible for the horse. De Mestre began training Archer as a three-year-old. Nicknamed 'The Bull', Archer was an unusually big horse standing at 16.3 hands with excellent features.
From the start Archer had an unusual rolling gait when galloping while his tongue always hung out of his mouth. Archer didn't do well in his first two races at Randwick Racecourse in May 1860; however, he made amends in the Spring Meeting followed by the autumn of 1861, winning seven events in succession in New South Wales.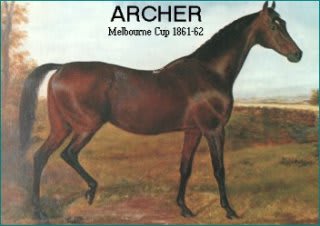 First Melbourne Cup
The first Melbourne Cup on 7 November 1861 had seventeen starters, turning out to be one of the most eventful races for varied reasons. While Archer blazed the tracks despite sustaining injuries a few days earlier, two other horses' die during the race while one bolted off the course.
In addition, two jockeys sustained broken bones after falling off their mounts.
Archer was never a favorite to win the Melbourne Cup although he beat Mormon, the starting favorite in the Australia Plate earlier in the year. It was only de Mestre's wager on his own horse that made bookies shorten the odds and make Archer the second favorite at 6 to 1.
History shows that Archer goes on and wins the first Melbourne Cup. The tireless horse went on to win the Melbourne Town Plate at Flemington the next day with the same enthusiasim.The AJC Queen Elizabeth Stakes was the next important race won in May 1862 after which Archer was shipped back to Melbourne to prepare for the second Melbourne Cup, this time becoming the Cup favorite.
Running in the Fifth Champion Sweepstakes in October 1862, Archer managed a third place in a run up to the Melbourne Cup on the 13th November 1862. Carrying 10 st 2 lbs in the Cup with odds of 2 to 1, Archer made mincemeat of his 19 other rivals to win an exciting race in time of 3:47.0.
After missing the start, jockey Cutts steered Archer home to victory by eight lengths, followed by Mormon once again in second place. The win by a record margin was match over a hundred years later by Rain Lover in the 1969 Melbourne Cup.
His win in the Melbourne Cup made his trainer richer by 810 gold sovereigns and a hand-beaten gold watch as the trophy. Incidentally, no other horse could repeat Archer's feat of winning two Melbourne Cups in a row until Phar Lap's triumph over seventy years later.
Archer finished of the season two days later with a win in the one mile All-Aged Stakes at Flemington Racecourse. Communication delays denied Archer a nomination for the third Melbourne Cup Bonus Bets.
However, injuries including a fetlock swelling would have automatically kept him out of the race later on. Another injury followed during preparations for the 1964 September Metropolitan Cup at Randwick, where Archer was seriously injured during a vet treatment.
At the end of the Randwick season Archer was retired from racing and went back to his original owners Hassell and Roberts to continue his duties as a stud on Exeter Farm.
Undoubtedly, the champion horse commanded a price as a stud, fetching the highest stud fees at the time. A fatal inflammation of the lungs while in a field of green barley brought an unfortunate end to Archer at the age of 16, on 22 December 1872.
John Cutts Dies
Sadly, his jockey, John Cutts had died three months earlier.
A horseshoe ornament from Archer's tail hair, crafted by Therese Haynes, a Victorian craftswoman, is displayed at the Australian Racing Museum in Melbourne.