Zeljko Ranogajec has taken the art form of gambling and raised it to a higher level.
Zeljko Ranogajec: While the winnings of wagering on racing have traditionally not been regarded as taxable, there comes a point where even the tax man feels compelled to seek his cut of the proceeds.
And it appears that Zeljko Ranogajec has surpassed that point to a degree that the authorities are seeking to make the distinction between gambling as a hobby and gambling as a business.
The Taxation Office has investigated Zeljko several times over the past 25 years, each time ruling that his activities did not fall into the category of being a business.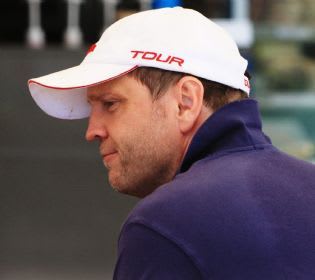 The Australian Taxation Office recently conducted another audit of Zeljko Ranogajec.
The outcome, announced in October of this year, 2012, seems to contradict years of legal precedent that gambling winnings are not assessable as taxable income.
The ATO seems to have taken the approach that since Ranogajec heads a syndicate of gamblers that he is indeed carrying on a business.
The end result, one that is likely to hold the interests of solicitors and courts for years to come, is that Zeljko Ranogajec, perhaps in the interest of putting the matter behind him, has agreed to surrender an amount reported to be nearly $700 million over the course of 12 months.
That works out to just under $60 million per month, a figure that would stagger just about any business in the country, but in Ranogajec's case appears to be an instance of cutting one's losses short.
It would seem the Zeljko Ranogajec was ultimately the victim of the worldwide economic crisis that has compelled revenue starved governments to actively disregard historical precedent and tax racing winnings retrospectively. Some commentators have compared the incident to the witch hunt conducted against software giant Microsoft, whose main crime seems to have been the failure to make appropriate campaign contributions. Nothing breeds envy like success.
In fairness to the tax man, it would certainly appear to the moderately objective person that Zeljko Ranogajec and his cohorts did everything in their power to disguise a truly well and highly organized endeavour to make it appear completely casual. The syndicate headed by Zeljko Ranogajec uses sophisticated gambling software to seek maximum profit. It also employs hundreds of people in three different companies based on advice it received that personally operating the gambling software in question would lead taxation authorities to conclude that there was no question that a business venture was involved.
A safe conclusion to be reached here would be that as times change and technology evolves, so must the interpretation of what is a business and what is a hobby.
While alarmists may raise the cry that the taxation office settlement, reached via court-ordered arbitration, raises the specter of retroactive taxation on anyone who has ever had a winning punt, the reality would seem that the ATO is only interested in the extremely large players, those who it seems have turned the wagering game into a science-for-profit endeavour.
Zeljko Ranogajec himself is a quite interesting character. Born in Tasmania of Croatian immigrant parents, Zeljko is reclusive in the extreme. He is never seen at tracks or in casinos. He defies the image created by flamboyant predecessors that carried colorful nick names such as Prince of Punters, Filipino Fireball, The Fireman, Fast Eddie or Hollywood. Instead, he has earned the nick name Lock Ness Monster because no one is certain that he has ever been seen. He has never been interviewed and goes to great lengths to zealously guard his privacy and that of his family and associates.
This has worked to his advantage in that where racing is concerned there can be no accusations of any sort of tampering whatsoever. This would also seem to be true of his betting interests in sports, lotteries and the stock market. It would seem a wise policy with which to adhere given the enormity of his involvement. Various estimates place his total annual participation at anywhere from $1-3 billion.
It is said that Zeljko Ranogajec bets on every thoroughbred race in Australia.
It seems that his preferred tactic emulates that of another low-key punter of an earlier era, Fred Angles.
Instead of relying on a bank of phones in his home to line up wagers in the last five minutes before a race, however, Ranogajec uses modern computer technology to queue up hundreds of bets in the TAB system, placing those bets in the final seconds before a race.
The end result is identical: opportunistic bettors cannot ride his coat tails and bookies seldom have the opportunity to take advantage of the tumbling odds that Zeljko Ranogajec's huge wagers engender. He combines relatively safe win and place bets earning small payoffs with big winnings for picking trifectas and other exotics.
Zeljko Ranogajec wagers alone are purported to account for over 30 percent of Betfair's southern hemisphere operations.
Also like Fred Angles, he approaches betting with the same attention to detail, even those that seem insignificant. It is said that the paper file of his activities for just one Melbourne Cup was over an inch thick. Perhaps so, but this fanatical attention to detail availed him not when he decided to lay Makybe Diva in the 2005 Cup.
His exhaustive preparations did not account for the VRC watering the track in order to placate trainer Lee Freedman, who had threatened to scratch Diva if the track was not softened. This just proves Ranogajec is human.
Zeljko Ranogajec has taken the art form of gambling and raised it to a higher level. His annual outlay surpasses the GDP of some third-world countries.
His approach of maintaining a low profile in order to keep the odds where he needs them to be in order to produce profits, combined with a willingness to wager on any event, even those on remote country tracks, has supplied him with a winning formula that amassed a fortune for him, a fortune that it seems, however, to have unfortunately attracted the attention of the ATO. It seems like only a question of time before other tax authorities join the queue to get their share of the pie.
Let me tell you how it will be
It's one for you
Nineteen for me
'Cause I'm the Tax Man
Yeah, I'm the Tax Man - George Harrison