Sean Bartholomew, Bookmaker and Big Punter continues to make money on the punt.
Not many die hard punters would believe that running through a computer based program would help punter turned bookmaker, Sean Bartholomew make money.
However, as the former owner of racingodds.com.au, Bartholomew continued to turn out winners on a regular basis.
For the past two decades, Sean Bartholomew has sent shock waves through Sydney 's betting rings, often placing his bets through commission agents.
From an ordinary punter to a leading internet bookmaker, Sean Bartholomew has come a long way in the Australian horse racing circuit.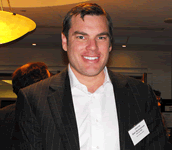 Sean Bartholomew started his career in the Sydney betting rings working for Warren Woodcock, a bookmaker, later becoming a commission agent.
Going by his formula, he continues to urge punters to bet on larger races with better class horses.
He also calls himself a statistics punter, dropping the idea of watching video replays to figure out form. For the most part Bartholomew is known as a punter that can move a market, notorious for having $200,000 on a horse at $3.50 and then laying it for $80,000 at $2.75 after the odds firmed, keeping $120,000 at the average odds of $4.
Along with his brother Kingsley, Sean Bartholomew continues to be an influential factor in the Sydney betting market.
Sean Bartholomew is known to place multiple bets in a single race, supporting three or four horses while the favourite moves from evens to 7-4, which he then backs elsewhere with other Victorian bookies and Darwin bookies.
Currently the Sean Bartholomew betting operation is more of a computer based statistical program as the former owner of racingodds.com.au.
One of his secrets is to bet on horses that have raced within the last seven days, the most important statistics being the jockey, the trainer, barrier, and the number of days since the horse last ran. As far as jockeys and trainers go, Bartholomew concentrates on recent performance rather than career statistics, which he claims is as important as the horse's form. However, he does have about 35 aspects that he looks at for each horse.
What also influences his bets are market indicators such as the tote, trifectas, and doubles, although he doesn't fancy betting on trifectas which he finds time consuming. Thinking like an Australian, Bartholomew is of the opinion that there is more money in backing favourites rather than outsiders.
As Sydney's biggest punter, Sean Bartholomew believes he will never win if he rates form the same way that everyone else does.
For him, points matter, with his own ratings that begin from zero, subtracting points for features such as horses never tried over the distance or a poor jockey. The further that a horse has traveled the more the handicap, which is why he stays away from backing top-weight horses, despite a good form rating.
Sean Bartholomew follows the same principle for jockeys and trainers, giving more importance to local jockeys. For him, backing a horse at 50-1 is possible even though it probably won't win.
However, his firm belief is that by backing it over time, it will finish in front. In August 2009, Sean Bartholomew's Racing Odds was sold to Australian bookmaker, while Sean was back to punting.