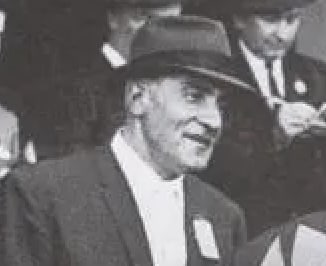 The Prince of Punters in Australian horse racing during the 50's and 60's was undoubtedly Perce Galea.
Perce Galea was known to have obliged fellow Aussie punters with a flood of banknotes when his own colt, Eskimo Prince won the Golden Slipper Stakes in 1964, almost causing a riot.
Lucky Horses
Perce Galea expertise at picking lucky horses made him $422,952 richer by the time he called it a day after having bought and sold many horses. Although known to be warm-hearted and friendly, the 'Prince' was feared by bookmakers for his uncanny knack of picking the right horses.
Percival Galea, known as Perce, was the son of a railway fettler born on 26th October 1910 in Malta. After immigrating to Australia around 1912, the family settled at Woolloomooloo in Sydney.
Perce took on odd jobs as a teenager as a newsboy and later as a milkman, after which he found employment as a driver with the New South Wales Fresh Food & Ice Co. Ltd.
The urge to back horses began during his early years with a customer and horse owner Rodney Dangar urging Perce to bet Peter Pan in the 1934 Melbourne Cup.
Richer by £150, Galea's foot was firmly planted on the racetracks.
Perce Galea Registered Bookmaker
After his marriage, Perce Galea continued to work as a wharf labourer, and operated as a registered bookmaker at the Wentworth Park greyhound races.
His connections with a notorious criminal Sid Kelly and Samuel Lee made him invest £2500 in Lee Enterprise Pty Ltd, soon becoming a director of the firm's baccarat schools around 1949. Perce also worked as a host and staff supervisor at Sammy Lee's restaurant.
Soon, Perce Galea went on to become co-proprietor and manager of the Roslyn Social Club, Elizabeth Bay, catering to a well-heeled at the club that claimed to only conduct legal card games. However, a police raid on 22 March 1953 saw the arrest of 46 gamblers from the club while Galea was fined £75.
Later, with co-operation from the police he was able to set up expensive gaming machines like roulette wheels. No further trouble came his way except for being penalised for being a tax defaulter and concealing his income.
Casino Manager
From the mid-1950s Perce Galea ran the Victoria Club, Kings Cross, a casino with blackjack, roulette, craps, and baccarat, with plenty of free food and alcohol. The casino was later renamed the Forbes Club in 1967. Being an astute businessman, Galea's clients included a list of celebrities including politicians and sportsmen who were entertained by hostesses who also doubled as escorts.
Among the clients were hundreds of American servicemen on leave from the Vietnam War, which prompted Galea and his team, Eric O'Farrell, Ronald Lee, and Reginald Andrews to open many more casinos including the Bridge Club at Double Bay.
A £12,000 lottery in 1957 brought Perce Galea out of financial difficulties which made him seriously turn to the racetrack. His first racehorse as an owner was Sugarfoot which he bought and sold in 1961. Despite doctors' orders after a heart attack in 1962, he continued to wager large sums.
Eskimo Prince
One of Perce Galea most successful horses was Eskimo Prince, which won the Sydney Turf Club 1964 Golden Slipper Stakes, a race after which an ecstatic Galea threw money to his fellow punters. Eskimo Prince brought the Prince of Punters much luck with wins in the Rosehill Guineas and Sires Produce Stakes.
A well groomed Perce Galea always stood out at the racecourse, notorious for betting as much as £25,000 on a race. Other racehorses to add to his fortune were Count Rajan, Indian Prince, and Sir Serene.
Being a staunch Catholic, Galea offered much to his Church in Sydney. He was also known to be a philanthropist, hosting annual parties for crippled children. As a sportsman, Galea was a handball champion. Luck seemed to shine on him in many ways, where he even shared a $200,000 Sydney Opera House lottery prize with his family.
As a businessman, horse owner, and punter, Perce Galea was richer by $422,952 by the time he died of coronary heart disease at St. Vincent 's Hospital, Darlinghurst, on 14 August 1997.