''A gambler to me is a man who risks what he cannot afford to lose and I have never done that,'' Duval was quoted as one time saying.
Duval often made big bets and since he was from the correct period, many of his wagering exploits involved Big Bill Waterhouse.
Frank Duval Introduction
All punters know that one of the best ways to be successful is to have a bank so large that losses can be shrugged off without regret.
Here is a simple analogy to drive that point home with the best bets of the day.
The name of Rupert Murdoch is familiar to just about anyone in the world. He is approaching 90 years of age and probably no longer mixes it up with the bookies, but back in the 60s and 70s, Murdoch was betting $20,000 on a single race.
Obviously, his fortune was not what it is today, which is estimated as being beyond $20 billion, but even if he had "only" $1 billion in the days when he was going head-to-head with Bill Waterhouse, a $20,000 punt would have represented 0.00002 per cent of his worth. If anyone prefers that decimal percentage in plain English, it would be "two-one-hundredth-thousandths."
Murdoch could have lost a $20,000 bet 50,000 times to be bankrupt on a fortune of $1 billion with horse racing tips.
Using the math that provided the 0.000002 per cent figure, normal blokes such as ourselves would be plunging twenty cents on a race, provided we were making five times our current income level.
About that same period of the 60s and 70s, there was an even bigger punter locking horns with Waterhouse in the betting ring, and that punter is our subject.
Enter the Tiger
His name was Frank Duval and some of his plunges made Murdoch's seem like those of an absolute pauper.
Duval was born in Narrandera, a New South Wales town of about 3,700 (2016 census) in the Riverina region, just a bit south of Lake Coolah.
After supposedly working as a gold prospector (supposedly, because if the bloke is underground, it is hard to prove that he is working), Duval joined the Second Australian Imperial Force, a volunteer outfit that saw World War II action in Africa as part of the Western Desert Campaign. Later, the outfit was recalled to Australia, and then deployed in the Pacific theatre.
Duval went in as a private and worked his way through the ranks until by the time the war ended and the Second AIF was disbanded, he had achieved the rank of Major.
We would like to say that his ability was what advanced him, but we have to acknowledge that it may have been an instance of attrition, as the casualties suffered by the AIF were astounding.
What we know for certain, from direct interaction with many WWII veterans, is that after some of the things they saw and experienced in the war, normal, routine, everyday problems had little ability to fuss them, so Duval probably viewed the risks of punting on races as insignificant.
Duval acquired a fortune as a businessman who played a big role in the rebuilding of Japan after the war. He abandoned the gold and discovered the profitability of iron ore, as Japan needed vast quantities of steel for rebuilding purposes - TattsBet
"Hong Kong Tiger" Taken by the Tail at Wagga
A couple of decades after the end of the war, Sir Frank Duval was a bane to the bookies, as he seemingly cared little about odds or form, but attempted to simply wear out any bookie he took on.
Yet, vast financial fortunes do not impart vast intelligence and the proof was delivered at the 196 Wagga Cup carnival.
Duval had already acquired a reputation for plunging hard. It is reputed that on the first day of the two-day carnival, he lost something in the vicinity of $200,000.
Unfazed, he was enjoying a leisurely supper at a flash place, when he was approached by a man claiming to be the representative of one of the bookies to whom Duval owed money.
The man new the exact amount of Duval's debt, because he had been following Duval around, noting Duval's bets.
Duval, unlike some punters who default on big losses, paid the stinger and went back to his party.
The next day, ahead of the Wagga Cup, someone asked Duval about his settling, with Duval saying that it had been paid. This was his first inkling of there being something amiss, but by the time the authorities were consulted, Duval's cheque had been cashed.
The amount of the sting was estimated as being a little below $20,000, which would have seemed like petty cash to Duval.
That anecdote has a separate version, however, with former jockey Neville Voigt claiming that Duval won $100,000 when the horse he owned, What Fun, won the Wagga Cup. According to Voigt, ''Frank won $100,000 when What Fun won the Wagga cup and somebody picked up the money [fraudulently] for him and he never had another bet,'' Voigt told the Sydney Morning Herald in 2012.
Whichever version is accurate, and it is possible that both lack complete accuracy, it is the sort of folklore that has made men such as Frank Duval Horse Racing Australia legends.
Duval Versus Waterhouse Clash of the Titans
While much of Thoroughbred racing folklore has evaporated into the ether, never to be recounted or chronicled, some of the punting battles between Big Bill Waterhouse and Frank Duval have gained some degree of permanence, thanks to Bill Waterhouse's superb book, "What are the Odds?"
Some people say that Waterhouse in responsible for Duval's nickname, The "Hong Kong Tiger", although we personally think Waterhouse could have come up with something much more creative for a public moniker, although not as creative as what Waterhouse called Duval in private following a race meeting where Duval raided Big Bill's bags.
Others say that the "Honk Kong Tiger" appellation was a simple but obscure reference to Duval's post-war exploits in Japan.
Waterhouse's is the better story and he said in the aforementioned book, ''Sir Frank wagered in telephone numbers and had the heart of a Tiger - absolutely fearless … ''
Waterhouse and Duval, at least in their primes, occupied a halcyon period of Thoroughbred racing in Australia.
Big Bill obviously would have been aware of Duval earlier from Sydney meetings Racing NSW, but the Flemington spring carnival of 1966 was where Waterhouse acknowledged Duval's impact.
''No betting at this level had ever occurred before,'' Waterhouse wrote in his memoir.
Duval's horse What Fun was up for the VRC Oaks. Rider Rod Dawkins learned of the huge bet Duval had with Waterhouse, which was $355,000 to $65,000, and used his whip to such an extent that the stewards banned him from riding with a crop for two months.
They did not need toothless whip rules in those days and it is probably safe to say that Dawkins never again used the whip so liberally.
Dawkins apparently struck What Fun one time too little though, as she came in second to Farmer's Daughter.
According to Waterhouse, Duval was an enigma.
'The most disquieting thing for me is that never at any stage had I read Duval correctly. ''To this day he was the only serious gambler I have found who wasn't influenced by price,'' Waterhouse's memoir states.
Like many of the big punters, Duval had a generous side. He donated $100,000 to the Australian National University not long subsequent to a day at a Randwick meeting where he lost $100,000.
Frank Duval claimed that he was not a gambler and his donation to the university demonstrates that he was no bookie. Image courtesy of SMH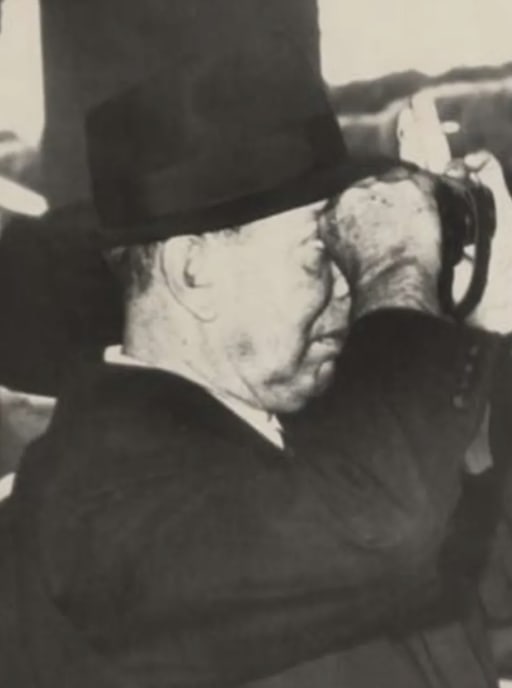 Frank Duval Conclusion
Frank Duval will always be considered as part of that group of big punters who did not take racing too seriously, at least, punting on racing.
Duval was a racehorse owner, so he had the sort of insights that only those who are in the racing trenches gain.
Before his famous duels with Waterhouse, Duval came out the winner of over $100,000 after being down $60,000 on the early races. He backed four winners in a row, prompting Sydney Sunday Mirror racing writer Pat Farrell to call Duval, "The mightiest punter in Australian turf history."
On the day at Canterbury, Duval was down $35,000 after four races. If that were not insult and injury enough, he lost almost $30,000 on a horse he had backed at Caulfield.
After backing three winners, Frank Duval was ahead by about $40,000, which he plonked on Hubble Bubble, which for the sake of context, was ridden by George "Cotton Fingers" Moore.
The last reference we have regarding Duval as a punter came with the 1974 Stradbroke Handicap win by Go Fun. Duval backed the horse for $121, so it was a true boilover. We do not know if Duval owned Go Fun. We suspected some connection to What Fun, but the pedigree records did not reveal any common bloodlines.
Frank Duval died in 1981 following a heart attack. In 1980, his business concerns failed and he was declared bankrupt.
Afterward
Since Duval and Waterhouse were missing it up around the right time, we tried to establish a connection between Duval and the notorious Fine Cotton Affair.
We did not find anything to suggest Frank Duval was involved in any way, other than that he possibly lost his money if he had a punt on Fine Cotton, along with one other thing we found interesting.
The horse rung in for Fine Cotton was one Bold Personality.
The name, the bold part at any rate, struck a chord, so we went looking for reasons why the name of Bold Personality seemed familiar.
Bold Personality's grandsire was none other than Bold Ruler, so the blokes who tried the ring in at least knew a little bit about horses.