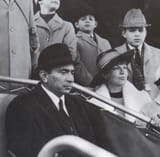 Felipe Ysmael was always looking for ways to stay ahead of the pack
Often described as the biggest gambler of them all, Filipino industrialist, horse owner, and punter, made bookies either drool or gave them a run for the money. Known for his giant punts and famous duels with bookie Bill Waterhouse.
The most famous spat between Felipe Ysmael and Waterhouse was in 1967 Melbourne Cup, an event that Felipe would never forget, after which he never fully recovered to become a successful punter once again.
The Babe
Known as 'The Babe' and 'Filipino Fireball' in racing circles, Felipe Ysmael was among the most famous punters like Kerry Packer who believed in giant punts.
Felipe Ysmael was a prominent figure at the betting rings during the 1960s. He was notorious for coming out of the red on several occasions.
Among Felipe Ysmael most famous bets was the challenge he posed to bookie Bill Waterhouse in the Toorak Handicap.
Even though he had lost $90,000, he challenged Waterhouse for a bet of $60,000 to $96,000 on Tobin Bronze, who eventually won and Felipe made his way out of the red.
Felipe Ysmael V Bill Waterhouse
Bill Waterhouse was to get back at The Babe later on, a bookie that had some of the most interesting duels with many giant punters. In the 1967 Melbourne Cup, Red Handed, and fancied General Command were placed at 4/1. However, Waterhouse had other plans to get back at Felipe.
Waterhouse had decided that Red Handed was a sure winner and wound out the horse's quote from 4/1 to 9/2 in an attempt to challenge Felipe.
Felipe Ysmael, an astute punter, fell for it and placed $250,000 on General Command, much to the bookie's delight. Felipe could only look on in horror as Red Handed, with Roy Higgins astride, came back strongly to win by a neck while General Command came in a poor sixth. According to reports, Felipe lost his will to punt hard again, which marked the beginning of a large spate of losses.
Disqualified
Felipe Ysmael was disqualified from racing in 1968 for allegedly breaking racing rules with his horse, Follow On.
Felipe Ysmael was known for placing astronomical bets, often beyond the comprehension of ordinary punters. Often, he would place bets in hundreds of thousands, which made most bookies drool when established credit of $20 million.
Many believed he was the head of a syndicate of big gamblers, however, for the most part, Felipe Ysmael was alone. Often, he placed bets on his own horses, as much as $175,000 to $100,000 on Red Diver at Moonee Valley Racecourse in 1968.
Big Bets
On another occasion Felipe Ysmael placed an even $100,000 on Silver Strike and came home a winner.
Felipe Ysmael is also believed to have backed heavily on Ferdinand Marcos in the Presidential race in the Philippines, which brought him a huge sum of money to play around on the Australian racing tracks. Along with bagman Frank Ford, the Filipino Fireball, as they say, would only bet in telephone numbers.
Whatever his modus operandi, Felipe mesmerised followers of Australian racing with his giant bets and the meticulous manner in which he went about his betting game.
Undoubtedly, Felipe Ysmael will remain among the top list of punters like Eric Connolly, Perce Galea, and Kerry Packer.