Eric Connolly was an astute punter as well as a horse owner-trainer.
He lived by the motto "money lost - nothing lost, courage lost - everything lost".
His sharp eye for horses added to his gambling prowess, making as much as £700 off an £8 sale of his pony at the age of 15. The way he went about his business, it was not surprising that bookmakers feared Connolly, while punters eagerly awaited his racing tips.
Eric Connolly was a well known horse owner, trainer, and punter whose father was a racehorse trainer in the 1880s. After the family moved from Degamero near Wangaratta, Victoria to Melbourne in the 1890s, Connolly decided to follow in his father's footsteps.
He purchased his first horse, a sprinter named The General, and trained it to be a jumper. Conolly's efforts at training paid off with The General netting £14,000 for his owner in the 1904 Grand National Steeplechase.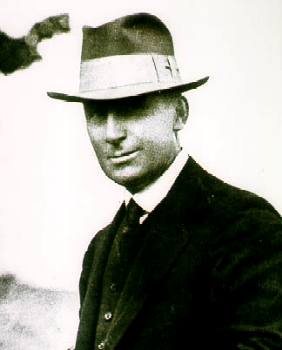 Eric Connolly went on to train many successful horses, success which spilled over to punting as well. He worked hard at training his horses, had a keen eye for form, and an instinct for pace.
Above all, Eric Connolly developed a photographic memory which worked well for him during training sessions.
A strict disciplinarian, Connolly was soft spoken, reserved, and a conservative dresser, making an entry onto the turf well before the beginning of the first event on any race day.
Punters eagerly awaited his presence, always looking for clues on what Connolly found good to bet on the day.
Connolly's horses went on to win many of the major races right through until his retirement after a heart attack in late 1929.
Among his early successes were with Celerity in the 1910 Oakleigh Plate, Sea Prince in the 1913 Williamstown Cup, and Murillo in the 1927 Metropolitan Handicap. According to Eric Connolly, his best races were 1922 and 1923 Newmarket Handicap won by Rostrum and Sunburst respectively.
Much of his success can be attributed to his good sense of judgment which brought him an estimated £250,000 from betting. The best example comes from New Zealand stayer, Nightmarch, a horse trained by Connolly which he bet £50,000 in the 1600 metre Epsom Handicap but chose to bet against Nightmarch in the 2600 metre Metropolitan.
In the horse's next outing in the 3200 metre Melbourne Cup, Eric Connolly had the courage to back Nightmarch £180,000 against Phar Lap, which again turned out to be a right call.
One of the only bookies to make some money off Eric Connolly was Sol Green. No matter what, punters at Flemington and Randwick Racecourse would always watch his game closely. Undoubtedly so, because at the age of 15 he sold his pony for £8 and made £700 on a single day at the Flemington Racecourse.
Eric Connolly is also said to be the mastermind in the Melbourne Cup-Caulfield Cup betting scandal where he made over £200,000, a day where bookies all over went broke. He teamed up with the American co-owner of Phar Lap, Dave Davis, to create what is known as one of the most calamitous results in Australian racing history.
They plotted to have Phar Lap scratched from the Caulfield Cup, backing heavily at 20-1 on the Amounis-Phar Lap combination for both the Caulfield and Melbourne Cups. Phar Lap was scratched from the Caulfield Cup and went on to win the 1930 Melbourne Cup, which made Connolly and Davis a fortune.
Apart from racing, Eric Connolly was fond of test cricket, billiards and the odd game of bridge. He had a philanthropic side too, donating money to the poor, and to churches and hospitals. After a heart attack in late 1929, Eric Connolly was forced to reduce his time on the racing front. He succumbed to coronary thrombosis on 9 October 1944.
Eric Connolly was buried at the Brighton cemetery, leaving behind an estate valued at £5741.