William Billy Pyers was also known as "Ginger Meggs" for his shock of red hair and freckles.
A riding technique that relied on finesse and the superb use of hands and heels, along with an uncanny ability to judge the pace of a race were the Hallmark of William "Billy" Pyers (1933-2004).
William Billy Pyers was also a favourite of the Australian racing public due to his captivating, exuberant personality.
He launched his career in Adelaide, the city that gave birth to the careers of many of the other great Australian jockeys. He won the Adelaide jockeys' premiership no fewer than seven times before attaining the age of 25.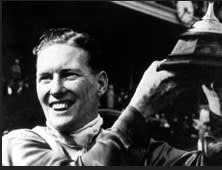 William Billy Pyers took a brief hiatus from this accomplishment before resuming with premierships in 1959-60 and 1960-61.
His list of major interstate victories reads like a history of all the great Australian races. While the Melbourne Cup and several of the other major races never fell to Pyers, he did manage a Caulfield Cup riding Sometime, Moonee Valley Cup, Oakleigh Plate, Golden Slipper Stakes on Pago Pago, Futurity Stakes and Newmarket Handicap.
His reputation secured him the ride for Tulloch's only visit to Adelaide, where the two crossed the line first in the SJ Pullman Select Stakes. One of his trainers, the late-great Colin Hayes, considered William Billy Pyers on of the best jockeys who ever rode for his stable.
Like many other jockeys that experienced success in their homeland, William Billy Pyers decided, in 1964, to try his hand in Europe. He was offered a position with trainer Ernie Fellows, where he promptly won first up in England in the Two Thousand Guineas on Baldric. He also rode for owners Daniel Wildenstein and the Aga Khan.
Unlike his countrymen, however, William Billy Pyers did venture across the pond to ride for American owner Nelson Bunker Hunt. It was here that Pyers encountered what he considered the greatest horse he ever rode, the champion filly Dahlia, whom he mounted for the win in the 1973 Laurel Park International in Washington, D.C. on Hunt's Vaguely Noble
Other major European victories included two wins each in the King George VI and Queen Elizabeth Stakes, one French Derby, an Irish Oaks, the Ascot Gold Cup, the 1967 Prix de l'Arc de Triomphe on Topyo, making him one of several Australian jockeys to win that prestigious French event, and a Doncaster Gold Cup for good measure.
He also managed several wins in Germany, Sweden and Italy.
William Pyers died back in his homeland at the relatively young age of 71 in early October of 2004. He was commemorated with induction in the Racing Hall of Fame in 2010.