Ron Quinton has parlayed his love of horses into a lifelong career, first as a jockey and then trainer.
He was one of Australia 's leading jockeys in the 1970s and 1980s. He currently operates a training facility at Royal Randwick that has produced respectable results that bode well for Quinton's future as a trainer of thoroughbreds.
Ron Quinton, born in 1948, he was a top apprentice before reaching 20 years of age.
Ron Quinton: Career as a Jockey
A leading apprentice in 1967, Quinton moved into the senior jockeys' ranks soon thereafter. He won the Sydney Jockeys' Premiership for the first time following the 1969-70 season.
Ron Quinton won consistently in Metro meetings for a period of several years. His first major breakthrough came in 1973 AJC Oaks, where the ride on Analie brought Quinton his first group 1 win.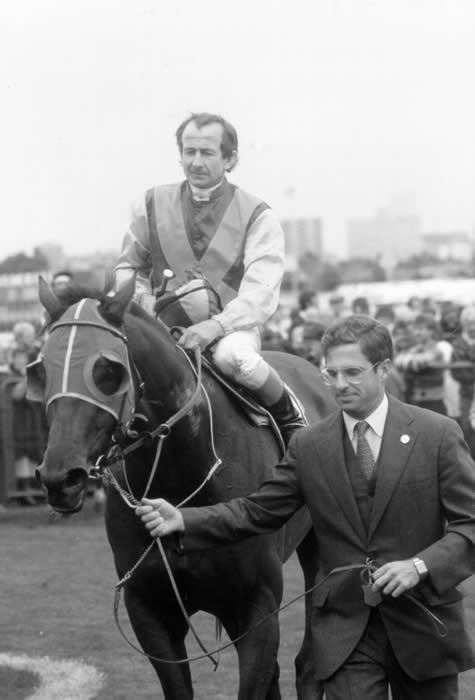 That same mare brought him a win in Royal Randwick's Doncaster Handicap, also in 1973. He would then win a second time in 1983, courtesy of the estimable Emancipation.
Prior to the second Doncaster victory, Ron Quinton piloted Dalmacia to the 1982 Epsom Handicap.
These credentials were sufficient to attract the notice of trainer Tommy Smith, who gave Ron Quinton a perch on board Kingston Town for the second of that legendary runner's W. S. Cox Plate victories in 1981.
Still producing wins and accolades, Ron Quinton brought Ravenaux home in the 1981 Victoria Derby to lead off the Melbourne Spring Carnival for the 1980-81 season.
One of Ron Quinton's more significant accomplishments as a jockey would have to be his record equaling four Golden Slippers Stakes victories.
Only Shane Dye has as many and the short list of three-time winners contains the names of Leonard Mick Dittman and Athol G. Mulley. Quinton's victories came in 1982 via Marscay, 1983 on Sir Dapper, 1985 on Rory's Jester and 1987 aboard Marauding.
A season in Ireland with trainer Ron Denham featured a group 1 Irish Saint Leger victory in 1989, aboard Petite Ile.
Ron Quinton's overall record as a jockey encompassed 2168 victories, with 190 of those coming in feature races and 46 at group 1 level. He took senior jockeys' premiership's in 1969-70, 1976-77 and six times consecutively between 1978 and 1984.
Ron Quinton was inducted into the Australian Racing Hall of Fame in 2006.
Ron Quinton: Career as a Trainer
After 28 years in the saddle, Quinton retired as a jockey and immediately embarked on a career as a trainer. He has 17 stalls overlooking the course at Royal Randwick.
Ron Quinton's first group 1 win was the VRC Salinger Stakes in 2000, Easy Rocking doing the running.
The VRC Oaks at Flemington followed in 2002 when Bella Borghese supplied a memorable highlight to Quinton's substantial collection of racing memories.
At one point earlier this year, such statistics as eight wins, eight seconds, four thirds and four fourth place finishes enhanced the resume of Ron Quinton Racing Stables. This total of 24 fourth place or better finishes from 33 starts was accomplished with just eight horses in work at the time.
Ofcourseican is a stable leader at present with six wins, a second and a third to show for 18 starts, generating some $250,000 in purse money.
Ron Quinton is a fine example of what a love of horses in racing can offer to someone that has a strong desire to contribute toward the advancement of his passion.
Unlike some great jockeys that squandered their fortunes obtained from riding, he transitioned to his new role as a trainer with a grace and an aplomb that many would benefit from emulating.