Pat Glennon inducted into the Hall of Fame a little over a year after his death in February of 2004.
Oftentimes, glory never comes. Other times, it comes belatedly, sometimes by a narrow margin. This would be the case when jockey Pat Glennon is the subject. His death in 2004 narrowly preceded his 2005 induction into the Australian Racing Hall of Fame.
Success, however, came early for Pat Glennon. He rode his first winner, albeit at a bush track named Bacchus Marsh, approximately 50 kilometres west of Melbourne, at the age of thirteen while riding a horse named Alares that had been trained by his father.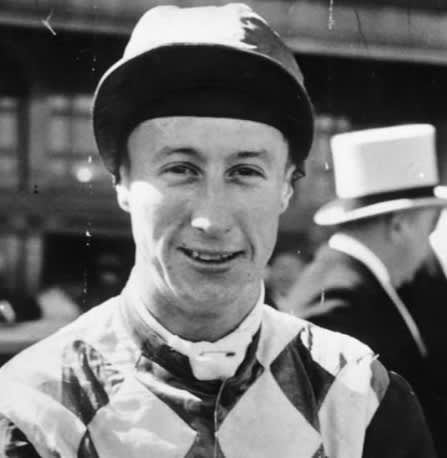 Several years later, Pat Glennon moved to Adelaide to ride for the elder Cummings and his son Bart. There, he quickly became one of the leading apprentices in South Australia.
This was when he first started encountering the struggles with weight that would limit his opportunities at first and ultimately, some say, put him out of racing.
Pat Glennon breakthrough opportunity occurred in 1950 when he picked up the ride aboard Comic Court in the Melbourne Cup, which the pair won.
Depending on to whose account you grant credence, Jack Purtell either declined the ride or was stripped of it by Cummings, an incident that cost Purtell his fourth Melbourne Cup victory.
Nine years later, Glennon recorded a second Melbourne Cup win, this time aboard Richard Roden trained Macdougal in 1959.
Pat Glennon is also closely associated with one Matrice, a South Australian sprint specialist that Glennon rode to 26 wins over the course of 42 races.
In the 60s, Pat Glennon ventured abroad to seek opportunities in Ireland and France. He rode for trainer Vincent O'Brien and won a jockeys' premiership in the Emerald Isle.
An association with French trainer Etienne Pollard took Glennon to France, where he was paired with what many consider as the greatest flats racer of all time, Sea Bird. Together, the two won everything in sight in 1965, notching five Group 1 victories, and finishing the season with wins in the Epsom Derby and the Prix de l'Arc de Triomphe.
These two victories, along with his earlier Melbourne Cup triumphs, give Glennon the singular distinction of being the only Australian jockey to accomplish winning those three events.
Glennon was still at the top of his game when he retired soon thereafter. He serves as the perfect example of going out on a high note. It might also be said that he had tired of his constant battle with his weight, but regardless of his reasons, he clearly managed to avoid the trap of lingering beyond his time.
Pat Glennon was inducted into the Hall of Fame in 2005, a little over a year after his death in February of 2004.