Mel Schumacher is not a new name in Australia, he was one of most famous jockey's of all times.
People of Australia have always been fond of Mel Schumacher the jockey.
Mel Schumacher was a star apprentice in the 1950s who went on to win numerous Group races in his long career, during which he also had his fair share of ups and downs.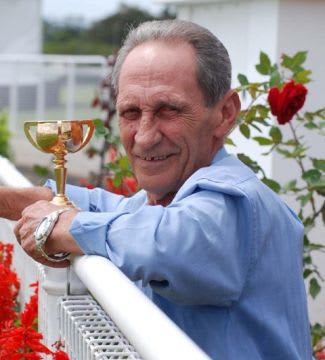 He had been disqualified for life from 1962 after being involved in a leg-pull incident in the 1961 AJC derby at Randwick. He grabbed the leg of rival jockey Tommy Hill for 50 yards in a scramble towards the finish line.
The camera proved Hill's claim and Schumacher faced a life ban, which was later reduced to 5 years. This was the first time that patrol footage technology was used, making him the most infamous victim of this new technology. This affected Schumacher's career significantly and slowed the pace of his rising career.
However, after returning, he still made it to the top within a few years although his best years were probably spent on the sidelines.
These days he can laugh about the ban when he lost the race on protest. As the horses pulled up, the beaten rider yelled he was going to protest and Schumacher decided his reaction would be to claim Hill's allegation was "preposterous". After viewing the patrol film Schumacher said,
"When they showed it I thought 'what don't speak, don't lie' ".
I walked off the track with a life ban before the last.
"There was 80,000 people there and you could have heard a pin drop. It was like a funeral . . . my funeral." said Schumacher.
Mel Schumacher's best win came in the Melbourne cup in the year 1958. He was just twenty one at that time, which was a great achievement for such a young jockey to win the race that stops a nation. He steered Baystone to victory, leaving behind the favourite Monte Carlo .
The Cup win represented one of the best rides of his career when he slipped in behind the favourite Monte Carlo early in the race and shadowed it from back in the field before passing it in the final furlong. He surged past with only the finishing post ahead of him.
It was the most exciting few seconds of a career that spanned 50 years.
Schumacher says "I will never forget how it felt the moment when I went to the lead - I knew I had it won. Even now it gives me goose bumps just to think about it. I thought we would win the race and the omens were good. Before the race, a professional punter called 'Dasher Dave' stopped me and said"
"When you win the Cup remember you have to take your cap off when you are coming up the race".
"It struck me then that everyone seemed to be thinking it would win."
The gold cup and whip he received for riding the winner are still in pristine condition.
Schumacher rode more than 2000 winners in a career that ended quietly when he returned from riding three winners at a meeting in far western Queensland in 2001 and simply told his wife, Pam, at 3am
"I'm done".
The Shoe was worn out. He was renowned for being a nerveless jockey whose demeanour would not change whether he was riding at Flemington or Kilcoy and for that he thanks an early introduction to the saddle
Schumacher began riding at the age of three on his parents' dairy farm at Boonah. At the age of five he rode a pony bareback every day to school.
Fondly known as 'The Shoe' in the racing fraternity, Schumacher always said that being an Australian jockey gave him a lot of fame but never enough money to lead a rich and comfortable life. In 1958, when he had won the Melbourne Cup, the prize money was only $12,500. Prize money for the Melbourne Cup in 2012 is near 5 million dollars.
Nevertheless, he has never complained about the fact that this job did not pay well during his time. He relied on the punt (even though they weren't supposed to).
Mel Schumacher won a number of stakes races during his long and illustrious career. This included the Golden Slipper Stakes astride Magic Night, AJC Derby, Australian Cup, Thousand Guineas, and many more. His Melbourne Cup victory brought him better horses and better rides.
Over the years, the healthy rivalry between Mel Schumacher and another jockey great, George Moore led to many a tussle for the premiership title.
Accomplished country singer and song writer Rod Williams' music career was launched in 1980 with a song about Mel Schumacher. The song called The Shoe, the track was released on RCA records.
He shares the record of 5 wins each in the $100,000 Listed Goldmarket Handicap over 1300 metres at the Gold Coast with Mick Dittman.
The Australian champion jockey was inducted into the Queensland Sport Hall-Of-Fame in 2009.