It takes courage and skill to become a world class international jockey.
Kerrin McEvoy, Australian jockey, possesses both these without the slightest doubt.
Early success on the Australian turf was the perfect launch to a great overseas career for Kerrin McEvoy who brought fame and fortune to the Godolphin stables, earning the number one spot at their Darley stable back home Down Under.
Kerrin McEvoy is an Australian jockey is well known for his partnership with Matsunosuke, an English racehorse.
Born in October 1980, Kerrin grew up in Streaky Bay in South Australia. He is the most successful of his other three siblings who are also jockeys.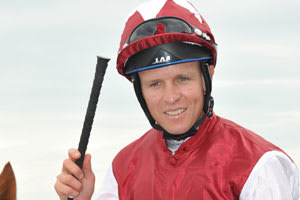 Kerrin McEvoy quickly rose to fame, winning the 2000 Melbourne Cup on Brew, a thoroughbred gelding trained by Mike Moroney. Ever since this major victory, Kerrin has moved on to become one of Victoria's leading jockeys with almost 500 winners.
After scoring 4 wins on a single day at Caulfield Racecourse on the day of the Dubai Racing Club Cup in September 2002, Kerrin McEvoy was invited to Dubai, ending his season with six wins riding for Shaikh Al Maktoum's racing stable, Godolphin.
His wins included the UAE 1,000 Guineas, steering Mezzo Soprano to victory.
In 2008, he was retained as Godolphin's rider in Australia.
For Godolphin, Kerrin McEvoy rode 121 winners from 531 starts, with 99 seconds and 52 third placings. This included 7 Group 1 wins, 4 Group 2 wins, and 8 Group 3 wins between October 2002 and November 2010. Among his successful seasons were the 2008 & 2009 Melbourne Spring Carnivals.
His first win in Britain came on May 1, 2004, on the Saeed bin Surror trained Destination Dubai at Haydock, a horse from Godolphin's stable. The next day he finished a close second to Attraction in the English 1,000 Guineas, astride Sundrop. His major success in an English Classic came in the 2004 St. Leger at Doncaster on Rule Of Law, after coming in a close second at the Epsom Derby.
Kerrin McEvoy grabbed the opportunity to prove his ability when Frankie Dettori was out of action in the 2005 Royal Ascot meeting. Among the major stakes races for Godolphin were the St. James Palace Stakes at Royal Ascot in 2005 on Shamardal, the Prix Jacques Le Marois at Deauville astride Dubawi, and the 2005 Yorkshire Oaks on Punctilious.
In 2006, Kerrin won the Rheinland-Pokal der Sparkasse KolnBonn at Cologne, riding Godolphin's Cherry Mix to victory and the Racing Post Trophy in 2007 at Doncaster on Ibn Khaldun, his sixth Group 1 victory for Godolphin. Other notable overseas victories include his first European Group 1 victory astride Warrasan at Baden-Baden in Germany in 2004, with a repeat performance in 2005. In August 2007, Kerrin scored his 100th win for Godolphin astride Gongidas, at Thirsk, in the United Kingdom.
Kerrin McEvoy gladly took up Godolphin's offer in August 2008 to become number one jockey at the Darley stable in Australia and ride in Darley's colors, proving himself as a world class international jockey. For British punters, Kerrin's move was like a blow to their potential fortunes, gaining popularity because of his alternative style of riding, known to be a tactically astute rider always in control of his mount.
However, a high profile job is what Kerrin deserved as part of his decision to move back home. Kerrin McEvoy suffered a serious vertebral fracture after falling of his mount at Gosford in June 2010, wearing a back brace for support for a few months. However, a quick recovery brought him back in time for the Melbourne Cup, to ride Campanologist for Godolphin.
Earlier in May 2010 Kerrin McEvoy won an unforgettable race in the $100,000 Lord Mayor's Cup over 2400 metres at Rosehill Racecourse, steering Common Objective to victory by a short neck, his first for trainer Gai Waterhouse.
On the same day, he also rode Shannara and Skytrain to victory, completing a treble. All this came after a tough win in the Group 1 South Australian Derby on Kidnapped came a week before. Playing second fiddle to Dettori at the Godolphin stables has surely paid rich dividends.
With plenty of racing left in him, Kerrin McEvoy will probably make it to the Hall of Fame without any trouble.