The tale of men cut down in their prime due to horse racing accidents is perhaps all too common.
Yet the danger has never been sufficient to dissuade those determined to follow the path of a jockey on the Australian turf.
No better example of this scenario exists than that represented by the biography of Ken Russell.
Born not long after World War II, Ken Russell compiled an enviable record prior to losing his life in a terrible racing accident at Rosehill in 1993.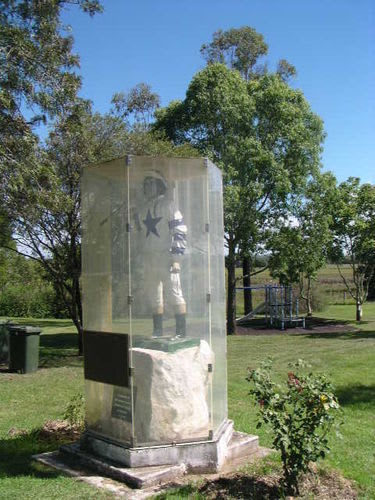 Adding a taste of irony was that Ken Russell had scored a win in the previous race aboard Whivory, and the final race on the card that day offered him the opportunity to add to his already impressive 315-two win meets.
When he mounted Tuig for the last race of the meeting, it doubtless seemed like another day at the office for him. It became anything but when Sonar Bar crashed into Ken Russell and Tuig with devastating effect, leading to the destruction of Tuig and the loss of 42-year-old Russell's life in front of his wife, Carol.
Leading up to this event, Ken Russell had produced results that could be described as nothing less than spectacular.
On one occasion Ken Russell swept the bill at Thangool, in one of the early demonstrations of his ability, leaving the other jockeys to wonder why they even bothered to show up to ride that day. He posted four win days no less than 24 times and three win days 106 times. Along the way, he racked up 14 jockeys' premierships everywhere from Rockhampton to Gosford.
In all, Ken Russell posted 1804 victories out of better than 10,000 starts.
Nicknamed "King of the Coast" for his dominance at Queensland 's Gold Coast track and the "Monto Marvel" after his place of origin, he also rode and won in Singapore, Malaysia, Macau, Dubai and Abu Dhabi.
Something of a specialist when it came to handling juveniles, he twice won the Magic Millions while steering Sea Cabin and Malibu Magic.
Some of his other significant wins include the Prime Minister's Cup aboard Avitt, the Queensland Derby on Hidden Rhythm, two Queensland Oaks on Around the World and Triumphal Queen, and perhaps his most significant of all, the AJC Doncaster Handicap aboard Merimbula Bay.
He was particularly dominant at the GCTC Golden Nugget. He won fair seven times out of 12 opportunities in this race that was the forerunner of the Magic Millions. The first of these was 1981 and was repeated in 1982. Then came three consecutive in 1984/85/86. The final two came in 1990 and 1991.
Ken Russell came by his prowess honestly. His father was an amateur jockey who turned professional right after World War II and was still employed as a hoop in 1958 when he took the Central Queensland Derby aboard Gayndah Bay as well as producing 14 wins out of Meghesti. A fall resulted in his making the switch to trainer, which he pursued for 30 years, his pinnacle probably being when son Ken won the Rockhampton Cup on Panard.
The 1993 accident that cost Ken Russell his life was not his first brush with disaster. An incident in mid-1987 cost him a kidney and broken ribs when his mount Killer Khan ploughed into the track in a horrendous crash. In a testament to his resiliency and fortitude, he was back in the saddle after three months.
Ken Russell had many dedicated followers in the betting ring, which is logical considering his consistent production. His mere presence doubtless caused more than one horse's odds to shorten, but his AJC Doncaster Handicap victory came against 33/1 odds, so he was capable of producing the windfall as well.
Ken Russell is memorialized each May when the Gold Coast Turf Club holds its black-type event for two-year-olds to honour Russell's contributions. Visitors to Monto often stop by a statue of Ken Russell, where they can reflect on his record and smile at his memory.