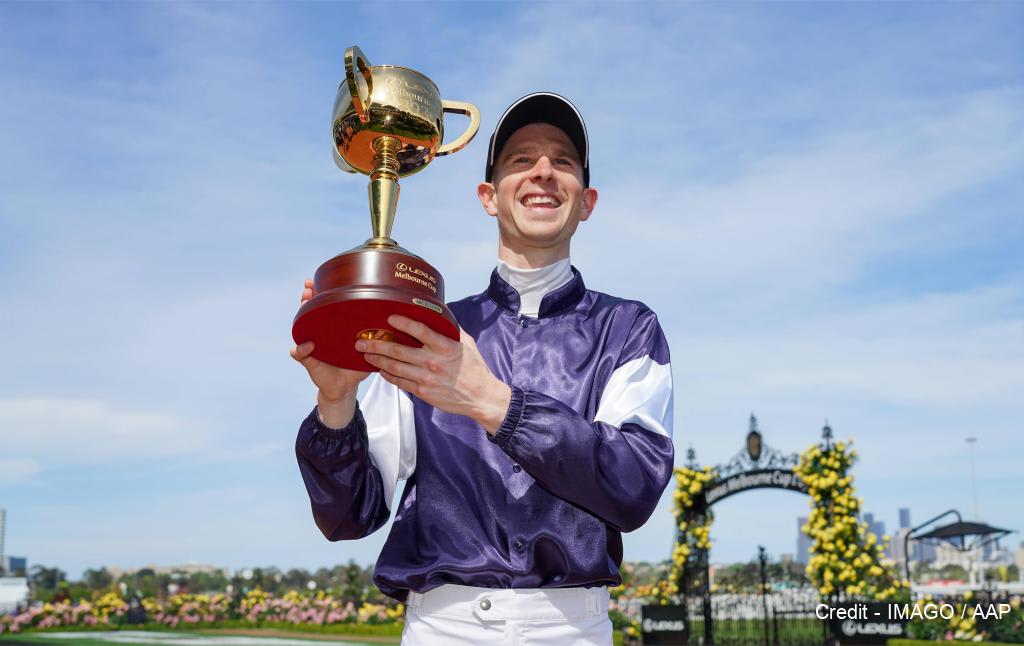 This he considered to be the key ingredient to making the grade. "Manners got him through the door, but then he had to absorb the harsh lessons of racing and this got him through his apprenticeship.
"Egan went on to add "the good ones teach themselves. If they want to learn, they put the time in and teach themselves." The jockey in question was 23 year old (at the time) Jye McNeil, who had only recently begun his long and full time career as a rider of winners.
Jye McNeil - Biography
Growing up on the family farm outside the Murray Makee town of Kerang, Jye Mcneil was a typical lad, helping out when needed, off roading around the farm on his motorcycle without, seemingly, a care in the world when he wasn't.
At the age of thirteen, he shocked his family by announcing he was going to become a jockey. The first step on the path to the status of leading jockey he holds today, was to become apprenticed to Egan in 2011 – presumably he said "please" when applying and "thank you" when he was accepted – and presumably "thank you" once again when he was given his first rides in his maiden season 2011/2012.
Jye McNeil - Racing Career
Although his achievements in this season could best be described as moderate, for a first season in the saddle they were encouraging. Out of a total of 226 rides, Jye Mcneil came home first in seventeen races, and achieved places in a further forty run outs.
Prize money in his first season amounted to almost $219.000 which all-in-all adds up to not a bad start. His first ever race came in November 2011 on a mount called Ski Lago, at Swan Hill in the Owen Connick Builders maiden plate, where he finished ninth in a field of fourteen.
Undeterred, he followed this up a month later, on Boxing Day, with his first ever winner, De Mars, at his local track in Kerang. He was to ride De Mars on a number of occasions and achieved a further two wins with this same mount. Sadly, the horse proved to be inconsistent in its performance, and Jye moved forward with other mounts.
The next two seasons saw continued development in Jye's career, with appropriate improvements in his performances. At the end of 2013 season, for example, his prize money winnings had reached $1,055,000 from 646 rides as a result of his 58 wins and 141 places. In 2013/2014 this had improved further to $2,548,547 from 767 rides.
His win total this season reached 78 with 167 placed finishes. The following season 2014/2015 brought a dip in his performances as he moved out from Egans' guiding embrace to ride for the first time as a fully fledged, grown up jockey. With almost 100 fewer rides, he could only bring home 46 winners and earn only 111 places, turning in a corresponding drop in winnings to only $1,915,966.
However, in this season it was not all bad news in that as the season was in its' final furlongs, Mcneil secured his first major success – a horse by the name of Taiyoo, trained by Darren Weir, was coaxed into the winners spot by Jye in a Group3 race – the Lord Reims Stakes, run at Morphetville Park, under the auspices of the South Australian Jockey Club; the $120,000 plus prize money, contributing significantly to his earnings for the season.
The race was a significant one for Jye McNeil as Taiyoo looked all but gone in the straight however McNeil was able to raise the Weir runner from the canvas and take out the Group 3. The race itself was also Taiyoo's fifth win in a row with McNeil in the saddle.
A further accolade for this season, confirming his arrival on the professional jockey stage was for McNeil to be awarded the title of "Rising Star" for that season.
By the next season 2015/16, Jye had now firmly established himself as a jockey of some repute, and this is reflected in his figures for the season. Taking only 655 rides, he brought home 67 of them in first place and a further 112 in the minor places. His prize money that season amounted to almost $2.2million, with a horse by the name of Selenia adding almost $162,000 to the pot in only two races.
First came the Festival of Racing Stakes held in March at Flemington where the three year old filly came home victorious. Mcneil then followed up this triumph with a further win in the Scarborough Stakes at Moonee Valley some two months later, this being a Group 3 race, and thus adding to his burgeoning reputation as a rider of repute.
Season 2016/17 is the one which could be best described as Jye Mcneils last in the ranks of the also-rans from the point of view of wins and earnings. With only $2.29million as winnings for the season he had improved on his previous form by only 4%. His winning rides amounted to only one more than 2015/2016 at 68, and his placings at 135 as opposed to 112.
However, there was one outstanding ride for him this season – a filly called Deja Blue on which he won the Rosemont Stud Stakes at Geelong, with a purse of $120,000. Potentially, Jye and Deja Blue appeared to be a winning combination for seasons to come, but unfortunately this was not to be. The horse was found to be lame in the right rear quarter after a race at Flemington early in 2018, and although she ran in several races in March of that year, she was retired in April with a promising career cut short.
Despite the partnership with Deja Blue failing to achieve its' full potential, Jye Mcneil proved to be extremely resilient and turned the following season, 2017/18 into his best ever to that time from every aspect. With more rides than he had ever had before (844) he was able to record his highest total of winners for a season at 86 and more placed rides than ever at 175. Most importantly of all, his winnings this season jumped by over a million dollars to $3,250,388.
Mcneil had finally arrived in the top echelon of riders. Among his notable success this season was the aptly named Mr. Money Bags, which was first past the post in the Silver Bowl Final in July, and Nozomi, which he rode to victory in the Shaftsbury Avenue Handicap in March. Both of these Group 3 races were held at Flemington and netted Jye the sum of $160,000. between them. Mcneil was becoming a highly "profitable" rider and Flemington a course like a second home to him, such were his performances there.
The 2018/19 was to be another season of continued improvement for Jye with an increase in the number of winning rides, a corresponding increase in placed horses and most importantly, a considerable increase in his winnings total. From 954 mounts, Mcneil brought in 109 first places and 225 horses in minor places. As his skill and experience blossomed in this season there were many horse from which he coaxed stand out performances.
The first of these, the Pakenham Cup in December 2018, at Tynong in rural Victoria, saw him bring home at the head of the field a New Zealand bred horse by the name of Big Mike – carrying off a purse of $183,000.
This was followed up the following March with a win in the then Group 3 Ajax Stakes at Rosehill, netting him another substantial winners purse of $111,000, riding home an Irish bred horse by the name of Fifty Stars. A further substantial contribution to his winnings/earnings came in the final race in the Revet series, held at Flemington, when Mcneil brought home his mount, Great Duchess, in first place, to add an additional $74,000 to his pot. This gave him a grand total for the season of $510,647.
If the 2018/19 season had proved to be exceptional for Jye Mcneil, then the following one, 2019/20 simply rewrote the record books for his achievements. Pride of place in any statement of successes for the season must go to his triumph in the Turnbull Stakes at Flemington early in October. This Group 1 saw Mcneil bring his mount home in first place to chalk up his first ever Group1 win.
More worthy of note is the horse, Kings will Dream, trained by Chris Waller, had not been expected ever to race again when it suffered a broken pelvis running in the Cox Plate the previous year. Yet back it came, triumphant! A first Group 1 win for Jye, another group 1 win for Waller, and most importantly a massive $302.500 prize.
However, a further monumental success on the same day at Flemington (October 5th) was also chalked up by Jye McNeill in the Poseidon Stakes, named after a hero-horse from the early days of the twentieth Century. Jye was riding a horse by the name of Taraayef, from the Hayes and Dabernig stables and brought him home in front with consummate ease to net a purse of $106,200, making a total earnings for the day of $408,700 – not a bad day's work all told!.
A month later, McNeil returned to Flemington to ride a New Zealand bred horse, Oceanex in the Group 2 Matriarch Stakes. Trained by the experienced duo of Mick Price and Mick Kent, the horse had little difficulty in coming home at the head of the field, netting purse of $182,000 for his achievement.
Nevertheless, as is to be expected from a rider of supreme talents, Mcneils successes were not limited to his appearances at Flemington and in a season of almost continual winners, two further races are worthy of note. The first of these came early in the season in the Heatherly Stakes at Caulfield when riding the aptly named Super Titus, a British bred horse trained by the Hayes and Dabering partnership.
Putting down an early marker as to what to expect in the upcoming season Mcneil came home first winning a prize purse of $84,500, to alert the punting public as to what they might anticipate. His outstanding season continued as described earlier with his successes at Flemington and continued long into the tail end of affairs with another outstanding performance in March 2020 in the Mornington Cup. Riding Aktau, a British bred horse, trained in Australia by Michael Moroney, Jye assumed his usual place at the head of the field and brought his mount home first to win prize money of $210,000.
With stats of 144 wins, and 226 places from 1023 rides and prize money earnings of over $8 millon, this might be considered a magnificent set of results. In fact, looking at the stats for the current 2020/21 season, these figures could be looked on as little more than a tasty entree for the delights of the present season.
The season began in its usual fashion with a steady flow of good results, until the day of the Bart Cummings Group 3 Stakes. Here Jye Mcneil was to make his first big statement of intent for the season.
Riding Persan, an Australian bred horse trained by the Maher/Eustace partnership, Jye secured first place, and a purse of $301,000 by a length. In quick succession he rattled in important wins in the Mercedes-Benz Stakes, the Geelong Cup and the Bendigo cup – all with prize money in excess of $100,000, before taking the saddle of Twilight Payment – his first ride in the biggest race in Australia, the Melbourne Cup.
Jye McNeil's Best Horse
As a young and relatively inexperienced jockey in his first Melbourne Cup, few would have been surprised if he had not performed well, but oh what a shock he produced!
Riding in strict observance of the instructions given to him by trainer Joseph O'Brien, McNeil led from start to finish, coming home in first place by half a length. In after-race interviews, Jye Mcneil confessed that as instructed he had not used his whip too much and had encouraged the horse every step of the way.
(Perhaps in line with previous comments, he kept whispering in the horses ear, "please keep going, please run a little faster" or perhaps not!) However he encouraged his mount he was gracious enough to admit that "I was very aware of Tiger Moth and Prince of Arran closing in the final stages. It was very tough but we hung on."
The win itself lit up the rather drab day as Flemington could not provide the usual packed-stands party atmosphere usually surrounding the Cup because of quarantine restrictions but such was the clear delight of his fellow non-riding jockeys that their appreciation of his win was shown by their forming a guard of honour and applauding him through the mounting yard on his return for unsaddling.
Nick Williams who together with his father 80year old John, were joint owners of Twilight Payment, commented "I have noticed this quietly up and coming young man over the last couple of years and recognized that he was a winner. That's why I booked him to ride for us three months before the race. Who wouldn't want the best young jockey in the country on their horse!"
Jye McNeil Best Trainer
After winning the Melbourne Cup aboard Twilight Payment it would be hard not to think that the best trainer McNeil has an affiliation with would be Joseph O'Brien after scooping a large portion of the $8m prize money in the race.
However Jye McNeil has the best rapport with the prominent Victorian conditioners Ciaron Maher and David Eustace.
Jye has had a total of 390 rides for the Maher and Eustace Stables with a total of 79 wins giving him a win ratio of just over 20%. As part of those 79 wins he has also achieved 101 placings at a ratio of 46% with a total of $4.2m captured in prize money.
It is important to note however that McNeil also has a great affiliation with the Robbie Griffiths stables as well having started a staggering 689 races aboard a Griffiths trained runner.
As well as Griffiths and Maher & Eustace, Jye McNeil has seen good recent success for the Freedman's winning the Australian Cup for Anthony Freedman aboard Homesman in April of 2021.
Jye McNeil Racing Statistics
Jye McNeil has had a total of 7,307 race starts in his career with 465 of those in black type grade and 57 starts in Group 1 Races.
Jye McNeil has ridden an impressive total of 767 winners from over seven thousand starts which equates to an 11% win ratio across his career.
To go with 767 career wins McNeil has also ridden 1,517 places from his starts with 75 of these coming in black type grade.
Jye McNeil Prize Money
Throughout his career Jye McNeil has won races and amassed a total of $39.5m in prize money from his races. This was largely boosted in recent years with wins in the Melbourne Cup and Turnbull Stakes during the Melbourne Spring Carnival.
Jye McNeil won his largest race haul when steering Twilight Payment to a 2021 Melbourne Cup victory
Conclusion
So what does the future hold for Jye Mcneil. He's already been appointed to the boards of the Victoria Jockeys Association and the Australian jockey Association, to look after the interest of his fellow horsemen. No doubt he will be back again in the 2021/22 season, to ride in races bis and small and hopefully will increase his total number of winners to date from 767 and add to his 3 triumphs in Group 1 races.
Whatever he goes on to achieve in the future, this unassuming young man from rural Victoria has already secured his place in horse racing history. Perhaps as a conclusion we should take the words of racing pundit Ben Asgari who wrote of Macneil in 2020 "It's nice to see when good things happen to good people," Couldn't agree more!