Jim Johnson was inducted into the Australian Racing Hall of Fame in August of 2009.
In some cases, a jockey must pay his dues for a considerable period of time before gaining the attention of the trainers and connections in the eastern states of Victoria and New South Wales.
Jim Johnson was such a jockey. He won his first race in Adelaide in 1945, and then labored until the 1960s, during which time he had won four Adelaide jockey's premierships before he was the recipient of the good fortune of getting a ride on Gatum Gatum for that thoroughbred's 1963 Melbourne Cup victory.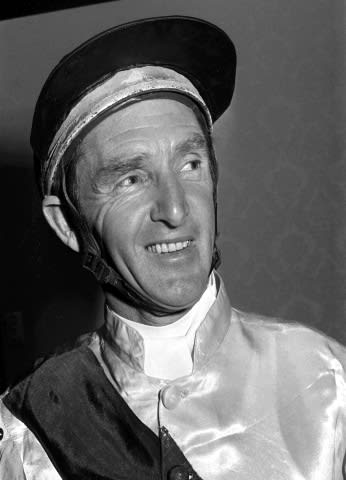 By that time, Jim Johnson had been a jockey for close to twenty years and had tallied over 1,000 wins.
Jim Johnson made the most of the opportunity his Cup win afforded him, winning the Melbourne jockeys' premiership in 1966-67.
In so doing, he won nine weight-for-age races. More success followed as a result of Jim Johnson's association with Winfreux and Tobin Bronze, the horse that supplied a Caulfield Cup and two W.S. Cox Plates.
Then came two successive Melbourne Cup wins while riding Rain Lover to the post in 1968 and 1969.
The second victory was by a massive eight lengths, a feat not accomplished since Archer had done it over a century earlier. This places Johnson very near the top, trailing only two other jockeys who won the Cup four times.
He rode in Singapore, earning two jockeys' premierships there in 1972 and 1973. When he finally decided to hang up his spurs in 1976, he had notched almost 2200 victories.
Jim Johnson was remarkable for his riding style that was quite unorthodox.
For all intents and purposes, he stood in the stirrups and rode in a jerky way that differentiated him completely from most riders, especially from one of his major rivals, Roy Higgins.
He was recognized for being extremely proficient with the whip and taking many races by narrow margins.
His "vigorous" style often garnered unwanted attention from the stewards. Jim Johnson is pragmatic in his acceptance of this aspect of his career, claiming that he never abused a horse, but admitting that he would give them a flick across the ears when they lost their focus on the task at hand.
The problem was that to all appearances he was hitting the horses on the head, something that no bona fide horseman would ever consider. He also was not adverse to shouting and roaring to motivate a horse to rouse them if necessary.
After his retirement in 1976, Jim Johnson expressed obvious contempt for current rules that limit the number of times the whip can be used and the materials from which it is made. Animal lovers will no doubt disagree, but Johnson's record would seem to contradict them.
Jim Johnson was inducted into the Australian Racing Hall of Fame in August of 2009.