2004 Australian Racing Hall of Fame inductee Jack Purtell was another of Australia's jockeys who enjoyed success both at home and abroad.
Jack Purtell's most conspicuous accomplishment would be his three Melbourne Cup wins, behind only the four of Bobby Lewis and Harry White.
He quite possible would have equaled the other two had he not given up the ride on Comic Court to Pat Glennon when those two brought home the Cup in 1950. Comic Court would account for nineteen of Purtell's wins.
Purtell's three Melbourne Cup victories came in 1947 riding Hiraji, and then consecutively in 1953 and 1954 aboard first Wodalla and then the incomparable Rising Fast.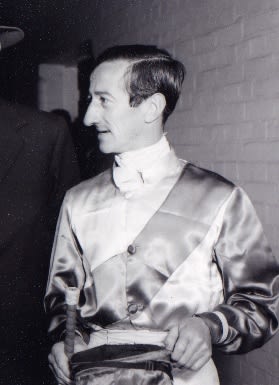 Jack Purtell also won consistently over his career to the extent that he earned seven jockeys' premierships which also included significant wins in Australia-the Caulfield Cup and Williamston Cup, and in Europe-the Irish Oaks and the English Oaks through his association with Vincent O'Brien.
Major races alone do not account for the seven total premierships. Jack Purtell managed 1700 wins over the course of a career that spanned the time period of 1936 until his retirement around thirty years later.
He first rode in 1936. Major wins followed in 1940 in the Williamston Cup and 1941 featured a victory in the Caulfield Cup.
The first of his jockeys' premierships was in the 1946-47 and his last was sixteen years later in 1961-63.
Jack Purtell was one of Australia's most popular jockeys during the 40s and 50s.
When he was injured in a fall from Helresh at a race held at Caulfield racecourse in 1953, Alfred Hospital, where doctors had performed a lengthy operation to alleviate a cerebral hemorrhage, was inundated with calls from across the country inquiring into Jack Purtell's condition.
Jack Purtell maintained his connection to horse racing after his retirement by serving as a Stipendiary Steward for the Victoria Racing Club.
His remarkable record of victories, wins in major events and dedication to the sport of horse racing played a large part in his being inducted into the Australian Racing Hall of Fame in 2004.