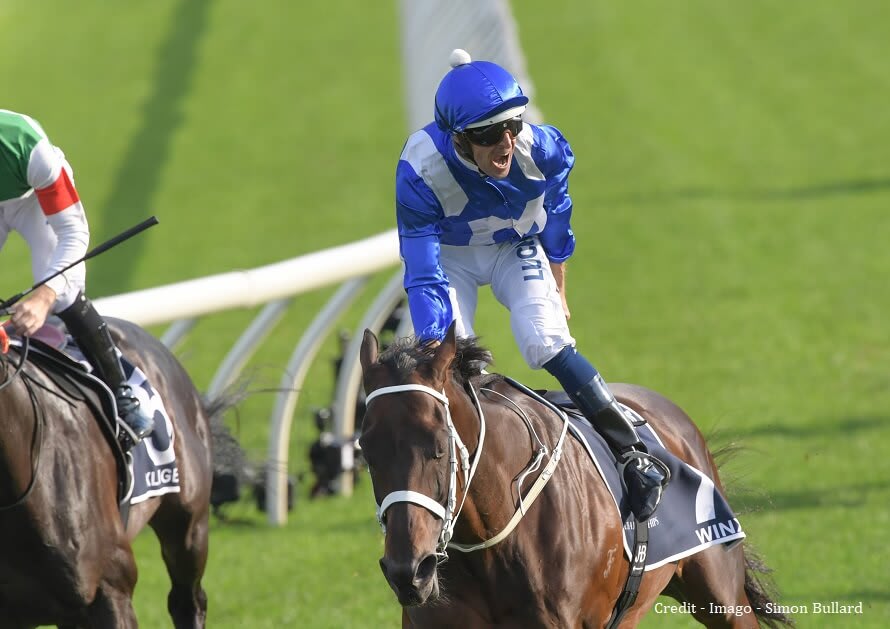 Hugh Bowman, Australian Jockey and the almost invincible Winx raced consecutively more than 30 times unbeaten.
When a great partnership arises in a sport, there is often a heated debate as to which of the two partners contributes more to the duo's success, or are they equal partners in terms of ability and skill.
For example, in the middle of the last century two Australian Greats, John Newcombe and Tony Roach teamed up to create a formidable partnership which would win the Men's Doubles at Wimbledon five times in nine years. No one would dare to suggest that either of these two greats was more than the equal of his partner! Similarly, nearly thirty years later, we have another Australian duo – the "Woodies" (Todd Woodbridge and Mark Woodforde) who would better that achievement by winning the same championship five years in a row.
Later, Woodbridge would go on to win the Doubles title three further times with a different partner in the early 2000s, which might lead to the conclusion that he was the better player of the two = although that is not an argument which will be easily won.
And when considering partnerships, we have possibly the greatest fast bowling partnership cricket has ever seen in Dennis Lillee and Jeff Thomson, who demolished foreign test batsmen in the mid-eighties with an attack of pace and swing leaving opponents bewildered and terrorised, and frequently out!
It would be hard to try to pretend that one offered more to the cause of Australian test cricket than the other. Indeed, the Sydney Sunday Telegraph encapsulated the essence of this partnership with the headline: Ashes to Ashes, dust to dust, if Lillee don't get you, Thomson must! And in recent years we now have another great duo to evaluate, based on their thrilling deeds on courses such as Randwick and Flemington, which prompts the question: would one have enjoyed the successes without the other.
Today's top betting sites
Hugh Bowman and Winx
The question is: would Winx have achieved such a successful run if Bowman had not been the jockey, or would she have romped home whoever was in the saddle? To try and answer this conundrum it might be worthwhile to look at the records of each and compare the achievements.
Winx, a filly of good pedigree, was foaled in September 2011, and had her first race, and first, win in a maiden's race in June 2014, following up later in the same month with another win. Gently nurtured by her trainer Chris Waller, she did not race again until September, in a Group 2 race for three year olds, and it was in this event she was first partnered with Bowman, successfully! A month later in the Flight Stakes, her first Group 1 run out, she was again partnered with Bowman, but could only manage a second place.
Trainer Waller suggested that this "failure" could be due to a combination of her first time over the distance (1600m) and her first "big boys" run out in a Group 1 showing her inexperience. Bowman was not to ride her again until the end of May 2015, a break of almost seven months. However, during this period of separation Winx raced over a variety of distances with a number of different jockeys with mixed fortunes. In February, she competed in the Group 2 Light Fingers Stakes, over 1200m, with New Zealand Jockey Jason Collett in the saddle. She finished seventh. Two weeks later Collett was again in the saddle for the Group 2 Surround Stakes over 1400m. turning in a fifth place.
Another two weeks and Winx runs in the Phar Lap stakes, a Group2 race over 1500m, now ridden by Tommy Berry – and wins comfortably. Two weeks later, in a Group 1 over 2000m, Berry cannot maintain consistency and only achieves a fifth place in the Vinery Stakes. One further outing in April, in the Group 1 Australian Oaks at Randwick sees her come in a creditable second, although trailing by 2.5 lengths – and then it begins.
After a relatively comfortable win in the Group 3 Sunshine Stakes, she will rejoin her apparently "favourite" jockey, Hugh Bowman and go a further 32 races undefeated. All of these either Group 1 or Group2 classes, over distances ranging from 1300m to 2200m, and including four Cox Plates, three Queen Elizabeth Stakes wins, and first places in random races such as the Caulfield Stakes, the Doncaster Mile, and in the Winx Stakes – formerly the Warwick stakes, newly renamed in her honour. In this period, two comments worthy of note about Winx come from her trainer, Chris Waller speaking after she won the 2018 Turnbull Stakes – the long straight at Flemington allowed her to get through her gears and in the end it was no contest – and from Bowman himself after the George Main Stakes in September – Le Romain ran a hell of a race...but when that (WInx) turbo kicked in at 250m it was all over.
The summary of Winx record reads almost like a fairy tale – too good to be true! In a total of 43 races, Winx came home first 37 times, in second place only three times and only three times did she fail to place. On 33 occasions she was ridden to success by Hugh Bowman and only once did Bowman fail to win, achieving a second place. She was voted Horse of the Year three times, and only the third horse to be inducted into the Australian Racing Hall of Fame whilst still in training. Most importantly, she brought home prize money over $26million. All in all, not too shabby a record!
Hugh Bowman Racing Career
So much for Winx, so let us look at what Hugh Bowman brings to the starting gate. Like Winx, Bowman has an outstanding pedigree for a jockey. Having spent his early life on cattle farms around Dunedoo in the New South Wales countryside where horses were an integral part of farm life, riding came a second nature to him. In1993, at the age of 13 he began secondary education at boarding school in the Eastern Suburbs of Sydney, but academic education was not the focus of his attention.
With a grandfather, great uncle, father and uncle, who had all been amateur jockeys on their time, and having ridden in so-called picnic races himself till the age of fifteen, it was only a matter of time, once his mind was made up, for him to take up an apprenticeship to learn the professional trade of jockey. This he secured in 1997 with trainer Leanne Aspros at Bathurst, where he would learn under the watchful eye of her husband Billy – twelve time champion jockey of the Racing NSW Central District and a jockey who had a Group 1 win under his belt, Turridu in the 1995 George Main Stakes at Randwick.
Building on such solid support would provide an ideal base for him to develop his career. Already, at the age of sixteen, whilst still at school, he had chalked up two victories as an amateur in picnic races in the NSW Central Districts, and by the end of his first full season in apprenticeship, he had become Champion apprentice in the Districts. To further his career, Bowman moved to Sydney in 1999 and spent the final two years of his apprenticeship under the tutelage of former jockey, now trainer, Ron Quinton, coincidentally from Dunedoo, the lads' home town.
His career under Quinton blossomed and at the end of his first season was recognised as the Champion Apprentice in Sydney. During his second season, he rode his first major winner, Sportsbrat, in the Missile Stakes at Rosehill. Having this broken his duck as it were in major races he continued to chalk up Group 2 and 3 race wins until his first goal, his first Group 1 win, was achieved. This came in the Doomben Cup of 2004, when he brought home Defier in front of the field to take a purse of $310,000. With this success it could be said that Bowman had announced his arrival in the upper echelons of the jockey world, and henceforth the racing fraternity would have to take notice of this up-and-coming star.
For the next ten seasons, Bowman continued to make his mark with an average of over a hundred winners a season, many in Group 1 races but many more in Group 2 and3 contests. For example, almost a year to the day from his first Group 1 triumph in 2005, Bowman notched his second group win at Doomben riding home in first place the oddly named Red Oog, in the Doomben 10000 and earning a winners purse of $416,000. Shortly before his second Doomben win, he had also led the field home in another Group 1 race, the George Ryder Stakes, as well as racking up a number of group 2 and 3 wins, before and after the 10000. June 2005 saw more success for Bowman with another win, this time in the Queensland Oaks on Vitesse Dane.
To list all the winners ridden by Bowman until September 2014, a date of great significance for him, would take many pages and the names of many of his mounts and races won would fade into the background when compared with his major wins. For example, one would need to comment on his two wins in the VRC Oaks, held at Flemington and yielding over $600,000, or his two wins on the same track in the Victoria Derby, producing from each win $910000. His victory in the Australian Derby in 2014 at Randwick, netting $1,286000 in first place prize money cannot be overlooked, and two victories in the ATC Australasian Oaks, also at Randwick with purses of $300,000 plus merit a mention. However, these are but a random few chosen from many successes - Bookmakers.
From 2010 onwards, Bowman began to get close to trainer Chris Waller, riding various mounts for him, and this collaboration promised to bear spectacular fruit when, in September 2014, Waller gave him the ride on a special filly -Winx. And, as the pundits say, the rest is history. The number of consecutive wins when ridden by Hugh Bowman, and the number of these which were achieved in races of significance, bear witness to a great partnership, perhaps never to be bested on the race track. Certainly from Winx early form as a two year old, when Bowman rode her only once to a win, suggests that the two, horse and jockey, complemented each other sublimely, when they later recorded all those victories together. From the bare statistics it is difficult to extrapolate any conclusion other than that neither partner was "bigger" than the other while they were working together.
Accepting this conclusion as correct, and who would argue against it, it is worthwhile to cast a glance over Hugh Bowmans' career when not riding the super filly. In 2007, Bowman made his first excursion to race overseas – with the stable of former England footballer Mick Channon as part of a three month "learning" expedition – as if he had that much to learn!. In the three months in the UK he won the Group 2 Superlative Stakes at Newmarket aboard Hatta and in August of the same year was part of the Rest of the World team which won the Shergar Cup.
This was a commemorative event in honour of the missing Irish thoroughbred, Shergar and was contested by four teams of three representing England, Ireland, Europe and the Rest of the World. The teams competed over six races at Ascot and the winners were calculated on a points for places basis. Incidentally, as well as helping his team to win the event, Hugh also won a personal prize, the Alistair Haggis Silver Saddle, awarded to the jockey who accrued most points during the races.
2016 and 2017 saw Bowman enjoy spectacular successes overseas, racing in Hong Kong and Japan. Two Group 1 wins in his first visit, riding a horse called Werther in the Hong Kong Derby and the Queen Elizabeth II stakes were followed up the next year with wins in Hong Kong on Werther (twice) and a horse named Lucky Bubbles.
The icing on his cake, however, came with his win in the Japan Gold Cup on Cheval Grand, the richest horse race in the world that year in terms of prize money. This lead to him being awarded the title of Longines World's Best Jockey by the International Federation of Horse Racing Authorities. Trailing behind him came British jockeys Ryan Moore and Frankie Dettori.
Hugh Bowman's Best Horse
The best horse Hugh Bowman ever rode was Winx. There is no question, argument or reasoning to be had to change any punter's mind.
Hugh Bowman's Best Trainer
If Winx was Bowman's best horse then it's hard to see how you can't have Chris Waller as his best trainer.
An emphatic 33 wins in a row as well as 4 Cox Plate wins has to mean that Chris Waller is the favourite trainer for Hugh Bowman.
In total Bowman has ridden 395 winners for Chris Waller including 38 at Group 1 level. When we compare this to his next best trainer, Kris Lees, this equates to 3 times as many winners and 5 times more Group 1 titles.
Financially as well the relationship between Bowman and Waller has been one of the most successful ever with over $60m amassed in Prize Money.
Hugh Bowman Statistics
Overall Hugh Bowman has had over 15,000 thoroughbred racing starts across the globe. Out of the 15,000 he has ridden over 2000 winners with an estimated strike rate of 16%.
He has also placed an impressive 4000 times from the 15,000 starts.
What's most impressive of all though out of all Hugh Bowman's runners he has over 100 wins at Group 1 Level. A feat achieved by few.
To add to these Hugh Bowman has also won nearly 100 times at Group 2 level, Group 3 level and Listed Grade racing.
Hugh Bowman Prize Money
In total Hugh Bowman has won over $230m in Prize Money.
It's amazing to see when you compare the 2015 - 2019 seasons for Prize Money against the rest of Bowman's racing career. When the Dunedoo native was riding Winx between 15 and 19 his average prize money was $24m. In the seasons around he averaged $12m.
It's testament to the relationship with Waller and Winx that doubled his Prize Money for nearly 5 years - TattsBet
Conclusion
So, to conclude with the answer to the question originally posed, the statistics covering the time that Winx and Bowman raced together most decidedly point to the fact that both complemented each other perfectly and such a dynamic duo will take a long time to appear again.
As for Bowman, well, his record before Winx and after, as well as during their period together clearly shows that he is more than a simple jockey, more like a "horseman extraordinaire!"