Harry White: Many jockeys have exploded onto the scene and enjoyed spectacular but short careers.
Harry White: Some had significant wins at high levels aboard the top mounts of their era, and then faded into relative obscurity to become the subject of difficult trivia questions.
This is true for all sports, of course, but in racing it seems as though a long and productive career supplies its own fuel that can lead to additional accomplishments. Owners and trainers expend considerable effort and money to field competitive thoroughbreds.
They want hoops that can ensure the best return on their considerable investments.
Either fairly or otherwise, jockeys can be classified as being skilled in one area and deficient in another. Some are known for handling heavy tracks well. Others earn reputations for skilled racing tactics or managing to squeeze productivity out of a mount that is prone to underachievement.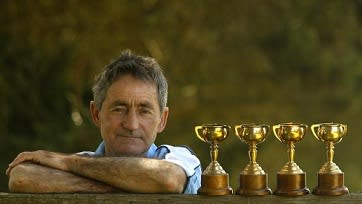 One area that seems to be ripe for its ability to unfairly place a jockey into a niche is that of distance. The case of Harry White supplies a perfect example.
He was known primarily as a steerer of stayers, but he also experienced considerable success with sprinters.
Harry White certainly displayed the earlier mentioned longevity that secures his place amongst the likes of some of the greats of Australian racing history. Such names as Athol Mulley, Glen Boss and Neville Sellwood can be uttered in the same breath.
Harry White's career spanned 35 years. During this time he became, along with Bobby Lewis, the only jockey to notch four Melbourne Cup victories. This would seem to be the source of the notion that White was at his best at longer distances.
Two Caulfield Cups and a W.S. Cox Plate would do nothing other than add to White's reputation aboard stayers.
It is with this background in mind that it must be mentioned that Harry White did better than most as a rider of sprinters. He won no less than three Newmarket Handicaps, three Oakleigh Plates and three Futurity Stakes. The longest of these was the Futurity Stakes, which was contested at 1400 meters in White's era before being stretched to 1600 meters in 2006.
In all fairness, it would have to be said that Harry White could ride any type of thoroughbred over any distance with skill and aplomb.
Harry White was aboard on the most recent occasion when a thoroughbred performed the seldom-equaled feat of winning two consecutive Melbourne Cups, something that has happened only four other times in the history of the Cup.
Those wins came courtesy of Bart Cummings trained Think Big in 1974 and 1975. Harry White again won on consecutive occasions when he notched the third of his Melbourne Cup victories aboard George Hanlon trained Arwon in 1978. He supplied his Cup encore in 1979, returning to Cummings's stable, when he steered Hyperno to the winning post in 1979.
In the other legs of Australia 's Triple Crown, White was aboard Sobar in 1972 and Ming Dynasty in 1977 for Caulfield Cup wins. He took the 1987 W.S. Cox plate riding Rubiton to victory.
Harry White's first truly significant win came in the 1964 Duke of Norfolk Stakes. He would go on to win that race an additional four times. He also won five Australian Cups. His impressive 35 year riding career would conclude in 1995. He had won almost 200 feature races by that time, including 60 Group 1 events.
He took the brass ring for four Melbourne Jockeys' Premierships, an accomplishment that has seldom been equaled or bettered.
Harry White's contemporaries in the jockeys' room were fond of mentioning that Harry never seemed to experience any nervousness before a race, regardless of the significance of the event. He was often observed to be sleeping before the start of a race. Some even claim that he took a nap aboard Think Big in the 1974 Cup during the middle 1200 or so meters of the race.
That would seem to be a gross exaggeration, but it is indicative of the cool temperament that enabled White to pace his horse so as to have plenty left for the stretch.
Harry White retired in 1995 and became a cattle rancher near Gisborne in Victoria. While he deservedly is remembered for his momentous record at the longer distances, it must be mentioned in the interest of objectivity that he could compete truly proficiently at any given distance. He did more than his fair share to burnish the reputations of trainers Bart Cummings and George Hanlon.
Harry White was inducted into the Australian Racing Hall of Fame in 2003.
In a sport like racing, where so much of one's reputation hinges upon the performance of an unpredictable teammate, Harry White produced consistent results over a long span of time. He undoubtedly deserves to be mentioned whenever the subject of great Australian jockeys arises.