Australian Racing Hall of Fame jockey Harold Lindsay Badger (1907-1981).
Harold Lindsay Badger was a man who went about his business without seeking the fanfare and attention that often accompanies success in the endeavor of horse racing.
He was the third of eight children; two of his brothers also served as jockeys, as might be expected, since size is a familial trait.
Harold Lindsay Badger was apprenticed to Flemington trainer Richard Baulfield, who served as the foundations of Badger's later success. Only 14 years of age at the time, Harold had been urged to pursue a career as a jockey from an early age.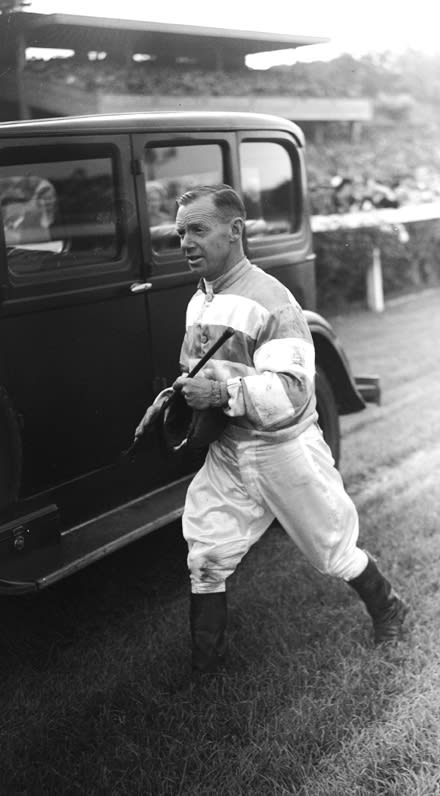 He served as an apprentice until 1925, winning the Adelaide Cup in 1925 while riding Stralia. At the end of his apprenticeship, he moved to South Australia on Baulfield's advice to take his place in the big arena.
His career stalled temporarily when he was riding for Lou Robertson. Harold Lindsay Badger was number two in that stable and received few chances to earn any major wins.
He struck out on his own in 1936. It was his phenomenal win on Northwind at the Caulfield Cup at the incredible odds of 66/1 that attracted the attention that resulted in his being paired with Ajax.
That pair created a record that was very impressive by any measure, during any era. Together, they notched a total of 30 significant victories in the three year span of 1937-40.
Ajax and Badger worked together on seven other occasions, never running unplaced.
Ironically, after taking the Caulfield Cup at 66/1 against, it was toward the end of Ajax's career in 1939, when the two lost at Rosehill despite being favoured 40/1 on, that served to add to, rather than detract from, the fame of both horse and jockey.
Ever the consummate professional, Harold Lindsay Badger flew from Sydney to Melbourne upon learning of his brother's critical racing accident at Geelong in April of 1938, and then returned the next day to honour his engagements at Randwick.
The following week, he rode three winners, only to earn a month-long suspension for riding that the stewards considered careless. Difficult would seem to be the word to describe this arbitrary suspension, since Badger was the winner of the Victoria jockeys' premiership five consecutive seasons from 1938-39, something that could not conceivably be accomplished by a careless rider.
Harold Lindsay Badger was not exempt from misfortune. He was severely injured in, of all things, considering the danger to which he was customarily exposed as a rider, an automobile accident. That cost him the better part of half a year of riding, but he returned eventually to honour his vow of winning another premiership, a feat he accomplished in 1947-48.
He was riding Columnist, aboard whom he notched one of his two Caulfield Cup victories when he won his last premiership. Again ironically, a fall from that horse that impaired Badger's vision compelled his retirement in late 1948.
Between his first victory in 1925 and his retirement in 1948, Harold Lindsay Badger won close to a thousand races, including victories in over one hundred feature events, including three Newmarket Handicaps, and two each of the Doncaster and Epsom Handicaps, along with the aforementioned Caulfield Cups.
The Melbourne Cup and the Cox Plate did manage to elude him.
Lest anyone cast aspersions, Badger did volunteer for military service during World War II, but was rejected due to his height. After he retired from racing, he continued to maintain the low profile that had been a feature of his riding career.
Harold Lindsay Badger continued to avoid publicity and acclaim in the 33 years that followed his career in the saddle until he died in 1981.