New Zealand-born Greg Childs is a champion jockey that made winning a habit.
With over 2,100 wins to his credit, Childs made a mark for himself stretching his success to six countries including Hong Kong, Dubai, and the United States.
Greg Childs is best known for his association with the grand mare, Sunline. Regarded as the ultimate professional, Childs earned several prestigious awards including the 1998 Scobie Breasley Medal.
Jockey Greg Childs has certainly had a distinguished career with well over 2,000 wins to his credit. The champion jockey's foray into the world of racing began in 1978 where he was apprenticed to Brian Deacon.
His first taste of success came in his seventh outing on Stormee in a race at the Hawera Track in August 1978, subsequently winning the New Zealand Apprentice Premiership for the 1978-79 season.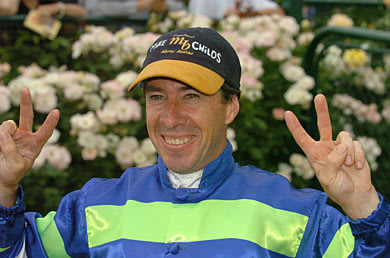 Greg Childs victory heralded the beginning of successful career that took him globetrotting to New Zealand, Hong Kong, Malaysia, Singapore, United States and Dubai.
His early success was with the champion three-year-old Summer Haze during the 1980 season in the Awapuni Sires' Produce, a Group 1 race in New Zealand.
Over the decade, Childs won a host of feature races in New Zealand, after which he moved to Melbourne in 1990.
During this period, Greg Childs worked along with trainers Tommy Hughes and Bart Cummings while spending time in Hong Kong as well.
Greg Childs first Group 1 victory in Australia was in the 1990 Karrakatta Plate in Western Australia astride Umatilla. Among his other notable feature race wins were the 1999 Cox Plate on Sunline which was repeated once more in 2000. Childs also rode Northerly to the winning post in the 2002 Caulfield Cup.
His other notable Caulfield Cup was in 2005 astride Railings. Childs association with the grand mare Sunline, trained by Trevor McKee, lasted for a long time, with an incredible record of 22 wins from 33 starts.
Sunline and Greg Childs team up to win 10 Group 1 races which included the 1999 and 2000 Cox Plates, 2000 Hong Kong International Mile and the 2002 Doncaster Handicap. The champion jockey's other formidable victories included 9 Oaks and 6 Derbies.
Greg Childs won the Melbourne Jockeys' Premiership titles in 1991-92 and 1997-98. His record number of wins earned him the 1997 Ron Hutchinson Excellence Award (Spring), the 1998 Scobie Breasley Medal, and 1999 Roy Higgins Excellence Award (Autumn).
Greg Childs spent time racing in the Far East with a major victory on the Laurie Laxon-trained Romanee Conti in the 1993 Hong Kong International Cup.
Late trainer Peter Hayes' quality racehorses were also steered to victory by Childs. He won the 1999 Newmarket Handicap for Hayes astride Isca and the Australian Cup on Istidaad, the same year.
He also teamed with Leon MacDonald, the Adelaide trainer to win the AJC Derby on Gold Guru and the Australian Guineas in Sydney. Although a native of New Zealand, Childs travelled to six countries. The highlight of his overseas career was five wins during the 1985 season in the United States.
Greg Childs' 30 year career also ended on a successful note with four wins on the last day of his glorious racing career and finished with a ninth place on Papa in the 1600 meter Skipton Handicap.
However, with around 2,100 winners to his credit with 72 of them being Group 1 races, Greg Childs retired with great memories that he will always cherish. Many in the racing fraternity remember Greg Childs as the ultimate professional and an excellent judge of pace.