One of the greatest jockeys to ever don the silks of any stable went by the name of George Moore.
The marks he established, first as a hoop, then as a trainer, between his apprenticeship in 1938 and when he retired in 1985 after nearly 50 years, are so extraordinary that you could divide them among a dozen typical jockeys and trainers with all feeling fairly treated.
Born 5 July 1923 in Mackay on Queenland's North Coast, George Thomas Donald Moore first raced as an apprentice for Brisbane trainer Louis Dahl in 1938.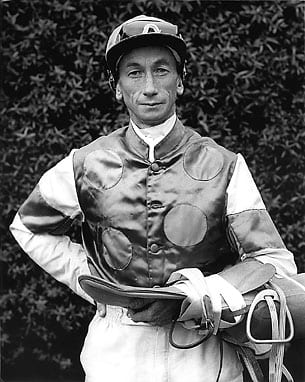 He learned the trade well, resulting in a Jockey's Premiership in 1943. He moved to Sydney and became a leading apprentice over the remainder of 1943 on into 1944.
George Moore, aka. "Cotton Fingers" for his deft touch that allowed his getting the most from his mounts, seemed almost to have a form of telepathy that was transmitted through his hands and down the reins so that he could communicate the appropriate tactic - speed up, ease, etc. - at the appropriate moment in a race.
It was said by some who could claim to know that Moore was almost clairvoyant at times, knowing not only what his mount was doing and of what it was capable, but also knowing the same of any ahead of him.
His proficiency produced a total of 2278 victories (over 70 year average), 119 coming at Group 1 level.
Beginning with his first major win, the 1946 Sydney Cup aboard Cordale, George Moore racked up 26 majors, right up until he retired as a hoop in 1971, when as a forty eight year old he posted a Doncaster Handicap, Australian Derby, AJC Oaks, Victoria Derby, Golden Slipper Stakes and Newmarket Handicap.
During this amazing 25 year span he also found time to win in England, France and the United States.
A complete journal of his racing career would prove exhaustive, but some anecdotal highlights bear repeating.
One of these was an amazing four day span during the Randwick Easter meeting of 1969 where George Moore rode 15 winners in 29 races.
Another took place five years earlier when brought home 11 wins at the AJC Spring meeting in 1964, again over a four day span.
On no less than four separate occasions he rode five winners in one day, a feat he accomplished twice at Randwick Racecourse, all the more remarkable for occurring 12 years apart (1957-1969).
George Moore will also always be associated with mighty Tulloch, whom he steered to victory 19 times.
In the course of the time it took him to perform these feats, he also threw in Jockey Premierships in 1957 and 1958. He then took a sojourn overseas before returning in 1962 to add 8 more premierships, concluding in 1969.
His riding career, however, was not totally impeccable.
He lost his license for over two years as the result of backing a horse, Flying East, of which he claimed ownership that won an event while he was on another mount. Although Flying East was actually owned by his father-in-law, Moore was warned off for a two and a half year spell.
Another time, when Moore returned from one of his overseas forays, he apparently took exception to finding a rival hoop, Athol Mulley, occupying his stall. According to Moore, Mulley "queried my breeding," which evoked a stiff right cross delivered by Moore, resulting in both being fined.
Legendary trainer T.J. Smith, in large measure responsible for a good deal of Moore 's success, was a frequent target of verbal abuse by the volatile Moore.
Finally, despite all he accomplished on the track, the Melbourne Cup and Caulfield Cup eluded him, which is difficult to imagine, but true.
Moore's last race was a victory on Classic Mission in the Group 1 VRC Derby in 1971.
From there, he did a quite satisfactory turn as a trainer in Hong Kong, winning the trainer premiership 11 times in 13 attempts.
George Moore retired to the Gold Coast in 1985, was inducted into the Sport Australia Hall of Fame in 1986, the Australian Racing Hall of Fame as an inaugural inductee in 2001.
In 1998, Sydney racing authorities commissioned the George Moore Medal, given yearly to Sydney's outstanding jockey.
He additionally was honoured by having the title Order of the British Empire bestowed on him in 1972.
George Moore died after a prolong illness on 8 January 2008 in Sydney.
His record of 119 Group 1 wins, even if eclipsed, will forever ensure that he will be remembered along with the likes of Munro and Beasley. It is conceivable, given his results, that he could easily have added another 6 or 7 Group 1s had he not been spelled for the Flying East affair.