Darren Beadman was the youngest jockey to ever be inducted into the Australian Racing Hall of Fame.
Darren Beadman entered the Hall Of Fame at the age 45 in 2007, along with bearing the unique distinction of being the first to do so while still active.
Considering the stature represented by some of the other Hall members, these two singular accomplishments place him squarely among the elite of the elite of the Sport of Kings.
Darren Beadman was born 17 November 1965.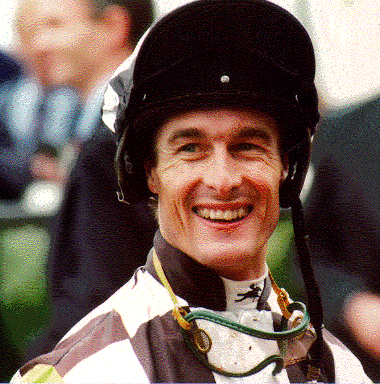 Beadman first gained notice while winning the apprentice jockeys' title in his first season of 1982-83, managed to finish second in 1983-84 and win again in 1984-85.
Darren Beadman piloted Inspired to the winning post in 1984 in taking Australia 's premier two-year-old event, the Golden Slipper Stakes, for his first group 1 win. He duplicated that feat on Guineas in 1997.
In only his third try at the Melbourne Cup, he steered Kingston Rule to victory in 1990. He was partnered to Bart Cummings trained Saintly when that horse produced a 1996 Cox plate-Melbourne Cup double.
Darren Beadman achieved considerable success as a result of his association with Super Impose. The two doubled in the Doncaster Handicap Epsom Handicap in 1991.
The pair had 19 rides together and Super Impose's results need no exposition here.Darren Beadman also took a good number of rides aboard Octagonal.
Darren Beadman won the Sydney jockeys' premiership in the 1994-95 season to cap off 186 wins. He repeated in 1995-96 before announcing to a shocked racing world that he was retiring from racing to enter the Christian ministry. He had by that point in time already produced 46 group 1 wins. Darren Beadman returned to racing in 2000 and to date has added 33 more group 1 wins to his total.
His most notable mount since returning has been Lonhro. Darren Beadman first rode that horse in August of 2002 and was aboard for 24 of Lonhro's last 25 starts.
The pair won multiple group 1 races together. Further Sydney's jockeys' premierships adorned Beadman's racing credentials in 2002-03, 2003-04, along with recording 143 wins in 2004-05 before backing that with 152 in 2005-06.
Beadman has some remarkable statistics that deserve consideration. Here are just a few from 2003-04 forward, when modern technology enabled the detailed record-keeping that is the present state of affairs. Beadman's stats as of July 2011 puts his total wins at 1431.
He has placed an additional 2116 times out of 7683 starts. The prize money total for 2010-11 alone is almost $12 million. Total for the time is over $126 million. There have been 44 Group 1, 60 Group 2 and 49 Group 3 wins.
Darren Beadman seems most at home at Canterbury Racecourse. That course has supplied him with nearly 300 wins. Second would be Rosehill Racecourse with 215, with Warwick Farm and Randwick Racecourse contributing 385 to the total.
He has won six times at one meeting on one occasion, five times on two. Four and three victory meets are rather common for him. John Hawkes has been the trainer to most benefit from Darren Beadman's exploits by what is very nearly a three to one margin over John Moore.
The aforementioned Lonhro was Darren Beadman's most productive partnership. The pair notched 16 wins together, including an Australian Cup and a C.F. Orr Stakes. It would appear, based on history, that Darren Beadman's career is winding down. Twenty-nine years of averaging close to six rides per meet carries with it a toll, both physical and mental.
One is left to wonder what Beadman's total tally would have been were it not for his three-year ministerial hiatus. He was in his prime at the time and what he would have considered merely average results could easily have added something along the lines of 300 or more additional wins.
Regardless, his achievements are on a level to which many aspire, but to which few are equal. Darren Beadman was inducted into the Australian Racing Hall of Fame in 2007. His achievements subsequently might cause one to ask, somewhat tongue-in-cheek, if a second Hall induction might be forthcoming.
Darren Beadman has confirmed his riding career is now over due to the effects of head injuries he suffered in a fall in February 2012. He fell off a horse that broke both its legs in a barrier trial at Hong Kong's Sha Tin racecourse, and after initially believing a fractured cheekbone was all he had suffered, the jockey was diagnosed with damaged neurons and nerves in his brain.
Beadman said he counted himself lucky to have been able to spend his life doing what he loved -- being around horses.
The brave Darren Beadman said,
"Thirty odd years of excitement, that's how I look at it, I feel I had a few more years to go. It's been a fabulous journey. I've been really blessed to be able to do something in life I really wanted to do. I love horses. They are good therapy. I had a great day in the sun. Now it's a matter of trying to make the best of what I've got.