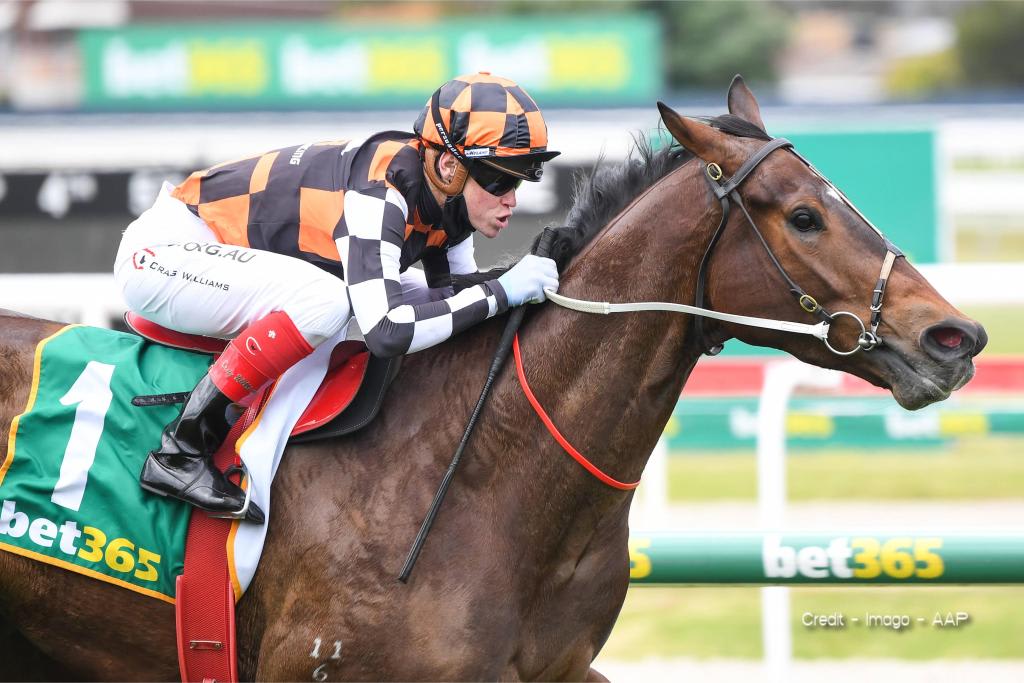 When he arrived on this earth in 1977, Craig Williams might just as well arrived on horseback, such was the pedigree of horse racing in his family tree.
His father Allan Williams, for example, had been a winning jockey before injury forced him into early retirement, and into a second career as a winning trainer. His grandfather, Tom Harrison, had earlier been a successful trainer well known in Melbourne circles, whilst his uncle Doug had also built himself a sound reputation as a trainer of note. Add to this the name of his cousin, Travis Harrison, who was developing into a jockey of considerable potential as an apprentice when his life was tragically lost in a road accident, and it's easy to understand why there was little alternative for the young Craig but a career on the track.
And so it was that in 1993, at the age of sixteen Craig became apprenticed to his trainer father and began his career as a jockey. With much to learn, Craig's early rides did not produce stellar results, but with typical perseverance and characteristic hard work his career and reputation began to progress satisfactorily.
Today's top betting sites
Craig Williams Racing Career
In 2000, his efforts and dedication paid off with a first win in a Group1 race, the Australian Oaks, riding Grand Echezeaux. and at this juncture, one might have expected that the relatively young Williams would stay on the Australian tracks to gain more experience and enhance his growing fame. However, this was not to be. Instead, and somewhat surprisingly, he opted to move to the UK and signed to ride for former England football international turned trainer, Mick Channon.
Channon, much like Williams, was beginning to build his own reputation as a trainer of merit and Craig would learn much under his tutelage. However, it was a fortunate accident which was to set him on the road to success in the UK, and it was at this time that Williams developed his personal foible of "walking the course." This would stand him in good stead in the years to come since it allowed him to understand the terrain over which he would be racing and learn to appreciate any little local difficulties – British and European racecourses differing considerably in their design and construction to the tracks on which he had won his spurs in Australia. His big break came when Channon's leading stable jockey was unfortunately injured in a fall shortly before the important Prix de la Salamandre stakes, a 1400m race held at Longchamps, Paris.
Williams was selected as a replacement and promptly brought his horse, Tobougg, home in first place. A month after this win, on the straight mile at Newmarket, Williams had completed a famous double bringing home the same horse in front in the Dewhurst stakes, a seven furlong ride. Tobougg, a two year old at the time Williams was riding him won all his starts in 2000, and was taken to Dubal by his owner for intensive training with a view to running in the 2000 Guineas and Derby the following year. Interestingly, with ace jockey Franki Dettori in the saddle the horse failed to win any of his starts, and whilst Williams went on to greater things Tobougg was eventually put out to stud as a four year old after finishing last of fifteen in a group 2 race in the USA.
All told, Williams rode a total of 43 winners for Channon, before breaking the partnership to go freelance, capturing a further 27 winners in the UK and Ireland. However, as Williams himself admitted, being freelance "you do not get the rides and tend to vanish from the big race picture" With this thought, no doubt at the back of his mind, the decision was made to follow Tobougg and to move on to Dubal, to ride for the Oasis Stables, where trainer in residence was John Sadler, was already known to him from his rides in Australia, but this partnership was short lived. Later in 2001, Australian trainer, David Hayes, offered him a contract to ride for him in Hong Kong – and he jumped at the chance to work with a man who would be admitted to Australia's Racing Hall of Fame in 2008.
For Craig Williams, however, success on the tracks of Hong Kong were mixed and in 2005, the pair returned to Australia to resume his career on his home courses. It was from this point on that he began the stellar period of his career. With well over 100 wins on Australian tracks every season, plus freelance wins when invited to ride in Hong Kong and Japan, Craig now built himself an international reputation, but nonetheless, it was not all smooth riding.
For example, in 2010, Hayes with whom he enjoyed such a special partnership decided to dispense with his services, as much as anything at the behest of a coterie of his owners who had not taken to Williams. In resolute response to this setback, Williams simply rededicated himself to his craft, doubled his work efforts and continued to ride his winners.
Whether by design, or good fortune, the year after the split with Hayes, 2011 proved to be one of Williams' best in the saddle, and it started with a win in the Caufield Cup. Trained by 71 year old Leon Macdonald, his horse, Southern Speed, was to destroy the dreams of many, more fancied horses, and owners, with mounts from Britain and Hong Kong being left in her wake. And once again good luck played a part in Craig Williams' success.
Clare Lindop who had been the Jockey who had done all the early preparation work for the race with Southern Speed, was unable to take the ride and Williams climbed into the saddle in her stead – to ride a glorious winner by a length and a half margin.
Next up was the Cox Plate, some two weeks after the Caufield. For this race Williams was to ride Pinker Pinker - to victory. Having prepared the horse perfectly with "training" runs in the Spotless Stocks Stakes at Moonee Valley and almost securing a win in the Epsom Handicap at Randwick, Pinker Pinker was primed and ready. Guiding the filly shrewdly from a wide position, Pinker Pinker burst through the field to take the lead some 200m out, finishing with a winning margin of 1.3 lengths.
The partnership of Williams and Pinker Pinker were to run twice more in Group1 races although without success, and it was then brought to a very untimely end. The horse had been receiving weekly injections for the lubrication of her joints yet shortly before what would have been her final appearance of the season in the Queen of the Turf stakes, she experienced an anaphylactic reaction and sadly passed away. And now on to the Melbourne Cup, the third leg of the Autumn treble –except Williams was to be thwarted.
For this race, the most important in the Australian spring calender, Williams was down to ride a horse by the name of Dunaden, a french horse strongly fancied to be first past the post. As it turned out, a minor misdemeanour, careless riding in a race at Bendigo a week prior to the race, led to his suspension and he could not fulfill his duty with Dunaden.
The ride was taken by French Jockey, Christian Lemaire, riding out of Hong Kong and he duly did the necessary by bringing home the horse at the head of the field, albeit by a margin of 5-10cms. A few weeks later in December 2011, Williams was back on Dunaden for the Hong Kong Vase, which he won with consummate ease, and then again for the Caulfield Cup in 2012.
His win this time proved significant for a number of reasons. Firstly, he was the first jockey to achieve back-to-back wins in the race for almost twenty years. Moreover, his original starting gate had been number 22 although this had changed by the start to 18 due to withdrawals, but nevertheless an outside draw from which there had never been a winner.
On top of this, Dunaden was carrying a weight of 58kgs, top weight, and the race had never been won by a top weight drawn towards the outside. Yet, despite all these "never-been-done before" facts being against him, Williams rode Dunaden home ahead of the field to show of the prowess of both horse and the skill of the rider.
Back to 2011 for a moment, and it is worth noting that Craig Williams success in that year was not confined to Australian tracks, nor to Dunaden -although he would go on to comment later that this was the finest horse he ever rode. Shortly after his victory in the Hong Kong Vase, he moved on to Japan to ride in the Japan Cup - which he lost by a head – and the NHK Mile, which he won by 1.1/2 lengths astride a horse called Grand Prix Boss.
Indeed, Williams considerable reputation in Japan as a winning jockey led to him being invited to participate in the World All Stars series in 2015, having already won this once in 2007 and finished second in 2010. Disappointingly, he could not reproduce the form of earlier years and returned to Australia empty handed.
Craig Williams Best Horse
Nevertheless, despite this disappointment, horses with Williams in the saddle frequently crossed the line first at all major and many not so major meetings. However, notwithstanding fifteen starts in the Melbourne Cup, this was the one race he seemed destined never to win – until 2019.
And then along came a horse with the name of Vow and Declare, owned by Paul Lansky, who gave the horse its' unusual name (so rumour has it) in honour of his father who had the habit of returning home of an evening stating "I vow and declare I have only had a few beers" in any event the horse proved to be a winner Unraced as a two year old, he won his first race in 2018 at his fourth start, going on to win his next race at Flemington. The following year, 2019, was to be his summit of success. Running in a number of races with different jockeys, he secured second, third and fourth places with ease, but chalked up only one win – until he was paired with Craig Williams in the Melbourne Cup.
Preparation for the race was perfect. A fourth place in the Turnbull Stakes, followed by a second in the Caulfield Cup proved to be ideal, although there were still many doubters as to the horses true character. Starting at 10/1 Vow and Declare came home first in the Melbourne Cup bringing delight to many punters and above all to Craig Williams, who now had completed his hat trick of wins in Spring Carnival races.
Craig Williams Racing Statistics
When writing this Craig Williams has had a whopping 17.946 starts that includes a huge 2,207 wins which translates to a 12% win ratio.
His record in black type racing is also an impressive one with a total of 394 victories in listed grade or above including 64 at Group 1 Level, 75 at Group 2 and 100 in Group 3 grade.
When we add into the mix that Williams has also placed 3,391 times in his career including over 600 finishes in the top three at Listed or above level it's nearly a 1000 finishes in the top 3 at the highest level.
Williams continues to be in great for again in 2021 with wins in the Dane Ripper Stakes aboard Brooklyn Hustle, a Group 1 win in the Stradbroke aboard Tofane as well as the TAB Classic at Morphettville all coming recently.
Craig Williams Best Trainer
Having such a varied riding background across Europe, Asia and Australasia you would think it may be hard to pinpoint who Williams has had the best working relationship with.
However throughout his racing career there has always been one trainer who has supported him with great rides across the globe - David Hayes.
Hayes and Williams have partnered up for 254 rides, nearly 5 times more than any other trainer.
With that it's only natural to expect that he has the best strike rate for the former Lindsay Park trainer with 64 black type race victories together and over $26m in prize money.
Craig Williams Prize Money
Having an extended career that first began back in the 90's Williams' 2,237 wins and 3,391 placings have amassed a whopping $214m in prize money.
Conclusion
The 2020/2021 season came and passed with Williams continuing to rack up winner after winner, not only on his familiar native tracks but also overseas, as places such as Longchamps in France and Limerick in Ireland as well as his usual haunts in Hong Kong and Japan, and as we look forward to the upcoming Spring Carnival season, who will dispute that his successes will continue.
As of April 2021, Craig has to his name a total of 1916 winners including 58 Group1 races and can point to his five Scobie Breasley medals as testimony to his skills, ability, dedication and hard work. In 2010, the Sydney Morning Herald in a tribute article to Williams described him as the "Turf Ruler". Though a little dated from the point of view of references, few would dispute that this title still applies.