Australian jockey Blake Shinn, the son of one of Sydney 's top apprentice, the late Gerald Shinn.
Born to a family of jockeys, it is not surprising that Blake soon rose to fame at a young age both on and off the track. He grew up in Kilmore, Victoria and apprenticed to his stepfather Lee Hope.
According to Hope, Blake Shinn has a competitive spirit which is the driving force behind his success right from the age of five when he was introduced to gymkhanas while his mother, Carol, agrees that he never needed any sort of encouragement to saddle up at a young age.
Being cautioned for excessive use of the whip at the age of seven just goes to prove his fiery although overambitious spirit, which is not surprising from a youngster passionate about a sport.
Blake Shinn left Victoria for Sydney at the age of 19 to become a stable jockey for Gai Waterhouse and share a place with Nash Rawiller, an opportunity that was difficult to refuse and ended up being the stepping stone for his success.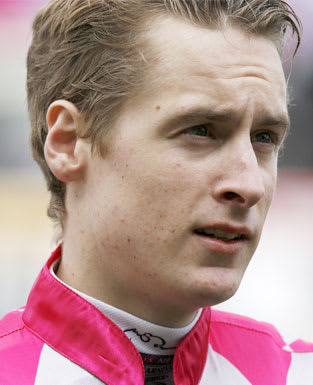 Waterhouse had great faith in Blake's talent, comparing him with the likes of former jockeys Malcolm Johnston and Wayne Harris. He soon obliged by leading the premiership at the age of 20.
His first major winner came as a 16 year old in the 2005 Group 1 Adelaide Cup astride Demerger. He won the first apprentice from Victoria since Damien Oliver in 1990-91 to win the Scobie Breasley Medal. Blake Shinn acknowledges Lee Hope's contribution to his success and discusses his rides with his stepfather regularly.
The truly gifted rider quickly rose to fame after winning the 2008 Melbourne Cup astride the Bart Cummings-trained Viewed.
A fall at the Flemington track kept him out of the 2010 Melbourne Cup where he was slated to ride Precedence. By the age of 20, Blake was fit enough to take on the likes of Darren Beadman and Damien Oliver.
In November 2010, Blake Shinn along with Peter Robl, leading Sydney rider were at the receiving end in an illegal betting scandal worth more than $300,000 involved.
The duo allegedly placed bets online and via telephone through TAB accounts of Blake's mother, Carol, and Robl's wife, Elaine, who were also licensed workers in the racing industry.
Much of their activities were recorded on CCTV, a fact revealed by Chief Steward Ray Murrihy. Blake Shinn also admitted to wagering on Giresun at Randwick while he saddled Diamond Jim in the same race. A series of betting scandals by the duo were unearthed for which he had to pay the price of a year in exile.
Blake Shinn immediately made an impressive comeback when the dust settled down with three wins from four starts in less than a week in January 2012. His wins came at Canterbury and Warwick Farm.
Blake was happy to be back and was well prepared for his return with the support of family and friends. An aggressive rider with an equally aggressive attitude is what many sum up about the jockey's character, which has at times got him in trouble with the stewards.
Apart from Waterhouse, other trainers like Gary Portelli also admire the jockey's prowess and ability to ride aggressively. With all the controversy now behind him, there is no doubt that Blake Shinn will continue to rule the tracks for years to come. He enjoys riding anywhere, which should be a warning to fellow jockeys.