William Henry (Billy) Cook, born 12/1/1910, a jockey who achieved his zenith on either side of WWll.
Billy Cook won the Melbourne Cup in 1941 and then again in 1945.
He served during the war from 1942 through 1944, working in the Sydney accounts office of the militia, after having been rejected from serving in a combat role for medical reasons.
Billy Cook began riding in 1925 for trainer John Donohue. He won his first race that year aboard Pigeon Pie whilst riding at Canterbury.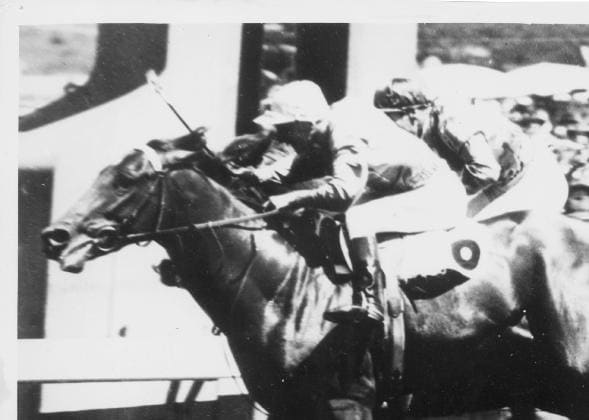 His first major victory did not come until four years later, when he took the Sydney Cup at 3200 metres riding Crucis, a horse with lines to Carbine.
Cook won the Sydney Cup again, almost 20 years later, in 1953.
Billy Cook was already in his early 40s, at a place where most jockeys have been enjoying retirement, but Cook rode for another six years until he was around the age of 50.
Cook took the Caulfield Cup in 1930, having earned a ride aboard Percy Miller trained Amounis.
This horse, that was frequently matched against the immortal Phar Lap, near the end of Amounis's illustrious career.
The first of his Melbourne Cup victories in 1941 was courtesy of Skipton, trained by J. Fryer. The two bested a 23 horse field in a respectable time of 3.23.75.
The next came in 1945 on the chestnut mare Rainbird, once again against a full field of 26.
The rest of Billy Cook's racing resume is equally impressive. During his career, spanning the years between his apprenticeship to Donohue in 1925, until his retirement in 1959, he continued to win major races. He won the VRC Derby twice in 1942 and 1954. Two AJC Derbies fell to him in 1940 and 1946. He notched two wins in the VRC Oaks; those coming in 1941 and 1946.
Events which cook won on three occasions include the AJC Metropolitan in 1939, 49 and 53, and the Moonee Valley Gold Cup in 1936, 40 and 45. The Doomben Newmarket in 1937 completes the list of Cook's major victories.
Billy Cook also performed admirably on the international stage.
He visited Britain in 1949, where he managed to notch 42 wins in a mere three months. He made a return to Britain in 1951 and again achieved notoriety to such a degree that George VI extended him an offer to ride for the Crown.
Cook apparently found the climate of England to be less than agreeable to him, particularly the cold and damp for which that country is notorious. He also made three pilgrimages to India beginning in 1932, abandoning that country due to a distaste of travel.
The metropolitan tracks around Sydney were where Cook's fondness for home and Australian tracks was most apparent. The 1939-40 season featured his establishing a record of 126 metropolitan winners. He was also awarded the Sydney jockey's premiership six times, three of those coming during the 1931-32 seasons and the other three between the years of 1939-1940.
Billy Cook was known affectionately as "the Champ" for his renowned sense of timing that allowed him to preserve his horse in the early stages of a race and then drive to the front in the last few furlongs, a trait which obviously contributed to his success aboard stayers.
He was also dubbed "Last-race Cookie" for his predilection of winning the last race of a meeting to restore the purse of many a punter.
Those who knew him and watched his exploits on the track never fail to mention that he expended just as much effort in the attempt to win an insignificant race as he did when riding prestigious Group 1 races.
Cook might have continued to ride indefinitely had not a broken leg suffered in a training gallop, along with age related weight problems and fewer good rides, compelled his retirement in 1959. He retired with only the Epsom and Doncaster Handicaps eluding him.
Like many a productive thoroughbred sire, he fathered a son, Peter, who followed admirably in his father's footsteps, winning a Melbourne Cup in 1981 and again in 1984, just prior to his father's death in late January of 1985.
William Henry Cook was inducted into the Australian Racing Hall of Fame posthumously in 2002. It is interesting to speculate what else he would have done without the hiatus imposed by WWll, but his career could not be considered anything short of spectacular.