Bill Williamson, a jockey who experienced worldwide success during the 50s and 60s.
Bill Williamson (19 December 1922 - 28 January 1979) was born in Melbourne. He quit high school at the age of 14 to become an apprentice jockey for his great uncle, F. H. Lewis.
This was the branch of the family that carried the racing genes, with a trainer and another jockey to their credit, that being none other than four time Melbourne Cup winner Bobby Lewis.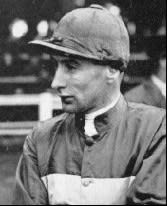 As a rider for Jack Holt, he won his first race in 1937 at Epsom. World War II interrupted his career from the beginning of 1942 until close to the end of 1944. He was married in 1949.
Bill Williamson won the Victorian jockey premiership for the 1951-52 season, which was perhaps his high water mark in terms of producing his lone Melbourne Cup victory aboard Dalray.
Bill Williamson very nearly won a second Cup aboard Rising Fast in 1955, despite carrying more weight, 63.5 kg, than had been imposed on Phar Lap in the 1930 Cup.
Many observers feel that Bill Williamson and Rising Fast had been interfered with by Sellwood and Toporoa. While Williamson never protested, Sellwood was subsequently suspended for two months.
Bill Williamson competed regularly against Sellwood and such other greats as Jack Purtrell. He battled with Scobie Breasley as that jockey was winding down his career, and then rode for Breasley when Breasley moved into training. Williamson followed in 1953 with a Cox Plate and Brisbane Cup, along with setting a record of 67 and a half winners in Victoria.
Other notable victories include an Australian Cup, Williamstown Cup, Moonee Valley Cup, Brisbane and Adelaide Cups. He was recognized as Melbourne's premier jockey six times over the course of nine years from 1951 to 1960.
He very nearly was killed by a fall in October 1954, a serious injury that cost him nine months of riding. He returned in 1955 to take the Caulfield Cup aboard the legendary Rising Fast. He repeated his victory in that race in 1960.
At this point in his career, he moved onto the world stage in 1960, racing in Ireland and England. He had notable victories in the 1962 1000 Guineas on Abermaid, then again in 1965 aboard Night Off. He raced successfully in France, also, winning the Prix de l'Arc de Triomphe in 1968 and 1969, where he beat none other than Lester Piggott. In all, he won 13 major races in Ireland, England and Europe.
Lester Piggott declared Williamson as "The best big race jockey in the world," after Williamson beat Piggott, who was riding the race favourite in the two years where Williamson beat him.
Tactically, Williamson' preferred riding style was to patiently bide his time in the pack, saving his horse for the final sprint. His contemporaries admired his style and the ease with which he rode.
Bill Williamson hung up his spurs in 1973, and then filled the role of racing manager for Ravi Tikkoo. Four years later, he returned to Melbourne. He contracted cancer and died in 1979. His remarkable career lasted around 37 years.
He was inducted into the Australian Racing Hall of Fame in 2003.