Bill Duncan inducted into the Australian Racing Hall of Fame in 2003.
The small, select group of jockeys that has produced accomplishments sufficient to warrant Australian Racing Hall of Fame induction is filled with individuals whose unique contributions caused them to stand out among the many thousands who have earned their living steering thoroughbreds in the Sport of Kings.
One of these jockeys went by the name of William "Bill" Duncan.
Bill Duncan left his mark in the time between World War I and World War II. As a 16-year-old apprentice he wrote his first winner in 1916 Mentone. Just two years later he won his first important event the 1918 Coongy Handicap.
It was less than a month later when Duncan notched his first Melbourne Cup victory, steering C.L Macdonald owned, Richard Bradfield trained Night Watch to a half length victory in what would go down as one of the top 10 fastest times in the race to that point in time.
While it's true that Bill Duncan was given this ride because there were few who could make Night Watch's 42 kg weight allotment, it's also true that he took best possible advantage of the opportunity.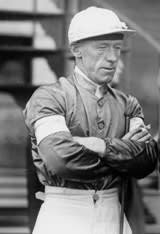 1918 Melbourne Cup
While he stood a mere 152 cm tall, he did not let his lack of physical height interfere with his giant accomplishments on the track.
His 1918 Melbourne Cup win proved to be no fluke. Bill Duncan was to set a standard that few have ever matched, perhaps most notable of these was his until then record 11 Melbourne Jockey's Premierships, a record that stood for years and needed no one less than Roy Higgins to surpass it.
Lifetime Record
Bill Duncan's lifetime record is listed at 893 wins, 74 of which were stakes races. His record of major wins includes a second Melbourne Cup aboard Rodney Dangar owned, T.J. Smith trained Peter Pan in 1932, the 3:23.75 time tied for the third fastest in the 71 years of Melbourne Cup history.
Bill Duncan also won the Caulfield Cup in 1928 aboard Maple and the very next year on High Syce. He posted a win in the 1924 Australian Cup steering Accarak to the post ahead of Jack Staff and El Dorado.
He also won the 1925 Epsom handicap, the 1926 VRC Oaks, 1928 W. S. Cox Plate, 1928 Doncaster Handicap, 1928; Metropolitan Handicap and the 1932 AJC Oaks. Let's not fail to mention a second Australian Cup, this one coming in 1931 aboard Carry On besting White Nose and St. Mary.
Include in this list numerous major handicapped and weight for age events, and the picture of Duncan 's exploits becomes clearer.
1925 AJC Derby
Certainly the most dramatic of all Bill Duncan 's victories would be the 1925 AJC Derby. Bill Duncan 's mount that day, Manfred, spotted the rest of the field 100 metres when he failed to leave the barrier. Duncan managed to make up the deficit and win in the bargain.
Duncan 's reputation also earned him the opportunity to compete aboard the immortal Phar Lap, which turned out to be a singular honour.
Like all who had donned the silks before him, and many to come after, Bill Duncan experienced more than his fair share of the adversity that accompanies riding large, powerful animals for a living.
His career almost came to a premature conclusion in 1929 when he broke his back in a fall. Another serious fall in 1933, this one coming aboard Rose Valais, did supply the capstone for Duncan 's career.
Bill Duncan Dies 1983
Bill Duncan died in 1983. He was inducted into the Australian Racing Hall of Fame in 2003.