Athol George Mulley: Winner of three Golden Slipper Stakes and two premierships.
Athol George Mulley was one of the most feared jockeys on the tracks.
Known for his incredible partnership with Bernborough, Mulley got the better of his rivals on many occasions during his career that spanned over twenty five years, after which he became a trainer.
Known as the contemporary of George Moore, Australia's greatest ever jockey, Athol Mulley was one of the country's finest jockeys. He formed a formidable partnership with the mighty Bernborough, trained by Harry Plant, to win 15 consecutive races between December 1945 and October 1946.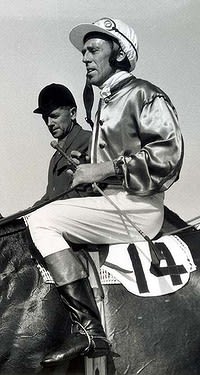 Athol Mulley & Bernborough
Although Bernborough did not enter major races until the age of six, the duo made amends in one season alone. Among his fellow jockeys were other well known faces like Neville Sellwood, Billy Cook, and Jack Thompson.
Athol Mulley was champion jockey twice in 1945-46 and 1960-61 in addition to being runner up on three occasions. Despite 15 wins with Bernborough, Mulley was sacked as his rider after he was beaten in controversial circumstances in the 1946 Caulfield Cup.
Apart from Bernborough, Athol Mulley was closely associated with Sky High. Athol's riding prowess took him to France, Singapore and India, before hanging up his boots to become a trainer in the early 1980s.
In the 1963 2,000 Guineas in France, Mulley rode Corpora, finishing third in the race. During his glorious career Mulley won three Golden Slippers with the Jack Green-trained Skyline in 1958, Harry Plant's Sky High in 1960, and Eskimo Prince trained by C.C. Rolls in 1964.
Athol George Mulley
For his fans no one could be as superstitious as Athol Mulley. He always wore an old singlet under his racing colors and always made it a point to walk out last from the jockeys' room. Athol Mulley and George Moore were known for their professional feuds that often led to sharp words.
Mulley's intentions were to upset Moore before a race, a ploy that didn't work too well often, since according to Roy Higgins, Moore rode better when he was upset.
For Athol Mulley's sake, many of his fans always wanted to put the record straight concerning the 1946 Caulfield Cup and Bernborough. The horse started at 7-4, the shortest priced favorite in 20 years.
Many claimed that Mulley 'slaughtered the great horse'. However, this was far from the truth for many who claim he did not even pull the horse up. For them, Athol Mulley was purely a victim of circumstances beyond his control.
Caulfield Cup
Bernborough carried the heaviest weight of 68 kgs. in the toughest handicap race of the year, the Caulfield Cup.
The young rider was under tremendous pressure to pull off another victory in the big race after 15 consecutive wins. Over 108,000 punters jostled for a position at the tracks. Overwhelmed by the pressure, Athol Mulley had even asked Darby Munro to substitute him, however, Munro had already accepted Chaytor as his mount. Added to the burden was Bernborough's heavy saddle as a handicap.
Mulley had Bernborough close to the rails and was at the rear in the final turn before making a move when he found a passage down the center of the track. Although making it to the front was possible, Bernborough was clipped by Carey, who then lost balance and couldn't make it to a winning position.
Known to have a funny side as well, Athol Mulley chose to be an 'absent minded professor', arriving at Rosehill Racecourse instead of Warwick Farm Racecourse for the races.
Athol Mulley Dies In 2001
Apparently, Athol Mulley had read a week's old newspaper before he left home. The legendary jockey succumbed to Parkinson's disease at the age of 78 at a nursing home on the Gold Coast in March 2001.