Arthur Ward was an Australian jockey that commanded considerable respect.
This is obviously evident when you look at the horses Arthur Ward rode, a veritable Who's Who of some of the most successful thoroughbreds that ever graced the turf.
Arthur Ward, over the course of his career, rode more winners than all but a few of history's most successful jockeys. Only eight jockeys ever surpassed him, jockeys with names such as Munro, Breasley, Sellwood and Moore to mention four.
Ward was held in such high esteem that he earned the ride on horses such as Redcraze, Tulloch, Rising Fast, Grey Boots and Hydrogen.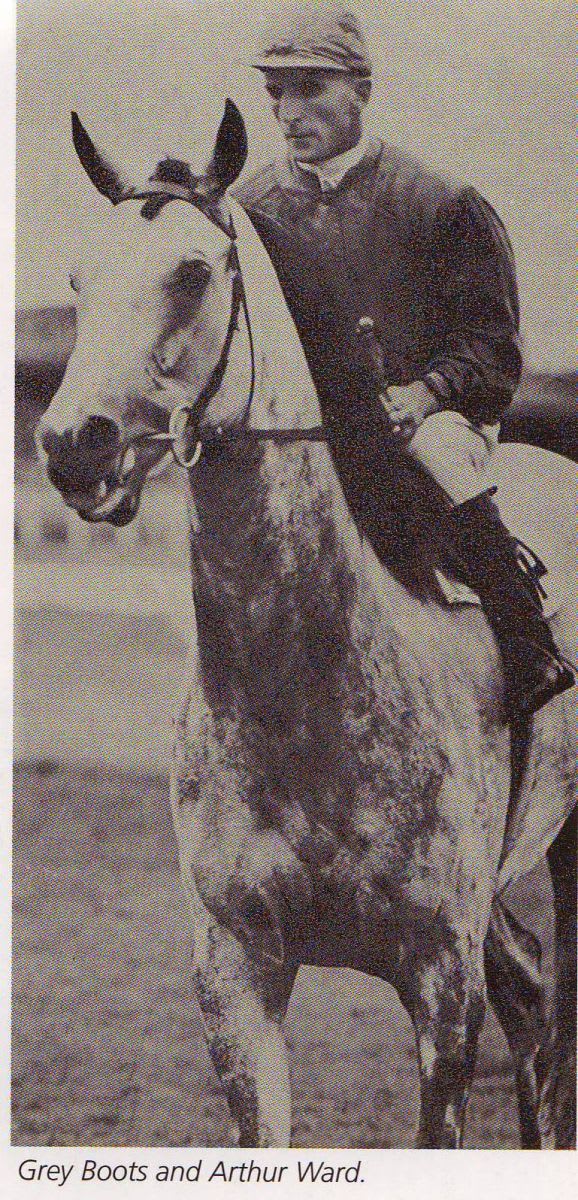 Arthur Ward & Redcraze
His pairing with Redcraze was probably the most successful.Arthur Ward was aboard 24 times, notching 14 wins and five seconds, failing to place only three times.
So dominant was the pair in winning the 1956 Caulfield Cup, the race many experts consider the truest test of a stayer's ability, that the VRC imposed a staggering 65kg weight for that year's Melbourne Cup, which Redcraze very nearly won despite giving a 14 kg advantage to the winner, Evening Peal.
Trainers and punters admired Arthur Ward for a skill level that included superb balance, a feel for the horse and the ability to accurately judge and react to the pace of any event in which he rode.
Arthur Ward first tasted victory in 1942, but then had to endure a two year spell before winning aboard Decorate in the Canterbury Guineas.
The years between 1949 and 1952 were particularly productive, with 14 sprint victories aboard San Domenico to his credit, along with his first Sydney jockeys' premiership during the 1950-51 season.
Arthur Ward experienced some well-earned good fortune after that when Tommy Smith offered him a position as a stable rider for Smith's operation subsequent to a suspension to George Moore.
100 Wins In Sydney
In the two year period that followed, Ward notched over 100 wins in Sydney and beyond, earning his second premiership in 1954-55.
That same year, 1954, again had Ward finding himself the beneficiary when falls put champion jockeys Bill Williamson and Neville Sellwood out of action, leaving Arthur Ward to take the victory in the Caulfield Cup on Rising Fast.
Ward so impressed Tommy Smith during this time that even when George Moore came back in 1957 to resume his position as number one stable jockey in Smith's operation, Ward continued to ride Redcraze, with the exception of the 1957 W.S. Cox Plate, when Moore got the ride on Red Craze, and Ward almost bested the pair whilst riding Prince Darius.
Arthur Ward retired in 1962 having won every one of the important feature races, with the one exception being the afore-mentioned 1956 Melbourne Cup. He won over 250 races in Singapore as well. A career as a trainer followed where he won both the Epsom Handicap and the Sydney Cup.
He also performed well in the role of a trainer for nine seasons in Hong Kong .
His longevity as a rider apparently influenced his longevity in general. Evan at the age of 80 he still seemed vibrant as he regaled punters and journos with tales of his exploits and comparisons of the horses he rode.
Racing Hall Of Fame 2007
Arthur Ward was inducted into the Australian Racing Hall of Fame in 2007, a well-deserved accolade that none-the-less had some lamenting that he should have been amongst those inducted in the inaugural class.