Tom Waterhouse learnt the trade well from his grandfather and legendary bookmaker Bill Waterhouse.
Known to wage punting wars with some of the most fearless punters on the tracks, continues to rule the Waterhouse dynasty after becoming one of the youngest bookies at the age of 21.
Being a 'new age' bookie, Tom expanded his business with an online sports betting site.
Every Australian horse racing enthusiast are familiar with the Waterhouse name. The family has been associated with racing for over a century. While Bill Waterhouse was a larger-than-life character as a bookmaker, grandson Tom Waterhouse is just as successful as his grandfather and his father Robbie Waterhouse as well.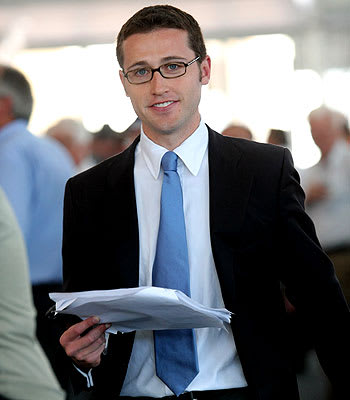 His mother, Gai Waterhouse is also a leading trainer and daughter of the legendary trainer TJ Smith.
Tom Waterhouse has definitely taken after his grandfather when it comes to betting. The fearless young bookie recently blew as much as $1.175 million in ten minutes and yet laughed it off saying it was all "part and parcel with the game".
Representing four generations of Waterhouse Bookmakers, Tom Waterhouse is today Australia's leading on-course bookmaker.
However, Tom Waterhouse also continues to run an online betting portal covering all sports on tomwaterhouse.com. Undoubtedly, the young bookie has racing in his blood, combining his passion with enjoyment which makes him an outstanding individual in the sports betting arena.
Tom Waterhouse is also a celebrity in his own right with a penchant for entertainment, entering as a contestant on Dancing with the Stars. He is also an expert commentator with his expert opinion featured regularly on TVN.
As a leading bookmaker, Tom Waterhouse continues to travel between Melbourne and Sydney every week.
Win Big, Lose Small is Tom Waterhouse's advice for punters. The key is to bet bigger when the going is good and smaller when losing money.
Another strategy is to bet on Top Fluctuation on Saturday and best tote on weekdays for the top of the market. Top Fluctuation is the best price offered by bookies on each horse during the course of betting.
Tom Waterhouse's strong advice to punters is to refrain from following the herd. Heeding hot tips in the papers is not always good. It is better to go for a horse you like if it is not mentioned in order to get better value. When there are two horses with odds under $3.00, it is best to go with the longer priced one.
Tom Waterhouse isn't media shy at all and enjoys the limelight. As an expert skier, Tom has travelled to ski slopes around the world. However, back on the tracks Tom has had his fair share of run-ins with the stewards along with his father, Robbie Waterhouse.
They faced multiple charges under the NSW Bookmakers Telephone Betting Conditions in 2006. He also challenged Racing New South Wales in the Supreme Court over its decision to charge 1.5 percent of the turnover of bookmaker and totaliser agencies who utilize NSW racecourses.
Failure to comply with the rules can result in hefty fines and jail terms. Tom's argument is that he does not publish race fields for his phone betting agency.
For the most part, Tom Waterhouse dominated the betting rings in Melbourne and Sydney with staggering turnover figures. For a while most of his business was via phone betting at Moonee Valley as he concentrated on his internet betting portal. Tom Waterhouse enjoys engaging with punters live on the racecourse.
Undeniably, Tom Waterhouse has helped rejuvenate on-course bookmakers who had been overshadowed by corporate operators.
Wedding bells is on the cards in June 2011 for Tom Waterhouse who is set to marry his Hoda Vakili in what has been billed as THE Society wedding of 2011. The wedding is to take place in Italy.