Robbie Waterhouse: If one were to engage in a game of word association with any Australian punter.
If he or she were asked to say the first thing that popped into their mind in response to the word bookmaker, the vast majority would immediately reply, Waterhouse.
First established in 1898, the family dynasty obtained its zenith as a result of the exploits of the second Waterhouse, William a.k.a. "Big Bill" a.k.a. "King of the Bookies" Waterhouse.
Son Robert "Robbie Waterhouse" was next in the line of succession, and proved equal to the task of following in "Big Bills" footsteps.
The two have swung the bag to a large extent from the major metropolitan racecourses to the most remote bush tracks. They will forever be the source of spirited speculation as to their actual involvement, if any, with the notorious Fine Cotton Affair.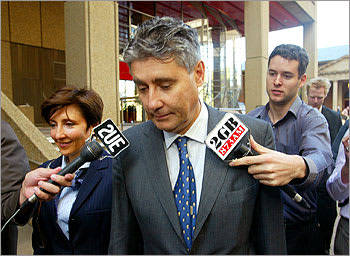 The penalty to which Robbie Waterhouse was subjected as a result of this incident had the additional consequence of hindering his wife Gai's ability to secure her trainers' license despite being the daughter of legendary trainer T. J. Smith.
Robbie Waterhouse took the first steps of the journey that would see him going down his father's path as a boy of 10. His task was to count the money and perform a check of over 20 bookie bags, reconcile the books and spend a couple hours on settlement details. He also ran the stand when Bills' business took him overseas. He also passed this responsibility to his son Tom while he fielded in New Zealand.
The Fine Cotton ring-in of 1984 probably affected Robbie Waterhouse at least as much, probably more so, than it did Bill Waterhouse. He was banned until 2002 when the New South Wales Thoroughbred Racing Board determined that he had served sufficient penance and he was permitted to reapply for his bookmakers license.
During Robbie Waterhouse's 17 year exile, the racing game changed quite a bit. More educated punters has meant that more are playing the markets, not the bookies.
His return also generated much speculation of potential conflicts of interest, the main one being the likelihood that Robbie would get inside information from wife Gai Waterhouse.
The suspicions eventually subsided, and Robbie Waterhouse returned to his former place at the betting ring.
2006 saw Robbie Waterhouse and son Tom Waterhouse compelled to answer multiple charges involving telephone wagering, but they managed to avoid various serious charges over allegations of recording fictitious bets. Examination of ledgers showed wagers of various amounts, some as low as $100.00, were taken on behalf of big-time punter Sean Bartholomew, then laid with a different firm and the original bets cancelled.
Racing NSW stewards provided notice to the Waterhouses that due to their reputation and influence on the sport, they could expect to be the subject of close scrutiny and should take pains to provide transparency to all betting activity.
It would seem to the uninitiated that Robbie Waterhouse does not appreciate the good fortune that came his way when his bookie's license was reinstated. Knowledgeable punters, however, feel that stewards were engaged in a vendetta.
While predicting what the future holds for Robbie Waterhouse is a tempting pastime, it should be remembered that the Waterhouse clan is no stranger to adversity and when it comes to a question of survival, it would be indeed most foolhardy to bet against them.
All of them, Robbie Waterhouse included, have weathered storms, accusations, and ill will, enough for dozens of families, let alone one.
One thing's certain: ask anyone involved with the Sport of Kings who the true kings are, and they can cover the question with one word. Waterhouse.