The name of Bill Waterhouse is synonymous with Australia 's oldest bookmaking dynasty.
Begun in 1898, it reached the pinnacle of its influence through the efforts of "Big Bill," "King of the Bookies," Bill Waterhouse.
His decades-spanning career on the rails is almost inconceivable in a business where longevity is not all that common place.
Bill Waterhouse was born 22nd January 1922. He completed his early education in Sydney.
Obviously the top bookmaker in Australia, Bill Waterhouse wears many additional hats.
He worked as a clerk in his father's book business starting in 1938 as a sixteen year old. When, as a nineteen year old, his father died, Big Bill, though the youngest, assumed responsibility for the family business which involved diverse interests.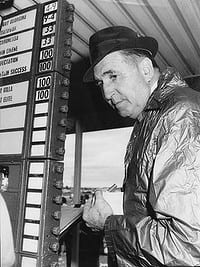 Bill Waterhouse went on to Sydney University and earned a degree in Law in 1948.
He went into practice with his brothers and experienced good fortune, but the untimely death of Brother Charles in 1954 prompted him to concentrate on the family bookmaking business. His career as a bookie formally began on Epsom Handicap Day of 1954.
Prior, with his older brothers Charles and Jack, Bill had established a thriving real estate enterprise that included hotels, offices and apartment buildings.
He survived a car crash in England in 1950 where he came close to death. This event played a significant role in Bill Waterhouse's life and philosophy that will be examined further on.
As a bookmaker during the sixties, "Big Bill" battled the giants of the game, such as Ray Hopkins, Fred Duval and Felipe Ysmael. His fearless attitude caused him to lose $1 million in one day in 1968, but he took this in stride. He came to be known in the media as the world's biggest gambler.
Being known as the world's biggest gambler has its pitfalls. Like many other bookmakers before and after, Bill Waterhouse had to deal with the usual assortment of accusations involving rigging, substitutions, and late scratchings.
One prominent example was the doping incident involving Big Philou in the 1969 Melbourne Cup. This horse seemingly could not avoid controversy as his Caulfield Cup win was the result of an upheld protest. In the Melbourne Cup, Big Philou was withdrawn less than an hour prior to the jump, and Bill Waterhouse was accused of having a role in the use of performance enhancing drugs on the horse. He was cleared in this case when AJC officials determined that Waterhouse had no stake in the race, a decision on Waterhouse's part that may have been omniscient considering the Caulfield dust up.
The most famous incident obviously was the Fine Cotton Affair of 1984, in which a poorly disguised ring-in created a scandal that has reverberated throughout Australian racing history.
In this instance, Bill Waterhouse was warned off until 2002, a penalty that would have devastated a lesser bookie. Son Robbie Waterhouse was also implicated and sentenced to detention for being judged guilty of perjury before the Racing Appeals Tribunal.
Bill Waterhouse's return to bookmaking, coming at the age of eighty as it did, cemented his reputation as the biggest on-course bookmaker, including recognition by the Sydney Turf Club as the Most Improved Bookmaker for 2004. He brought his grandson Tom into the business, who at the age of twenty, combined with his grandfather's eighty years should certainly garner the award for greatest age discrepancy between partners.
Some of his other achievements along side bookmaking are building of the first strata-titled homes in New South Wales, mining interests, the establishment of international betting shops and serving as Honorary Consul General to the island of Tonga through a relationship he established with the heir to the throne during his university days.
In 2009, Bill Waterhouse published his autobiography, "What Are the Odds?"
He details the struggles that would have left many in despair, such as the early death of his father, the near-death experience in England in 1950, the death of his brother Charles, and the ungrateful way his brother's widow tried to seize the family empire despite her and her four children having been taken in by Bill and Jack Waterhouse.
He speaks of life's adversities as being the foundation of his strength, giving him the perspective in all areas of life, not just bookmaking, that hard work and careful consideration prior to making decisions, combined with a fair amount of luck, was in large part responsible for the success he has enjoyed.
This positive outlook has served Bill Waterhouse well, obviously, and may be partly to account for his reputation for sometimes turning over more than the tote.