Betstar Review
Betstar offers a complete suite of services that will suffice for all but the most finicky punters. Read the full review to learn more
Betstar Pros
Visa Debit Card For Members For Instant Withdrawals
Favourite vs Field – Entire Field vs Favourite
Huge Range Sports & Racing Betting Markets
Great Website With Great Betting Options
Pick Your Own Odds Available
Daily & Weekly Promotions

The online booking making operation of Betstar has evolved over the course of its existence, much as the entire industry has as a result of the steady march of technology. It had been assimilated by Ladbrokes in 2014, and today Betstar can boast of having one of the most comprehensive racing and sports betting websites in Australia. Join Betstar >>>
Here are some details about Betstar, including their history and current place in the field of entertainment and online punting.
Betstar History
Betstar, in its original iteration, was the brainchild of Michael Eskander, who came to Australia from Egypt in 1966. He held various positions, including that of a bank teller, before exposure to bookmaking led him to seek and receive a bookmaking license in or around 1997, just about the time the first online bookmaking websites made their appearance.
Michael Eskander brought his son Alan into the business after the two had worked independently for a time, and once Alan had his license, the two became involved in fielding at the country tracks initially, with Alan obtaining a metropolitan rails license in 2000, joining the Victorian Bookmakers Association.
They were known in Melbourne racing circles as authoritative sources for racing odds, but they developed expertise in sporting markets as well.
As the online bookmaking business evolved at a torrid pace, the Eskanders could not help to notice the influx of the big corporate concerns that were assimilating the locals as a way to gain practically instant access to existing licenses and the fertile market of Australian punters. They agreed to be purchased by Ladbrokes in 2014, and whilst they still operate under the Betstar brand, they share odds and markets with the Australian branch of Ladbrokes and Bookmaker.com, the only real difference being in the promotions each of the three offers.
Betstar Today

If we had to use one word to summarise Betstar, it would undoubtedly be convenience. Everything a punter could potentially desire can be found on the Betstar web pages and mobile wagering applications.
The same could be said prior to the merger, but since, improvements of an exponential nature facilitated by an international force with considerable resources at its disposal resulted in an upgrade to the appearance and functionality of the operation, and the final product is something anyone can appreciate.
Everything in the area of customer service and account management has been addressed in great detail. Account funding and withdrawal option are abundant and any punter who has ever been frustrated by a delay in retrieving the proceeds of a successful wager will find the Betstar card, which enables the withdrawal of dividends as close to instantaneous as is reasonable conceivable, a prime feature.
Of course, there is bookmaker margin involved and Betstar's averages about 5.5 percent, slightly higher than some of the other online bookmakers.
They will only accept the Aussie dollar for account funding and offer only English for language support. Realistically, though, even someone who does not speak English could easily place online wagers with Betstar, although telephone betting, a requirement for live betting with Betstar, would obviously not be feasible. Telephone betting does carry a $20 minimum, but online wagers of as low as 50-cents are possible.
Betstar Promotions

If there is one thing that can be said to be universally true about online bookmaker promotions, it is that promotions shift frequently. This is deliberate and is meant to encourage clients to log in to see what is new at any particular moment. Join Betstar >>>
Popular Betting Types Offered By Betstar:
Best of Three Totes guarantee, where they guarantee to match the higher of the best dividend of the three Australian totes.The starting price of the official bookmaker at the race start time for win bets.
They also offer best of two totes, which is available on all provincial thoroughbred racing, where Betstar guarantees the higher of Supertab or NSW tote dividends for win and each way bets.
They also offer Top Fluctuation which is only for thoroughbred metropolitan racing until approximately thirty minutes before race start. Here they make use of the highest official fluctuation as recorded by the Australian Pricing Network during the pre-race period.
In addition to these, they also offer the standard fixed-price bets that are quoted by Betstar, and once confirmed these bets do not fluctuate.
Betstar Racing and Website
Betstar has always attracted and promoted a reputation for being a leader in all racing codes.
Clicking on the Racing tab encountered on the Betstar main page quickly reveals why this is so. Firstly, the three-column layout that is so typical of many bookmakers, rightfully so for its intuitively simple layout, provides access to thousands of markets in Australia and around the world. Markets can be sorted in myriad ways and a form guide and results section provide enough information for even the most rabid market researcher.
In addition to all the conventional bet types anyone would expect, Betstar has three key features designed to convince customers of the reliability of wagering with them. One of these is Protest Payouts, where if a race result is changed due to a protest, a backed runner will still pay, even if disqualified, and of course, the successful protestor elevated to winner pays as well. They also offer Best of the Best, providing the security of knowing that a winner will earn dividends equal to the better of best tote or top fluc.
Looks count with us and the Betstar webpages and mobile apps feature an attractive blue on a white background with a predominantly white test. The website is sophisticated for its simplicity and uncluttered feel.
We truly appreciated the layout and design when we looked at the large field of the 2020 All-Star Mile. In many ways, it looked like other bookmaker websites, but all the market information was spread across the page in an easy-to-navigate format.
Betstar Odds and Markets
We took this opportunity to do a quick odds comparison. The favourite, Alligator Blood, was priced at $2.80, which was identical to Ladbrokes and $0.10 better than Sportsbet, but $.010 less than the $2.90 on offer from BetEasy who are now Sportsbet.
Switching to sports, with the beginning of the 2020 NRL season just hours away, Betstar was quoting North Queensland for $1.60. The Cowboys were $1.60 with Ladbrokes and $1.62 with BetEasy.
Betstar had 91 markets for the Cowboys – Broncos game. That number was identical to Ladbrokes, but well below the 156 markets BetEasy had posted.
Ninety-one markets should be enough for most, but we must disclose that we seldom need anything beyond head-to-head.
For most punters, a difference of $0.10 per fixture is not anything over which to be fussed, but price shoppers will enjoy researching bookies to find the best price for any particular event.
The same advice applies to the number of markets.
Betstar Betting Markets
Upcoming Australian Sports and Upcoming International Sports are the two sections that come into view after selecting the Sports tab from the home page. This is followed by a three-column panel that shows different sports, such as soccer, basketball and tennis for many different leagues and events. That is followed by a two-column panel that shows televised markets and featured events that will vary by season. A nice feature of the sports pages, and the racing pages for that matter, is that time remaining until the start is automatically adjusted for the user's local time.
At this time, in March of 2021, Betstar does not display sporting results online.
Betstar Funding Methods
As the online betting market has grown, Betstar has added to its betting account funding options. In addition to credit cards, they now offer PayPal, along with the familiar funding sources POLi, BPay and flexepin. They also accept bank transfers. All the deposit methods offer instant betting, except for bank transfer and BPay, which require one to three business days.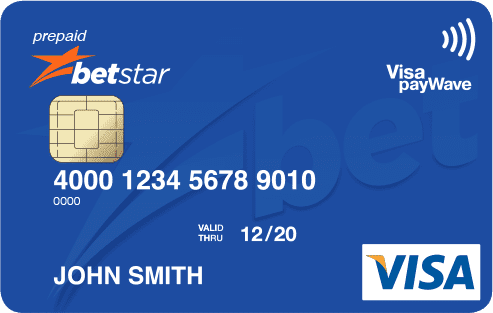 Betstar also offers a Betstar card, which is linked to a punter's wagering account. The Betstar card enables players to withdraw winnings via PayWave, EFTPOS and ATMs. The Betstar card will function like a Visa card, so it can be used for other purposes besides wagering.
Betstar Customer Service
From the Betstar website, we learned that they offer telephone support all day, every day, with phone numbers for customer service and live betting. They also have email support at support@betstar.com.au. There is also an online support form.
Betstar does not offer chat. We view that as a mild negative only, as there are times when we have gotten answers easily via chat with all manner of companies, while at other times, we rued going the chat route.
They do have a decent FAQ section. We used it to learn that Betstar is in the process of expanding its racing form guide from its desktop site to its mobile apps.
Something new to us was the idea that punters can actually visit the Betstar office by appointment, something we seldom see.
Conclusion
As an online bookmaker, Betstar offers a complete suite of services that will suffice for all but the most finicky. The website is superb, including the form guides, historical data and mobile wagering platforms.
Our view is that Betstar is one of the better choices for the racing codes; we could also easily manage to use the Betstar agency for domestic and international sports without missing much.