The York Racecourse is located at Racecourse Road York WA.
The York Racecourse is situated in the picturesque landscape on the outskirts of York in Western Australia and is operated by York Racing Inc.
It is the oldest operating race track in the region and is regarded as a prominent location by the Western Australian community.
The first race held at York Racecourse was on the 21st of December 1849.
Attracting thousands of people, the York Racecourse was voted the 'Northern Racecourse of the year' by the racehorse owners association.
The race club has survived for one hundred and sixty years through wars, crop failures, depressions and development phases of Western Australia like the Gold Rush to Coolgardie and Kalgoorlie.
In 2009 the York Racecourse was upgraded and re-grassed.
Contact:
YORK RACING
Secretary: Phil Flegg
PO Box 162,
York,
WA 6302
Ph. (08) 9622 7765 Fax (08) 9641 2176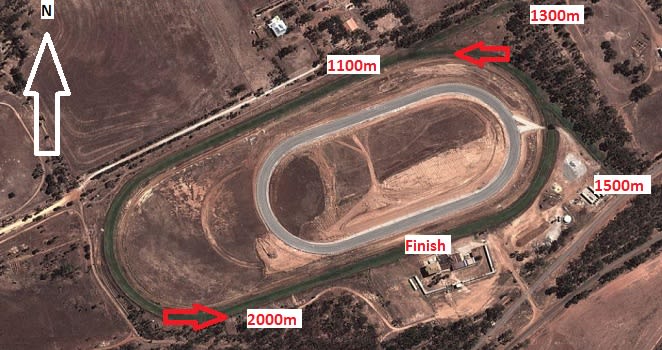 York Racecourse, York Racing Club has gone through some big changes in 2009 with the course being upgraded with camber being placed at the six furlong mark to make the track safer.
The Grandstand was built in the 1920's and is opposite the finish line.The Members Bar area is just to the left of the Grandstand.
The name of the club has changed many times since the first name being registered. It was first called the York Jockey Club, then when the Beverley Racing Club became unviable, a joint venture began and the name changed to the York-Beverley Turf Club.
It is now called York Racing Inc. to bring the club up to date with the times.
York Racecourse Details:
The course turn at the 1200 meters was further cambered to improve safety for horses and riders in 2009. The track circumference is 1550 metres and has a home straight approx 300 metres long. York Racecourse now compares favourably with any racecourse in the country. Barrier advantages: Of least importance at 1300 metres as there is a long straight before the first turn.