Pinjarra Racecourse is located at Racecourse Road, Pinjarra, 85km south-west of Perth in the Peel Region.
Pinjarra Racecourse is operated by the Pinjarra Race Club which began racing in 1891.
The Pinjarra Racecourse hosts 22 meetings annually.
Shady trees and expansive lawns provide the perfect atmosphere for a great day at the races.
The Darling Range Scarp forms the backdrop of the Pinjarra Racecourse and completes the idyllic country style image.
Pinjarra Racecourse has a variety of on-course facilities and entertainment they are able to cater for all needs. Visitors to Pinjarra Racecourse will enjoy a variety of entertainment and activities throughout the racing season.
Themed race days, live music, special events, race day competitions, promotions, draws and more.
The Race day Office is the main contact point for any enquiries on race days. The office is located next to the Mounting Yard and Jockeys Area. The Race day Office has EFTPOS Facilities available and sells Race books, Stubby Holders and Members Lounge Passes.
Contact:
PINJARRA RACE CLUB
General Manager: Michael Lodding
PO Box 2,
Pinjarra,
WA 6208
Racecourse Road,
Pinjarra Ph. (08) 9531 1956 or (08) 9531 1014
Fax (08) 9531 1147
Website: https://www.pinjarrapark.com.au/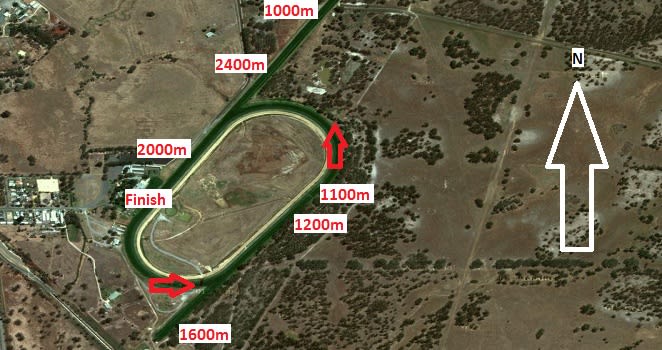 Pinjarra Racecourse, with a large variety of on-course entertainment and facilities the Pinjarra Race Club can cater for all your needs.
Experience the excitement of horse racing at this beautiful country racecourse.
Pinjarra Race Club provides over 20 tote terminals.
Further tote terminals are located at the Ledger Bar and Bookies Bar. The main tote area is under the Grandstand, next to the Main Bar.
There are also tote facilities available in the Members' Lounge, operating to both sides of the Members' Area.
Punters can also place their bets local bookmakers at the track.
Racecourse Details:
The course was rebuilt in 2007/2008. The course turns were cambered to improve safety for horses and riders and also widened.
An major drainage grid was built along with an advanced irrigation systems.
The track circumference is 1837 metres, 24 metres wide all way around and has a home straight being 336 metres. Pinjarra Racecourse now compares favorably with any racecourse in the country. It is widely recognised for its safe racing track and fairness to all horses.
Nearby racetracks include Belmont Racecourse, Ascot Racecourse and Bunbury Racecourse.