Kalgoorlie Racecourse is located at Cnr Meldrum Avenue & Speculation Road, Somerville, WA 6430.
The Kalgoorlie Racecourse is situated in the goldfield city of Kalgoorlie-Boulder about 593kms east of Perth in outback Western Australia.
The year 1896 may be remembered internationally as the year of the first modern Olympic Games in Athens, but in the Goldfields it is remembered as the year of the first official race meeting. In the early days of racing in the Goldfields of Western Australia, the action was conducted on a number of tracks scattered throughout the region.
Many of the towns that boasted circuits didn't survive the test of time. The only evidence suggesting that a thriving town once existed in most of those places is a neglected cemetery. It soon became apparent that the towns of Boulder, Coolgardie and Kalgoorlie (the 'Big 3') would become the leading tracks within the region.
The Kalgoorlie Racecourse is operated by the Kalgoorlie-Boulder Racing Club is arguably the best country-racing club in WA and is host to one of the iconic events on the national racing stage, the Kalgoorlie-Boulder "Race Round".
The Kalgoorlie Racecourse conducts 25 race meetings a year, two of which are Coolgardie Racing Club's meetings.
The Round is held in the second week in September and is the pinnacle of the race season.
Contact:
Kalgoorlie-Boulder Racing Club
Meldrum Avenue
KALGOORLIE
WA 6430
Kalgoorlie-Boulder Racing Club
PO Box 141 KALGOORLIE
WA 6433
Phone: (08) 9021 2303
Facsimile: (08) 9021 7856
Website: http://www.kbrc.com.au/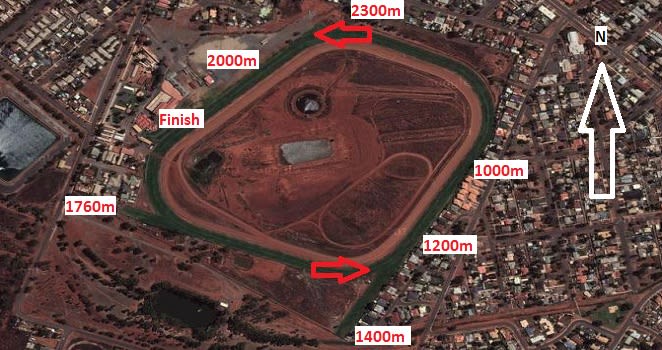 People flock to the Kalgoorlie Racecourse from all around Australia and the spectacle of style, colour and excitement is quite amazing!
Racecourse Details:
The Kalgoorlie Racecourse diamond like in shape with four turns throughout the 1934 metres circumference. This distinctive layout makes it important for jockeys to find a good position before they make their way onto the 320 metres home straight.
Big advantage to be drawn inside. Long straight runs from the chutes.
Feature Races at the Kalgoorlie Racecourse include the Kalgoorlie Gold Cup, the Boulder Cup, the Hannan's Handicap and the Coolgardie Cup.