Warwick Farm Racecourse is located at Hume Highway Warwick Farm New South Wales 2170.
Warwick Farm Racecourse can be found about 30 kilometres south west from the Sydney CBD on the shores of the Georges River on the Hume Hwy Warwick Farm. The course is well known for its casual charm and pleasant country hospitality.
The Australian Racing Committee was formed in 1840 to control and govern racing. By January 1842 the Australian Jockey Club was established and Homebush was the HQ's of racing in NSW before it moved back to Randwick in 1860.
The Australian Jockey Club purchased the Warwick Farm Racecourse in 1922 and undertook a number of improvements. On Jan 27th, 1925, the AJC held its first race meeting and had in attendance over 25,000 people.
Warwick Farm Racecourse, once controlled by the Australian Jockey Club until February 2011, the Australian Jockey Club and the Sydney Turf Club officially merged to form a new Sydney racing club, the Australian Turf Club and commenced racing on Monday 7th February 2011 in NSW.
Warwick Farm Racecourse now hosts 15 race meetings each year. This includes the 2 one day carnivals in the Autumn and Spring time.
Spring Racing Carnival At Warwick Farm
The Group 2 Warwick Stakes, the Group 3 Up And Coming Stakes and the Group 3 Silver Shadow Stakes are the feature events for the Spring Racing Carnival.
Autumn Racing Carnival At Warwick Farm
The Group 1 Chipping Norton Stakes, the Group 2 Surround Stakes and the Group 3 Liverpool Stakes are the feature events for the Autumn Racing Carnival.
Racecourse Details
Warwick Farm Racecourse is of triangular shape and has a circumference of 1,937 metres with a home straight being only 326 metres long. The track width is 23 metres wide at the winning post. Direction of travel for all races is clockwise and the course has only three turns.
The racecourse grounds also features 1 sand track & 2 grass tracks for training only.
It has starts for 1000 metres, 1100 metres, 1200 metres, 1400 metres, 1600 metres, and 2200 metres.
Starts for 1000 metres to 1400 metres, the horses only negotiate the home turn bend, so barriers are of little importance for these starts. For races beyond 1600 metres, it pays to be up front in the field due to the tracks two sharp turns.
Front runners do well here due to its sharp turns and short home straight. Horses coming from behind often run very wide when negotiating these turns.
Like the ATC's Canterbury Park Racecourse, Warwick Farm is mainly a midweek racing venue.
Racing History at Warwick Farm
There are, as of this writing, seven Group level races staged at Warwick Farm.
The most prestigious without doubt, in fact one of the most prestigious in Australian Thoroughbred racing is the Group 1 Chipping Norton Stakes. It is a 1600-metre race run under weight-for-age conditions with $600,000 in prize money. The 2021 winner, Verry Elleegant, received a very handsome sum of $344,000 for her victory. Since 2016, the race has been shifted to Randwick.
That works out to $215 per metre, almost enough to get us to run, if there were someone willing to pay us.
The running conditions of the race and its spot on the Australian Thoroughbred racing calendar, and the heft prize money has drawn many of the best to Warwick Farm for repeated jumps and victories.
First run in 1925, top names have taken the post for one or more victories almost from the inception of the race.
The first notable was Windbag in 1926. Windbag had won the Melbourne Cup the previous spring, in 1925.
Amounis followed in 1927, then came Limerick in 1928.
None other than Phar Lap won in 1930.
Lord Neagh was a three-time winner in 1933, 1936 and 1937.
Some of the other names that must be mentioned are Bernborough, Carbon Copy, Comic Court and Delta.
Tulloch won in 1958 and 1960, something that drives home the point about why weight-for-age racing occupies the top rung in the hierarchy.
The list continues, with a notable missing from the late 70s and early 80s being Kingston Town. You would think his name would be all over the Chipping Norton.
Everyone knows the name of four-time winner Winx that won from 2016 – 2019, but fewer are familiar with the first four-time winner, Tie The Knot. This capable gelding was one of those we truly appreciate if for no other reason than making 62 jumps on his way to winning above $6.2 million. This versatile runner won the Group 1 Sydney Cup over 3200 metres, not once, but twice, came second to Sunline in the 1999 Cox Plate. His best finish in the Melbourne Cup was sixth in 1998.
Other important Warwick Farm races in the Group 2 classification are the Challenge Stakes, the Warwick Stakes and the Surround Stakes.
The Challenge Stakes is for the sprinters, run over 1000-metres and once again, the notable winners represent the cream of the racing crop.
There was Wenona Girl in 1963.
Less well known was Razor Sharp that won three consecutive 1982 – 1984. Razor Sharp was good enough to take the VRC Newmarket Handicap whilst running in the wrong direction in 1982 and 1983.
When Razor Sharp was done with his three, At Sea came along with his three 1985 – 1987 when the race was called the Tatt's NSW Carrington Stakes.
Redzel won in 2018, the year he won The Everest for the second time.
The Warwick Stakes is another Group 2 race that has at times been held at Warwick Farm, although it has switched back and forth with Royal Randwick numerous times. It was last run at Warwick Farms in 2013.
Kingston Town did win this one, three times, 1980 – 1982.
Other winners include three-time winner Limerick, 1927 – 1929.
The race is now known as the Winx Stakes after the three-time winner from 2016 – 2018.
The final Group 2 staged at Warwick Farms is the Surround Stakes. This is a set weights race of 1400 metres. Like the Winx Stakes, this race has alternated somewhat with Randwick Racecourse and Randwick has staged the race since 2016. The race was first run in 1979, with 2019 winner Nakeeta Jane and 2020 winner Probabeel heading the list of notable winners, although in would be a disservice to overlook 2010 winner More Joyous.
The Group 3 races held at Warwick Farms are the Silver Shadow Stakes, the Up And Coming Stakes and the Liverpool City Cup.
Once again, in the case of the Silver Shadow Stakes, we see a newer race beginning in 1980, which has alternated between Warwick and Randwick, but we suppose this is okay so long as there is a wick in there somewhere. Exceed And Excel was the most notable winner.
Finally, the Liverpool City Cup, like the others, has shifted to Randwick from 2016. Terravista won in 2014, but our favourite winner was 2002's Bombe Bill, a horse that raced so many times, 98, that it sometimes felt as though he was two or more places at once.
A Day Out at Warwick Farm
There is plenty to do and see beyond checking out the Warwick Farm race results.
The atmosphere at any race meeting, major or minor, is unhurried and serene. The time intervals between races are an excellent time to grab a snack at Warwick Farm NSW. The Warwick Farm races are entertaining, of course and a stroll around the farm race track is not only good exercise, it exposes one to facets that are often overlooked by those who confine themselves to the enclosures. There is no better way to learn firsthand the track conditions Warwick Farm is offering on any particular day.
Transport to Warwick Farm Racecourse:
Warwick Farm Railway Station is within close walking distance to the track (1 KM). A free shuttle service is available on race meetings to and from the station.
Driving to Warwick Farm Racecourse, via the Hume Highway or the South Western Motorway. Car parking is available on the Ledger Lawn at the racetrack, accessed via Governor Maquarie Drive. Members' parking via the Hume Highway is via Gate C. Members also have a reserved parking option via St Leger Gate off Governor Macquarie Drive.
Taxis depart from the rear of the racecourse on Governor Macquarie Drive.
Contact:
AUSTRALIAN TURF CLUB
Alison Road,
Randwick,
NSW 2031
Locked Bag 3,
Randwick,
NSW 2031
Ph. 1300 729 668
Fax (02) 9662 6292
Warwick Farm Dress Code
While it is not necessary to dress as fashionably as the main characters in the TV series "Miss Fisher's Murder Mysteries," the ATC does encourage spectators to exhibit some decorum.
Those not interested in reading about this take heart. There is a YouTube video that covers the topic in detail. The easiest place to find this video is here: https://www.australianturfclub.com.au/what-to-wear/
There are different standards in place depending on whether someone is attending as a member or a guest.
It is easiest to describe what types of attire are not permitted.
Women are not permitted to wear an assortment of footwear, including by not limited to jogging shoes, sports shoes, thongs, beat up shoes, gumboots and slippers.
As for garments, no jodhpurs are permissible. Ladies will just have to find some other venue to strut their jodhpurs. Neither is torn or ripped clothing permitted, even those $200 designer jeans with the holes pre-torn.
For non-members in the general admission area, there is no formal dress code, just an admonition to dress smartly as befits a raceday occasion. No costumes, tattered clothing or shoes, thongs or barefoot and please, no offensive attire.
There are several occasions during the season when there are fashion competitions. That is the occasion to raid the closet for "Miss Fisher's Murder Mysteries flapper garb.
Gentlemen members must wear tailored pants, dress shoes and a collared shirt with a tie. If that is objectionable to anyone, they should consider using a Warwick horse racing live stream.
General admission spectators amongst the men will find the same regulations as the women.
The dress code is more relaxed for anyone who shows up for Warwick Farm trials and it is possible to get close and see some of the planning and inner workings of trainers and jockeys strategizing about the best approach to getting the most out of a Thoroughbred.
Corporate
Warwick Farm is a venue that serves up more than horseracing.
Corporations of all sizes can host customers and employees. The site can also be used as a wedding venue and can be custom tailored for every style of wedding. The facilities vary to some extent across the four venues operated by the Australian Turf Club.
There is a downloadable brochure that can be found here: https://www.australianturfclub.com.au/meetings-and-events/
Warwick Farm restaurants are considered gourmet quality, so hosts looking to impress clients and customers will find a nice selection of food options ranging from the informal to fancy.
The peaceful surroundings are lined with trees and sitting along the banks of the Georges River, Warwick Farm has a rustic charm to go along with its prime metro location.
Indoor or outdoor events can be arranged.
Warwick Farm has a top-tier hotel adjacent to the property that is run by the Inglis auction people.
Betting
All the corporate bookies can be accessed at Warwick Farm on mobile devices. Mobile wagering platforms are a great source for Warwick Farm race tips, but if you can find it in your hearts, take a stroll down around the stands or the rails and see if you can find an old-time bookie, just to say you did. Be wary of any "experts" looking to pass along Warwick Farm tips.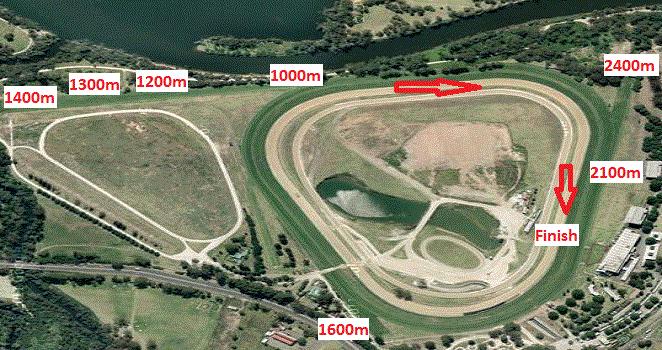 Warwick Farm Racecourse Barrier Guide
1000 metres: Starts in a chute off the course proper which in turn allows for a straight run for almost 700 metres to the home turn. Inside barriers have only a slight advantage.
1100 metres: This start is also in the chute off the course proper and provides a straight run for almost 800 metres to the home turn. Inside barriers have a slight advantage.
1200 metres: Almost the same as the 1100 metre start and this one having a straight run for 900 metres to the home corner. Inside barriers have only a slight advantage.
1400 metres: Starts at the end of the chute off the course proper and provides a straight run of almost 1100 metres to the home turn. Barriers don't really come into play.
1600 metres: Starts in a small chute off the course proper and provides a straight run of 400 metres to the first corner. Inside barriers have an a slight advantage mainly depending on the size of the field.
2200 metres: Is on the course proper at the top of the home straight. It only provides just under 300 metres before the first turn for horses to find a position. Due to the distance of the race barriers are a slight advantage.
Conclusion
Warwick NSW is an excellent place to take in races, as there are multiple enjoyable activities to supplement the races action.
It is easy to find out ahead of time or even during the meeting what is going on, simply by typing "Warwick Farm races today" into a mobile browser.
The close proximity to Sydney CBD means less time getting there and more time having a good time whilst there. You might even find your social media accounts lighting up with acquaintances in inquiring about Warwick Farm race results once they know you are there in the flesh.
Warwick Farm races are a nice introduction to the Sport of Kings without all the hustle and bustle of a Randwick on Everest Day.