Traralgon Racecourse: McNairn Rd, Traralgon, VIC is home of the Latrobe Valley Racing Club.
Traralgon Racecourse is located 164 km's from Melbourne CBD.
Traralgon Racecourse is operated by the Latrobe Valley Racing Club in which was formed following the outstanding support of many local residents, businesses and visitors who have demonstrated over the past five years that they wish for a continued racing presence in Traralgon.
The club feels sure that with this strong support, racing in the Latrobe Valley will continue to prosper at Glenview Park.
The club's meetings are more than just race days - they are community social events that allow us to demonstrate the traditional values that racing clubs have brought to local communities for so long.
Contact:
LATROBE VALLEY RACING CLUB
PO Box 969,
Traralgon,
Victoria 3844
Ph. 0407 352 399
Fax 5127 3957
Email: lvrc@countryracing.com.au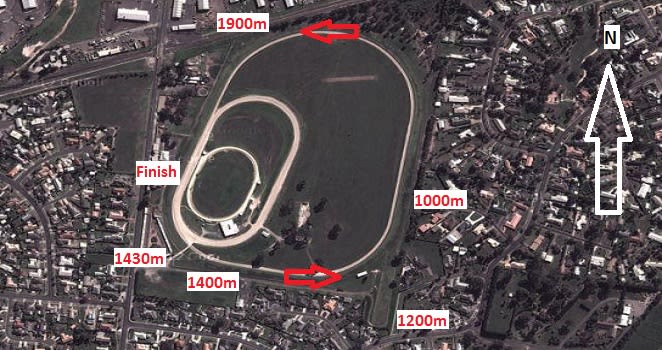 The clubs feature races are the Traralgon Cup run during the Spring, The Traralgon Classic and the Latrobe Valley Cup.
At each day the course comes alive with an array of entertainment, racing, fashion on the fields, live music, and delicious food and drink
Racecourse Details:
Traralgon Racecourse has a circumference of 1600 metres and a home straight being 240 metres long. It is a small circular track where inside barriers are a big advantage.
The track is a wide, fully irrigated course that is well-grassed. The surface is gently undulating and the turns are well-cambered. The soil type is clay loam.
Nearby Racetracks include Moe Racecourse, Sale Racecourse and Stony Creek Racecourse.