Stony Creek Racecourse is located at South Gippsland Highway, Stony Creek, VICTORIA 3957.
Stony Creek Racecourse is located 150 km's south-east of Melbourne in the beautiful South Gippsland region.
Triple treat at the Stony Creek -1987
This is the finish of the Rod Carmichael Handicap at Stony Creek Racecourse in 1987. The judges of the day could not separate Fast Seal, Mr Spectre and Chesterfield and declared a triple dead heat.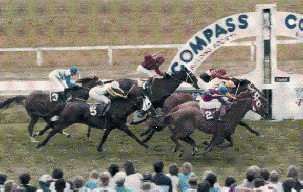 This thrust the popular little Stony Creek Racecourse into the racing spotlight and evoked a huge response.
News helicopters arrived within the hour and there was huge demand for the photos of the finish, which appeared the next day in the newspapers Australia-wide.
Race Caller Peter Eustace had his voice - declaring "I can't split these" - beamed all over the nation.
There was havoc in TAB outlets around the country - with six separate win and place dividends, three quinella and six trifecta dividends.
It also meant all three horses were alive in the daily double and quadrella!
The race and the result remain hot topics of conversation in racing circles. Many of those involved that day are still asked questions about the result. None have any doubt that it was a triple dead-heat".
Contact:
STONY CREEK RACING CLUB
PO Box 60,
Meeniyan,
Victoria 3956
Ph. (03) 5127 1380
Fax (03) 5127 8487
Racecourse Curator
Greg Bancroft Ph 0407 685164
Email: enquiries@scrc.com.au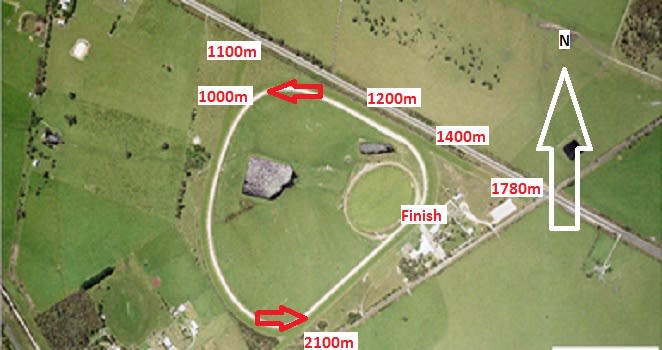 The Stony Creek Racecourse is an all-weather racetrack in which the club hosts multiple race meetings annually with the feature race being The Stony Creek Cup which is held in March.
Racecourse Details:
Stony Creek Racecourse has a track circumference of 1690 metres and a home straight being 340 metres long. The width of the track is 16m and becomes wider on the turns. There is a slight downgrade from the 1400m to 1000m, then falls quite sharply to the 800m. Then an upgrade to the 500m where it falls slightly to 200m with a slight upgrade to the winning post. Track is fully irrigated and well-grassed.
There are three chutes to start races and racing is held over distances starting at 1,000 metres up to 2,100 metres.
Nearby Racetracks include Moe Racecourse, Traralgon Racecourse and Pakenham Racecourse.